On 25 May 1998 if I could have waved a wand and done away with football influencing my life then I would have. It would have got no better than the feeling that I had just felt. That was my Shangri-La.
But I'll take you back a number of years when I was pestering my Dad to take me to see some football. He was an Arsenal fan, had found himself living near Highbury and had gone to a few matches. But we had moved to the promised land of SE2, new social housing and my team was Charlton Athletic. He took me to a few games. We left one game vs Spurs with the score poised at 1-1. We got to Rumbelows in Woolwich, where we watched the final score … Charlton had won 4-1!!!
I never knew why we left, or why he didn't really want to take me to games. I say that as a child, because when I reached adulthood it all became crystal clear. My father was a Black West Indian immigrant. He met my mother, a White Londoner at college and they fell in love. The footballing world of my childhood was not a nice place for my Black father to take his little boy. I totally understand that now.
I've followed Charlton my whole life, up and down the land. I've stood at Brighton as the homophobic chanting has rang out, at Chelsea where all you could hear was "there aint no black in the union jack" or at Spurs when a "bovver boy" who had been joining in the monkey chants had turned to me and said "Don't worry .. you're one of us!"
I remember being chased through Coventry, having just got off the train with a pal, and being asked at the Charlton turnstile what nationality I was, as they were doing a survey for the upcoming Red, White and Black Diversity day. These are just some of the highlights of my football journey.
(Of course this glosses over my time watching Welling United in the National Conference, and the ludicrousness of Non League football but hey ho …)
Fast forward a great number of years…….
I now have a son … Milo. He wanted to go to a football match. We are in East London and there's no way I'm sitting at Charlton giving him a gameboy to get through 90 agonising minutes. No to Leyton Orient, no to Dagenham and no to Redbridge.
Where to go ? …….
Well let's put it like this. There was only one place that I was going to take Milo.
I had seen and followed Clapton's story from afar. The fans growing behind the Ultra movement and then boycotting. The story of the trouble at Thamesmead, as I had grown up in this part of the world and knew the area. The Old Spotted Dog being the oldest football ground in London. The formation of fans/members run football team in Clapton Community, with everything that it stands for. That was the only team I was going to take Milo to. In memory of my Dad really, who had all those barriers to fight against all those years ago.
So we try and get to as many Clapton games as we can. We get to the Young Tons training on a Wednesday. We want to be part of the Clapton community, with it's family feel, the embracement of diversity and where everyone is welcome.
Once a TON always a TON.
Hello! My name is Eoin, pizza maker, lovable leftie football team enthusiast & casual design fan. Guess that's how I ended up here.
My friends often take the piss out of me because of the amount of football teams that I have an interest in.
Cries of "Eoin 50 clubs" are often heard when I report the latest Dulwich Hamlet score or post a picture of my Portland Timbers top.
Growing up in the 80s and 90s in Belfast your choice of teams was limited to say the least. Manchester United, Liverpool, Celtic or Rangers were the choices available to kids and they depended greatly on who your Da supported. No variations!
Sick of being shoehorned into supporting Manchester United or Celtic, my brother and I rebelled against the man.
We got our half filled 1996 Premier League sticker album out and decided to pick a random team and they would be our new club!
I was lumped with West Ham whilst Padraig ended up with Middlesbrough.
We soon took up our respective teams in one of the greatest football games of all time: Sensible World Of Soccer, and meticulously recorded every result in a jotter. 
It was good fun supporting these unfashionable clubs, undaunted by the "You support who?!" questions, we embraced them. It was a great conversation piece and got people asking questions.
Harry's home for the unwanted was now my home. My new heroes were now Dicks, Hartson & the Uber cool Slaven Bilic.
West Ham had few highs and even more lows. They never did quite match my 1998 FA Cup Championship Manager side, who beat Spurs 2-1 in the final.
I soon left the club though to go manage Valencia, although my spell in Spain was an unsuccessful affair and I returned to manage Everton the following season.
My Everton spell was short lived though and was marred by GCSE revision and camping holidays away.
I feel that supporting a team with low expectations gave me a sense of realism about football. I wasn't annoyed when they lost but loved it when they won. I think it allowed me to enjoy the fan lifestyle and culture more. 
Time moved on, Upton Park became The London Stadium, Championship Manager became Football Manager and Sensible World Of Soccer passed away into the mists of time.
My last trip to see West Ham was a soulless, lifeless and slightly depressing affair. Gone was the famous Chicken Run. Gone was the atmosphere. Gone was the pie and mash. All replaced with an ugly untraditional and morbid stadium. Football was dead. Modern football had won. 
Or had it? This is were St. Pauli come in. Myself and 5 of my friends organised a boys football "Away Day" to Hamburg to catch a game and spend the weekend together.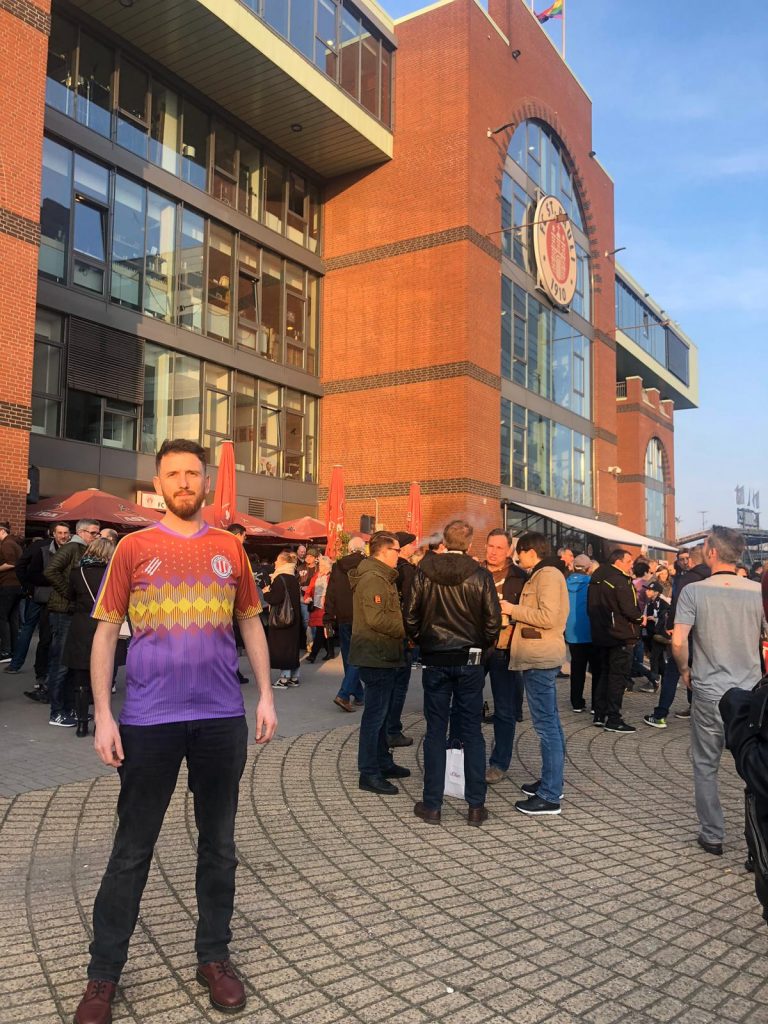 We don't get much opportunities to meet up much these days because of a combination of work and family life. But this was a weekend like no other, it brought us closer together than we had ever been before. Fun, love and enjoyment had been pumped back into football for us. We totally fell for a club that held principles as close to their heart as we do to ours.
While sipping on ice cold beer in the ice cold German weather we made a pact – we would try and visit as many loveable leftie clubs as we could.
Scouring the internet we quickly made a hitlist of clubs that we would like to visit. It was around this time I stumbled upon a small protest club in London, who had produced the famous International Brigade away shirt, which was being shipped around the world.
I was in. Membership purchased and shirt ordered, my next job was the get involved somehow. I decided to design a sticker, with a stylised International Brigade flag in the middle of the Clapton Crest.
And holy shit it took off, far more than I could ever imagined. I posted packets of stickers all over the world and the club ordered a couple of thousand for the merchandise stand at the matches. 
Our next expedition took us to the Spanish capital Madrid, to see Rayo Vallecano. Proudly wearing my Clapton shirt I mingled with the Rayo fans in the Ultra's bar and enjoyed cold beer in the hot Spanish sun.
I was greeted with many cheers of "No Pasaran!" as I swapped stickers with the supporters. I also met two other fans also wearing the away shirt, it was a marvellous sight.
When I saw that Clapton were looking for people to design covers for their programmes, I knew I had to get involved. But I couldn't think how.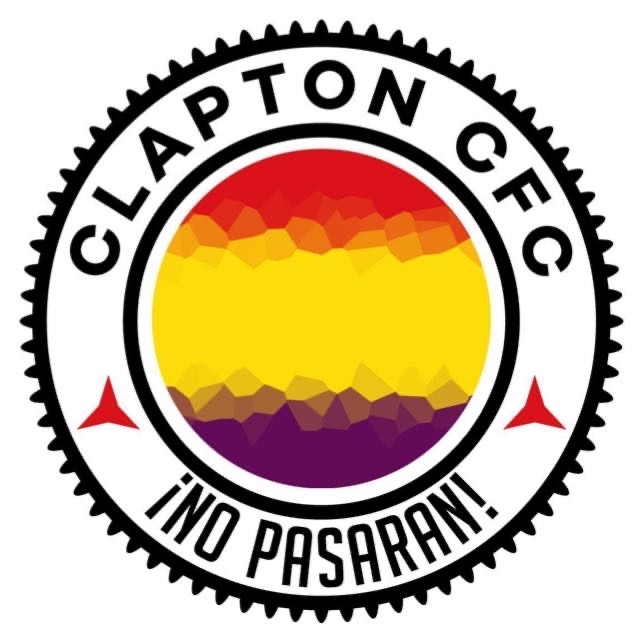 I toyed with the idea of using the stylised International Brigade flag, but I didn't want to be a one trick pony.
I was searching for a font to use for a different project, when all of a sudden I came across a font that I hadn't seen in a while. A long long while. I had found the font for Sensible World Of Soccer. How could I use this font I pondered to myself.
But before I could finish pondering the penny dropped. Programme. Sensible World Of Soccer. Clapton.
I knocked together a first draft of my idea. I bounced it off my brother who gave it his seal of approval. I was worried it was too niche.
Would Clapton like it? Would they get it? I left it a few weeks, as I didn't want to face the rejection. I tried another design, but it didn't work. I went back to the Sensible World Of Soccer design, tweaked it until I was happy.
The moment of truth. I sent it off to Clapton.
Within a minute a response pinged back. "Mate, that game ruined my GCSEs"Yes!!!! Yess!!!! Yesssss! I was pleased as you could imagine.
And now here it is. I hope you enjoy it and get it. Thank you for this opportunity.And the next team on the hitlist?
Well, of course, I don't think you need to guess where. I'll see you in April for a Tyskie.
No Pasaran!
I came to CCFC via a few seasons watching Clapton FC down at the Old Spotted Dog in Forest Gate, those first experiences were unlike anything I'd seen before in English Football certainly at a lower level.
At the end of 2017-18 season, I really wasn't sure that creating a team would work.
I was generally of the opinion that we had a club and this would be extremely expensive and ultimately pointless.
It became quite clear very early on, that CCFC had assembled a very talented and selfless pool of members and volunteers and I have to say I've not experienced this kind of enthusiasm, effort or determination since the 'Rave Years' and this is exactly what CCFC reminds me of.
That desire to create something different, something we believe in and something much bigger than just a football team.
To see this club grow and learn so rapidly over the space of 18 months is unbelievable, from that horrible game at Mabley Green to the gazebo flying on the pitch, to the much needed scaffold at the Stray Dog and now hopefully returning to the OSD really is some achievement and I've seen it all unfold via friends and fellow supporters giving up their time and effort to make this club grow.
I'm proud to be a member, honoured to be on the Match Day committee and happy to have made some great friends along the way.
It was on a Tuesday night in April 1973 that I went to my first match at the Old Spotted Dog.
As a 14 year old Enfield schoolboy, and a supporter of the E's, it was no surprise that Enfield's team, packed with Amateur Internationals, swept past their hosts 4-1 on the night but, unlike many of the Isthmian grounds I had attended by then, there was something special about the ground, and something even more special about Clapton.
The old wooden clubhouse (known as the 'Upturned Boat), the local partisan support, despite their lowly league position, and the smoke-filed wooden shed that served as a committee room packed with genuine Clapton people, each working tirelessly and voluntarily for the cause.
This was a true amateur outfit, unfashionable at the time, but retaining the air of a proud, once-great football club.
Eleven years later, disillusioned by the professional game and its infiltration into the higher echelons of non-league football, I decided to return to the friendly old ground in E7 to watch as a neutral.
Clapton lost again, 3-0 to Vauxhall Motors, but I could not help but pick up on a positive vibe, despite their lowly Isthmian League position.
Add to this, their precarious situation concerning tenure of the ground, (landlords, Grand Metropolitan plc, had refused to sign a new lease with the club and were hoping to turn the site into housing) and life was not easy for the Tons.
As one does at non-league games, I was chatting to the guy next to me in the south side wooden terrace and, at the end of the match, he mentioned that Clapton were away at Haringey the following Tuesday.
My new buddy proved to be Iain Hollowell, a life member of the club. So, as my office was in Tottenham, why not?
The following Tuesday, after a gutsy 90 minutes at Coles Park and a 1-1 draw, I was hooked.
There followed 11 years as a committee member, secretary and vice president, enjoying highs such as the FA Cup tie with Barry Fry's Barnet, a Youth Cup win v Brighton at the Goldstone Ground, and lows such as an 8-1 tonking at Woking and regular early exits at the first stage of the FA Vase.
Having moved to France in 1998, my contact with the club had become less frequent and, it was only when I saw an on-line plea for sponsorship by Tons Manager Chris Wood in 2011, that my interest and curiosity was reignited.
Consequently, I agreed to sponsor the club's kit and applied to re-join as a member.
Neither was met with either acknowledgement or a response from the club, save for a "thank you" from Chris.
Subsequent research suggested that Clapton FC were not the same entity that I had left some years before.
Nonetheless, I and two other Claptonites formed the Friends of Clapton FC group whose motto was to 'help not hinder Clapton FC' but unfortunately any efforts to help, or to become involved, were seemingly unwelcome.
The Friends of Clapton became Real Clapton FC and, miraculously any modest momentum we may have had was boosted beyond all expectations through the emergence of a fresh, vibrant, noisy and enthused group of supporters, the 'Clapton Ultras'.
I need not recount the events since 2013, other than to say I am honoured and delighted to be a member of Clapton Community FC.
In such a short time we have rekindled and revived the spirit of Clapton FC, a member's club, and have delivered on transparency, inclusivity and support within the local community.
Whether one is new to the Clapton experience or, like me, one of the older supporters, this club still belongs to you and me.
And…., there is no football club like it. "Once Clapton, Always Clapton"
Andy Barr
Life Member
Clapton Community Football Club.
Clapton… well, after all these years in exile in Hull I'm still an East London girl at heart. I've known about Clapton ant and The Old Spotted Dog for a long time – I went to school in Wanstead, just across the Flats.
I'd got really interested in Walter Tull's story – always the historian at heart- and when I heard through the grapevine about Clapton CFC starting up I just knew I had to get involved, even if it is at long distance.
I love football and West Ham, but the distance of football today, especially the Premier League with the vast amounts of money around , from it's original working class roots is pretty depressing.
In Clapton I can be part of a club which not only has a wonderful ethos, but is truly run by the fans, for the fans, and is embedded in the community.
No pasaran – they shall not pass – as an anti-fascist rallying call is sadly more relevant today than ever.
They're not just empty words for CCFC either – just as friends in Hull campaigned for, and erected, a monument to the 10 Hull men and woman who went to Spain to join the International Brigades in their fight against Franco's forces , I love that Clapton CFC are working with the International Brigades Memorial Trust to erect a memorial in honour of Newham's IB volunteers.
A club with the community engagement and the culture of Clapton is a very special thing and needs to be cherished – our club is a shining light in what can be a very gloomy world.
When a good friend, antifascist protest singer, Joe Solo posted on social media about the club's famous away shirt, describing them as an anti-fascist community-run club. I was sold!
The shirt arrived two months later, and the small sizing made me look a lot fatter than I am (see photo). Regardless, I was finally proud to support a football club that represented my views. I was hooked immediately, becoming a member with my one of my best friends, Tim. He suggested we make a journey down and picked the ideal home fixture (on Non-league day) against the equally ethical Stonewall FC.

We set off at 7:00am from our ex-mining village of Ferryhill (County Durham). As we progressed down the motorway, the weather began to change and initially we thought this was a sign we should've stayed in the North East. We persisted through the downpour but fearful the match would be called off.
We arrived… 3 and a half hours early! Confused at the lack of activity, which in retrospect was understandable. Luckily the nearby William Morris gallery was a great surprise. This gave us the opportunity to take in some culture from a socialist that we had both admired. Returning to the ground it appeared livelier. Upon entering and buying a programme, we told a few very welcoming volunteers about our journey down and one was more than willing to give us a tour. He took us to the bar where I was shocked to get a Guinness for just £3.50, my local charges £3.30 up north! The pre-match excitement built as we walked around the ground seeing supporters getting in early to set up. Spending £110 on merchandise: three shirts, a scarf, and a flag of an anti-fascist democratically ran club. Bargain.
The conditions were perfect for a non-league fixture. I enjoyed the referee's refusal to acknowledge heavy tackles or niggly fouls. I thought it was just up North the game was played this way. CCFC were initially down 2-0, but a spirited fightback saw them leave as 5-2 winners. Such a rollercoaster viewing experience. The best part of the match though? The atmosphere. Having attended games with tens of thousands of people in attendance, I've not felt an atmosphere quite like it. Pure passion from the supporters – something I will never forget.
We headed home discussing the state of modern football. At the money-driven end of the sport, I am a fan of Newcastle United. Travelling to watch CCFC, our food and drink throughout the day, our programme, and entry to the ground cost less than a ticket to watch a 'premier' team. I use the term 'fan' because I no longer consider myself a supporter of Newcastle. I will always love the club and the fans, but I'm severely disenfranchised with how modern football teams are ran at the highest level. Mike Ashley doesn't need my money, but he would be willing to take and, of course, waste it.
A team I genuinely support is Lincoln/Grimsby amateur league clubs Broadley FC. Tim formed the football club with close friends at university after the sudden death of his friend Richard Broadley, aged 20 from leukaemia. The club honours Rich's life through the sport he loved most and since its formation the club has made over £15,000 for Bloodwise. A few years ago, I got involved and created a 35-minute documentary telling the story of the club (search 'Broadley FC' on youtube). Since then, I have backed the club at every opportunity. One of my favourite days of the year is the annual Broadley cup, and in May of this year I was honoured to present the Richard Broadley trophy to the winners. That love I feel for Broadley FC is the love I felt for Newcastle United as a child and the love I'm starting to feel for CCFC now. Broadley FC and Clapton CFC are clubs that deserve support because they play football for the right reasons. To remember someone, to raise money for charity, to fight homophobia and fascism, to stand up to modern football, and to give control back to the fans.
Written by Michael Lee Toas (@michaelleetoas on Instagram). Photo provided of Timothy Fenny (Left) and Michael Lee Toas (Right).
Clapton found me, rather than the other way around…
I only started supporting the Tons this summer after reconnecting with an old acquaintance I bumped into one night at the Crooked Billet in Clapton. I had just moved to the area, perhaps only just a week before, and was in the midst of a very painful time in my life. I said I had just moved to E5 and didn't know anyone. So she asked me if I liked football (the answer of course was yes) and told me that she supports Clapton CFC at the weekends with a couple of other friends in the area and that I must come along with them to the next match.
I went to that match, and haven't stopped since.
For me, it's so much more than about the football – being a part of CCFC gave me a place to belong and reconnect, and lifted me out of a very dark place that would have been nearly impossible to do on my own, having the matches to look forward to every weekend, not least knowing how much fun we would have singing the brilliant (and hilarious) chants. My acquaintance and her friends are now all true friends to me who I cherish, and I love how we have bonded because of the Tons.
Also, having been an Arsenal supporter and season ticket holder for many years, CCFC provided the perfect antidote to modern commercialised football, which I had begun to grow very tired of. It all felt so disconnected, the corporatised club and the real fans being two completely separate entities, like modern football no longer needed fans in stadiums. They just needed money in the chairman's pocket. Clapton is so far from this world and I think it's beautiful. The community is second to none, the fact that inclusivity is the core value of CCFC is what has made me truly become a lifelong fan.
This is what football should be about – openness, community focussed support, anti-fascism, inclusivity, accessibility and of course pure, unabashed fun. It's fighting the good fight and I love it.
I love the focus on supporting the women's team and the fact that no distinction is made between the mens and women's teams in the fixtures list, they are both simply Clapton CFC, it may seem like a small thing, but to me it says a huge amount about the values of the club.
I've also embraced the free training sessions on a Tuesday night, they have been absolutely brilliant and another thing that has kept me sane this year – it's been wonderful to meet so many new people, to feel a part of something, and also to finally play football having not had the opportunity at school.
The thing I like most, of course, is being a Ton.
It's 50 years since my first real game. Real as in with a ref, not a park kick about. I was lucky, and am guessing I played about 500 more real matches, scored maybe 300 goals in various school, university and club games. I played in a few countries, occasionally in front of big crowds in full stadiums.
But what I remember now about what mattered most weren't the trophies or cups (though they were fun), but the banter, the mates, the small political victories – like using local football to argue against racism on a personal level.
I remember the shocked look on a teammate's face scoring a flukey, last-minute winner against a team that had outplayed us, having to play in hockey skirts when we picked up the wrong kitbag, the satisfaction in beating the posh school who hadn't lost for two years.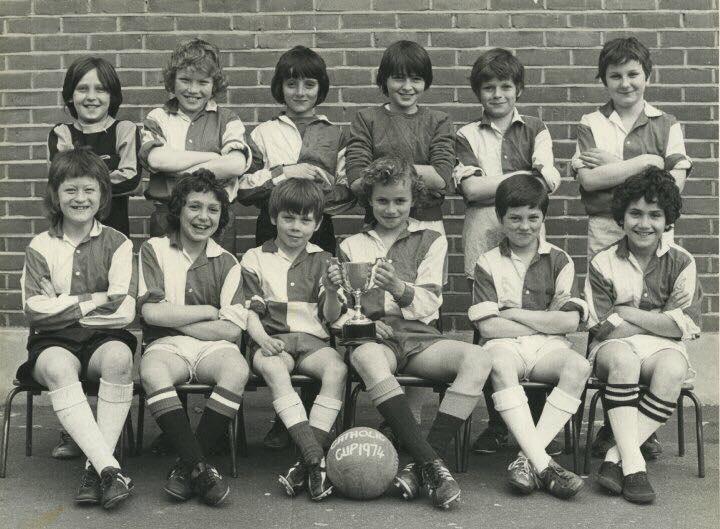 The south London Sunday leagues of the early 90s were a rough gig – fights, knives (even a gun once) pulled in the dressing room.
I played for Hope Pole, a local Wandsworth pub team, and we were one of Stonewall's first ever opponents, drawing them a couple of times in cups. They were a strong, scrappy, team, too good for the lower divisions where they were forced to start.
As the seasons went on, and they progressed up the leagues, and it dawned on more of us what they were representing.
More than just a team that had made the odd choice to wear pink, here were players with real bottle, prepared to scrap for the right to play football in that menacing, homophobic world of Sunday football.
Now I realise how playing against Stonewall was something that mattered – that it was football history up close. It's one of my best, most valued, football memories.
Being part of Clapton CFC lets me connect to those bits of football that matter most, in how football can play a huge part in the fight against racism, homophobia, sexism and general hatred.
Football's about the good times, the camaraderie times; it's really not the medals that you'll remember.
Fifty years from now the game will look very different again, and I'm proud to be part of how Clapton will shape that.
Top pic: Brian Dooley, centre forward, in the number 11 shirt, George Washington University, 1984
You can follow Brian Dooley @dooley_dooley
So why Clapton? Firstly, being an enthusiast of the iconic Isthmian League from the 1960's I was captivated by such names as Dulwich Hamlet, Corinthian Casuals, Wycombe Wanderers and Clapton.
Clapton had an advantage for my affection though because they played in East London, a mile from my first love West Ham. Secondly by the second decade of this century my love affair with West Ham and what they had come to represent in the corporate, commercialised world of modern football, was on the wane. I was subconsciously looking for a new football home.
On a dismal day in early 2012 I paid my first visit to The Dog and made up a twentieth of the crowd. The surroundings and performance by the Tons reflected the weather. I think Clapton lost, something they had done regularly since the 1930's. But I was hooked and returned a few more times that season, though I am convinced I did not see a home goal.
Thankfully there were like minded souls in East London, rejecting the mammon and greed of the Murdoch League and searching for a football home, found one at The Dog.
The history of the next five seasons is well documented, which brings me to 25th of August 2018. Build it and they will come. I will remember the summer of 2018 for the love and hard work that volunteers put into preparing the yet to be named Stray Dog for THEIR club, Clapton CFC, first home game, a friendly against The Wanderers.
I believed a crowd of 100 would be an achievement. At 2.45pm, hardly a soul was in the ground. At kick off time the queue stretched to the car park as people waited to pay a donation and buy a programme. It was at that moment I knew something special was being built and I had a lump in my throat. Nearly 250 fans watched the Tons that day and the shirt we wore went viral.
The ensuing season was to become my favourite in over half a century
watching football. I have used the word love a couple of times. I love what this club believes in and represents and I have found my football home.
In the photo above, that's me with my partner at the first match of the Spanish league outside the San Mames stadium.
You can see my love and pride for my two red and white teams, being a member of both the Athletic Club of Bilbao and Clapton CFC.

Athletic Club is a different club, and among its particularities, it is not a sports corporation so the members, taking part in assemblies, decide on the future of this historic club.

My attitude as a football fan is oriented towards "special and unique" clubs,
It's easy to become a fan of any club of international renown, which, based on dollars, signs elite players with which to win the maximum number of championships and titles possible, but with the handicap of not instilling any kind of value to society and/or members of the club.

In that search for "special and unique" clubs, Clapton CFC appeared in my life last year.
An historic club, which has been able to reinvent itself in the face of all the difficulties experienced, and most importantly, directed by and for, the supporters, altruistically and continuously supporting, through sport, all kinds of action and campaigns against sexism, homophobia, xenophobia and fascism, amongst other positive causes.

Being able to belong to a club, where you can collaborate in making decisions, where transparency is a basic pillar, and despite the distance the treatment received is very close, and which strives to inculcate different social values, makes it a great satisfaction to belong not only to this club, but to this community!

I hope that someday my partner and I will have the opportunity to watch a match of the women's team and the men's team, and if possible, in The Old Spotted Dog at Forest Gate.
We are the Clapton. Greetings and a hug to everyone.
© 2021 Clapton Community FC