Hello! My name is Eoin, pizza maker, lovable leftie football team enthusiast & casual design fan. Guess that's how I ended up here.
My friends often take the piss out of me because of the amount of football teams that I have an interest in.
Cries of "Eoin 50 clubs" are often heard when I report the latest Dulwich Hamlet score or post a picture of my Portland Timbers top.
Growing up in the 80s and 90s in Belfast your choice of teams was limited to say the least. Manchester United, Liverpool, Celtic or Rangers were the choices available to kids and they depended greatly on who your Da supported. No variations!
Sick of being shoehorned into supporting Manchester United or Celtic, my brother and I rebelled against the man.
We got our half filled 1996 Premier League sticker album out and decided to pick a random team and they would be our new club!
I was lumped with West Ham whilst Padraig ended up with Middlesbrough.
We soon took up our respective teams in one of the greatest football games of all time: Sensible World Of Soccer, and meticulously recorded every result in a jotter. 
It was good fun supporting these unfashionable clubs, undaunted by the "You support who?!" questions, we embraced them. It was a great conversation piece and got people asking questions.
Harry's home for the unwanted was now my home. My new heroes were now Dicks, Hartson & the Uber cool Slaven Bilic.
West Ham had few highs and even more lows. They never did quite match my 1998 FA Cup Championship Manager side, who beat Spurs 2-1 in the final.
I soon left the club though to go manage Valencia, although my spell in Spain was an unsuccessful affair and I returned to manage Everton the following season.
My Everton spell was short lived though and was marred by GCSE revision and camping holidays away.
I feel that supporting a team with low expectations gave me a sense of realism about football. I wasn't annoyed when they lost but loved it when they won. I think it allowed me to enjoy the fan lifestyle and culture more. 
Time moved on, Upton Park became The London Stadium, Championship Manager became Football Manager and Sensible World Of Soccer passed away into the mists of time.
My last trip to see West Ham was a soulless, lifeless and slightly depressing affair. Gone was the famous Chicken Run. Gone was the atmosphere. Gone was the pie and mash. All replaced with an ugly untraditional and morbid stadium. Football was dead. Modern football had won. 
Or had it? This is were St. Pauli come in. Myself and 5 of my friends organised a boys football "Away Day" to Hamburg to catch a game and spend the weekend together.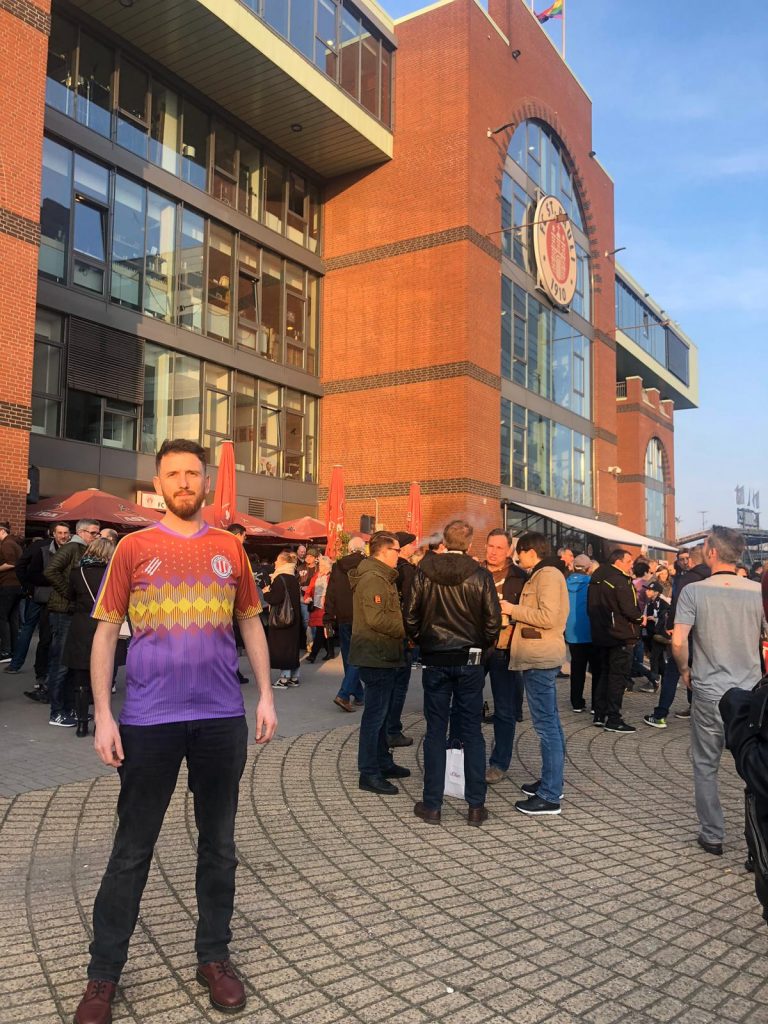 We don't get much opportunities to meet up much these days because of a combination of work and family life. But this was a weekend like no other, it brought us closer together than we had ever been before. Fun, love and enjoyment had been pumped back into football for us. We totally fell for a club that held principles as close to their heart as we do to ours.
While sipping on ice cold beer in the ice cold German weather we made a pact – we would try and visit as many loveable leftie clubs as we could.
Scouring the internet we quickly made a hitlist of clubs that we would like to visit. It was around this time I stumbled upon a small protest club in London, who had produced the famous International Brigade away shirt, which was being shipped around the world.
I was in. Membership purchased and shirt ordered, my next job was the get involved somehow. I decided to design a sticker, with a stylised International Brigade flag in the middle of the Clapton Crest.
And holy shit it took off, far more than I could ever imagined. I posted packets of stickers all over the world and the club ordered a couple of thousand for the merchandise stand at the matches. 
Our next expedition took us to the Spanish capital Madrid, to see Rayo Vallecano. Proudly wearing my Clapton shirt I mingled with the Rayo fans in the Ultra's bar and enjoyed cold beer in the hot Spanish sun.
I was greeted with many cheers of "No Pasaran!" as I swapped stickers with the supporters. I also met two other fans also wearing the away shirt, it was a marvellous sight.
When I saw that Clapton were looking for people to design covers for their programmes, I knew I had to get involved. But I couldn't think how.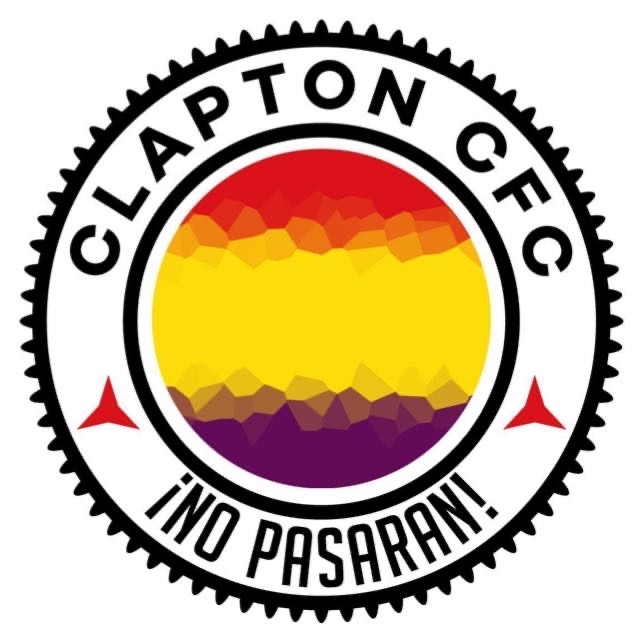 I toyed with the idea of using the stylised International Brigade flag, but I didn't want to be a one trick pony.
I was searching for a font to use for a different project, when all of a sudden I came across a font that I hadn't seen in a while. A long long while. I had found the font for Sensible World Of Soccer. How could I use this font I pondered to myself.
But before I could finish pondering the penny dropped. Programme. Sensible World Of Soccer. Clapton.
I knocked together a first draft of my idea. I bounced it off my brother who gave it his seal of approval. I was worried it was too niche.
Would Clapton like it? Would they get it? I left it a few weeks, as I didn't want to face the rejection. I tried another design, but it didn't work. I went back to the Sensible World Of Soccer design, tweaked it until I was happy.
The moment of truth. I sent it off to Clapton.
Within a minute a response pinged back. "Mate, that game ruined my GCSEs"Yes!!!! Yess!!!! Yesssss! I was pleased as you could imagine.
And now here it is. I hope you enjoy it and get it. Thank you for this opportunity.And the next team on the hitlist?
Well, of course, I don't think you need to guess where. I'll see you in April for a Tyskie.
No Pasaran!