Clapton Community FC are East London's 100% fan-owned and fan-run football club, formed in 2018.
We are proud owners of the Old Spotted Dog Stadium in Forest Gate, which is London's oldest senior football ground.
For the 2023/24 season, our women's first team are in the London & South East Women's Regional Football League Division One North (tier 6).
Our men's first team are currently in the Eastern Counties League Division One South (tier 10).
OPEN
Anyone can become a member. Prices are £5/year concession, £10 regular, £20 'solidarity'. Everyone gets voting rights, a share in the club, a card, badge and weekly newsletter. We currently have over 1000 members in 30+ countries. Join us!
DEMOCRATIC
Every member has as much opportunity to have a say as everyone else. They can vote on items at our general meetings and on individual issues as they come up, through our newsletter. These could be large, unbudgeted expenses or choosing the new kit design.
FLAT STRUCTURE
There is no hierarchy at Clapton Community FC. Any member can join our committees, which are responsible for their own decisions, within their own budgets. We replaced the traditional Board with a General Organising Committee, where reps from each area report and co-ordinate.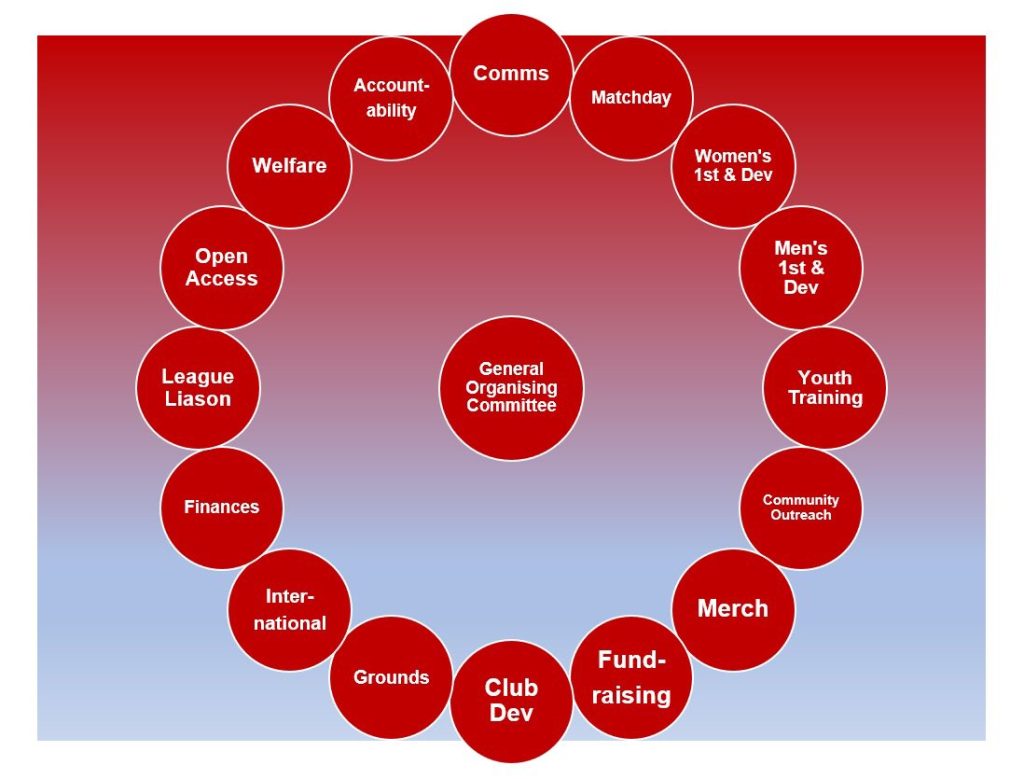 EQUITY
There is no hierarchy between our women's and men's first teams either. In everything we do, from budget and resources to our comms, we give each the same amount of love.
TRANSPARENT
We publish our monthly finances on our website. This includes everything from large purchases like the warehouse next to our ground, right down to stationery!
YOUTHFUL
We run loads of open kids training sessions in E7 and E17 with hundreds of young people participating. These are fun, inclusive, and always on a pay-what-you-can basis. Working with The Magpie Project, we have provided a space for vulnerable kids and refugees. We have also run a homework club in the Clubhouse.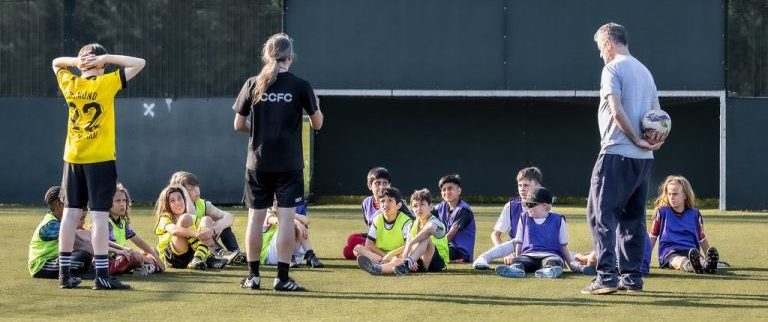 COMMUNITY
It's in our name. We have partnered with over a dozen local groups, supporting causes close to our hearts. In 2020 we set up a Hardship Fund where members could request money on a no-questions-asked basis. We have raised and handed out over £14k to date.
PAY-WHAT-YOU-WANT
On the gate, we will always try to give an option to pay-what-you-want (down to zero). Clapton Community FC will never price anyone out of football.
SOLIDARITY
Our space is the community's space. We have run football tournaments with many organisations, including IWW, Queerspace and Outside Project. We partner with Renaissance FC, giving young refugees access to football and other support. In 2021, Members voted to promote and support the Boycott, Divest and Sanction call from Palestine. That made us the first sports club in Britain to become an official Apartheid Free zone. We've also worked with CADFA to host Palestinian youth and women's teams at the Old Spotted Dog.

OPEN ACCESS
Our open access training sessions, 5-a-side and 11-a-side teams have got hundreds of women and non-binary people playing football – many of whom had been denied access or marginalised. Some are even progressing through to our development and first teams.
LEARNING
We don't get it right all of the time. But we do have the Accountability and Welfare committees to help.
CLAPTON COMMUNITY FC – ALWAYS ANTI-FASCIST, ANTI-SEXIST, ANTI-RACIST, ANTI-HOMOPHOBE, ANTI-TRANSPHOBE