It was inevitable that this game wouldn't feel like much of an event. These teams have seen a lot of each other recently. This wasn't a cup semi-final.
But Clapton emerged with the three points, in spite of the best efforts of a Wilberforce Wanderers side that was noticeably more energised, motivated and willing to use football's dark arts. 
The Tons side had a fresh look to it. Prince Kwakye and Cemal Agdelen were tasked with anchoring the midfield. Last week's hattrick hero Sherwin Stanley started on the bench, with Eliot Crosbie leading the line.
Today's line-up away at @afcwilberforce

Kick off 2pm. pic.twitter.com/oTMzZC8hv6

— Clapton CFC (@ClaptonCFC) March 9, 2019
Motivated hosts
Wilberforce came out absolutely determined to avoid a third defeat to CCFC of the season.
Speculating here, but this is our theory: the Wilberforce management got the players in early and forced them to watch this video of them getting done over at the Stray Dog. Then they made them watch this video of them crashing out of the Jim Rogers cup last weekend.
They printed out our match preview that mildly ribbed them. They printed out Geoff Ocran's tweet saying this:
@ClaptonCFC @afcwilberforce I suppose this is one way to stop us? 👀#salahramos #claptonfc #flatpitch pic.twitter.com/uyUkSInYeR

— Geoff Ocran (@Mr_Ocran) March 4, 2019
They pinned these to the dressing room door.
The manager got them all riled up: 'Are we going to let Clapton beat us again?'
But this is all just speculation. 
Niggly
The opening period was as cagey as the caged 4G pitch the game was being played on. The most dangerous action was when the ball went over the fence onto White Hart Lane, risking a traffic accident. 
There was a lot of niggly play in the middle of the park. Wilberforce were getting tight and leaving the odd stud in on their East London opponents. But the home side did well to neutralise the Clapton wingers, who had run riot in the cup clash.
At the other end, centre backs Andrew Lastic and Dean Bouho, were combining well to snaffle out any Wilberforce threat.
"Settle Clapton" bellowed assistant manager Stu Purcell. This could be heard, as the fans were in an unusually subdued mood. The team too were finding it hard to get into their rhythm.
The first tiny glimmer of goalmouth excitement came on 20 minutes, when Kwakye latched onto a throw in from the left inside the box. But he could only scoop it into the side netting.
EC does it
On 32 minutes, Clapton stole a lead. A corner was helped along by Eliot Crosbie, for Ellick Coleman to stab home.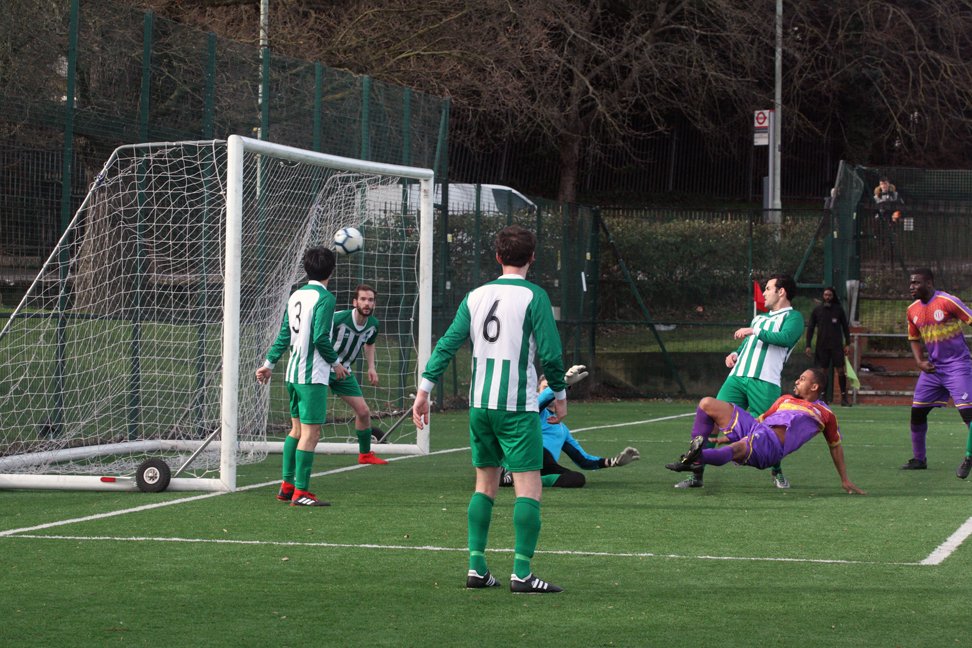 Shortly afterwards Jake Stevens ran in behind the Wanderers backline onto a whipped throughball. He attempted a kind of flying sideways scissor kick that popped just over, but would have been really nice.
Into the second half, Stevens continued his quest to score a spectacular goal on this ground. He chanced a similar lofted long-ranger to the one that had been tipped over last week. This time goalie Joe Garrood was rooted to the spot as it wiggled through the air above him. It just clipped the top of the bar.
Gallery of photos by Max Reeves
The Tons were starting to get the better of the chances, forcing a string of set pieces.
Stanley was subbed on as Stefan Nielsen got ready to take a corner. He sauntered up into the box. There was clearly only one place this corner was going to go: directly onto the newly-introduced striker's head. But Garrood showed quick reflexes to push Stanley's close range header onto the crossbar.
Taker of curling free kicks Nielsen tried to mix things up with a very non-Nielsenesque low, driven free kick. But the keeper was able to get down to block.
Points bagged
On 70 minutes, Crosbie made it 2-0 to wrap up the tie. Nielsen fizzed a corner in towards the near post where the Tons number 9 was able to nod in
The second goal today was headed in by @EliotCrosbie from @Stefan_Nielsen's corner pic.twitter.com/BK3d4TUG5j

— Clapton CFC (@ClaptonCFC) March 9, 2019
Wilberforce had their best chance of the game in the final ten minutes. A cross fell to one of their forwards on the edge of the six yard box, but he was only able to prod it against the post.
In spite of it all, keeper Dan Anfossy was never particularly troubled.
With both of the top two, in the league, Stonewall and NW London, dropping points on the same day, this keeps CCFC's slim promotion hopes alive.
After-match reaction
Midfielders Agdelen and Kwakye joined the management team to give their take on a workmanlike win and how the team are developing.
We won 2-0 at Wilberforce Wanderers in the league. Here's Prince Kwakye, Cemal Agdelen, Stu Purcell and Geoff Ocran

Posted by Clapton CFC on Saturday, March 9, 2019
Star man
The Mancunian maestro just can't stop whipping it real good.
Today's man of the match

— Clapton CFC (@ClaptonCFC) March 9, 2019
Attendance
177