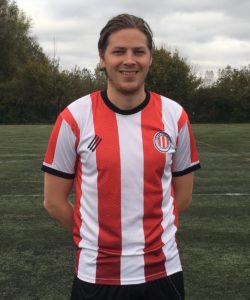 Name

Stefan Nielsen

Position

Forward

Height

6ft 1in

Age

29
Previous clubs: Clapton FC, Stansted FC, Wadham Lodge, New Mills, UEL 1st team
Twitter: @Stefan_Nielsen
Q&A
Place of Birth Stockport
Home Gallions Reach, Docklands
Day job Account Manager for a global cloud infrastructure company
Favourite player Ronaldo
Favourite team, apart from CCFC Manchester United.
Most memorable match played in I'll pick a Clapton one. Last minute win against Redbridge, both teams won six in a row going into the game, 2-2 after 20 minutes and got a goal in the game. 2-0 Ilford away was also special.
Favourite ground played at Leyton Orient
Biggest high in football Winning four consecutive leagues and a cup at the University of East London, becoming
their most successful player.
Lowest point in football Leaving Clapton FC three games before the end of the season.
Likes and hobbies I'm easily pleased. Football, golf, travelling, the pub, watching films, listening to music.
Dislikes Brexit
Favourite charity Mind.
Favourite country visited Mexico.
Favourite food Pizza.
Favourite music/performers My music taste can vary massively, from J Cole and Wretch 32 to U2, Oasis, The Smiths etc. I also love a lot of 80s/90s music.
Favourite TV shows the US office, Game of Thrones, Line of Duty, The Fall. Recently, Narcos and Unforgotten. Favourite film The Pianist.
What you love about football The ups and downs, the unpredictability, the rivalry, the ability to create and the togetherness.
What you hate about football At this level, abuse towards people giving up their own time to be involved in the sport they're passionate about, whether that be players, coaches or referees. Beyond that, the imbalance of money between the top and lower levels of football is ridiculous.
Biggest influence on you my soon to be wife, she has helped me massively and motivated me to get where I am today. I owe her a lot.
Footballing ambition To be a big part of the Clapton CFC movement helping the team up through the leagues.
Who you would most like to meet Sir Alex Ferguson.
| Date | Home | Results | Away | Time |
| --- | --- | --- | --- | --- |
| 2019-10-05 14:30:16October 5, 2019 | Cricklewood Wanderers | 5 - 0 | Clapton CFC men's first team | 14:30:162:30 pm |
| 2019-09-07 15:00:47September 7, 2019 | Hillingdon FC | 0 - 3 | Clapton CFC men's first team | 15:00:473:00 pm |
| 2019-08-24 15:00:11August 24, 2019 | Pitshanger Dynamo | 2 - 0 | Clapton CFC men's first team | 15:00:113:00 pm |
| 2019-08-10 16:00:58August 10, 2019 | Roter Stern Leipzig | 2 - 2 | Clapton CFC men's first team | 16:00:584:00 pm |
| 2019-08-03 14:00:06August 3, 2019 | Clapton CFC men's first team | 2 - 6 | NW London FC | 14:00:062:00 pm |
| 2019-07-27 12:30:29July 27, 2019 | Peckham Town | 3 - 4 | Clapton CFC men's first team | 12:30:2912:30 pm |
| 2019-07-25 19:45:24July 25, 2019 | Walthamstow FC | 2 - 1 | Clapton CFC men's first team | 19:45:247:45 pm |
| 2019-05-11 15:00:27May 11, 2019 | FC Roast | 0 - 3 | Clapton CFC men's first team | 15:00:273:00 pm |
| 2019-05-04 13:00:18May 4, 2019 | Catholic United | 5 - 1 | Clapton CFC men's first team | 13:00:181:00 pm |
| 2019-04-20 15:00:08April 20, 2019 | Clapton CFC men's first team | 6 - 5 | The Curve FC | 15:00:083:00 pm |
| 2019-04-13 19:45:25April 13, 2019 | Hilltop FC | 2 - 2 | Clapton CFC men's first team | 19:45:257:45 pm |
| 2019-04-07 11:00:40April 7, 2019 | Clapton CFC men's first team | 2 - 6 | U.E. Sant Miquel | 11:00:4011:00 am |
| 2019-04-06 15:00:33April 6, 2019 | Hereford Palace FC | 1 - 4 | Clapton CFC men's first team | 15:00:333:00 pm |
| 2019-04-03 19:45:20April 3, 2019 | Clapton CFC men's first team | 4 - 4 | NW London FC | 19:45:207:45 pm |
| 2019-03-30 14:00:35March 30, 2019 | Eastfield FC | 4 - 6 | Clapton CFC men's first team | 14:00:352:00 pm |
| 2019-03-23 15:00:07March 23, 2019 | Ware Sports | 1 - 3 | Clapton CFC men's first team | 15:00:073:00 pm |
| 2019-03-16 14:00:25March 16, 2019 | FC Star London | 1 - 3 | Clapton CFC men's first team | 14:00:252:00 pm |
| 2019-03-09 14:00:33March 9, 2019 | The Wilberforce Wanderers AFC | 0 - 2 | Clapton CFC men's first team | 14:00:332:00 pm |
| 2019-03-02 14:00:59March 2, 2019 | The Wilberforce Wanderers AFC | 1 - 4 | Clapton CFC men's first team | 14:00:592:00 pm |
| 2019-02-23 14:15:36February 23, 2019 | Clapton CFC men's first team | 3 - 0 | Chipperfield Corinthians | 14:15:362:15 pm |
| 2019-02-16 14:00:19February 16, 2019 | Clapton CFC men's first team | 5 - 1 | Stonewall FC | 14:00:192:00 pm |
| 2019-02-09 12:15:33February 9, 2019 | NW London FC | 2 - 1 | Clapton CFC men's first team | 12:15:3312:15 pm |
| 2019-02-02 14:00:37February 2, 2019 | Clapton CFC men's first team | 6 - 1 | The Wilberforce Wanderers AFC | 14:00:372:00 pm |
| 2019-01-19 13:30:18January 19, 2019 | Clapton CFC men's first team | 1 - 1 | London Samurai Rovers | 13:30:181:30 pm |
| 2019-01-05 14:00:33January 5, 2019 | Clapton CFC men's first team | 1 - 3 | FC Star London | 14:00:332:00 pm |
| 2018-12-15 14:00:07December 15, 2018 | Clapton CFC men's first team | 1 - 4 | Ealing Town FC | 14:00:072:00 pm |
| 2018-12-01 14:00:45December 1, 2018 | Clapton CFC men's first team | 1 - 1 | Eastfield FC | 14:00:452:00 pm |
| 2018-11-24 14:00:50November 24, 2018 | London Samurai Rovers | 5 - 1 | Clapton CFC men's first team | 14:00:502:00 pm |
| 2018-11-17 12:15:25November 17, 2018 | FC Deportivo Galicia Reserves | 1 - 4 | Clapton CFC men's first team | 12:15:2512:15 pm |
| 2018-11-10 15:00:24November 10, 2018 | Letchworth Garden City Eagles | 0 - 2 | Clapton CFC men's first team | 15:00:243:00 pm |
| 2018-11-03 14:00:16November 3, 2018 | Clapton CFC men's first team | 11 - 1 | Hereford Palace FC | 14:00:162:00 pm |
| 2018-10-06 14:30:49October 6, 2018 | Clapton CFC men's first team | 4 - 4 | FC Roast | 14:30:492:30 pm |
| 2018-09-29 14:30:25September 29, 2018 | South Kilburn Reserves | 2 - 4 | Clapton CFC men's first team | 14:30:252:30 pm |
| 2018-09-22 14:00:19September 22, 2018 | Clapton CFC men's first team | 4 - 5 | Hutton FC | 14:00:192:00 pm |
| 2018-09-15 15:00:52September 15, 2018 | Ealing Town FC | 1 - 2 | Clapton CFC men's first team | 15:00:523:00 pm |
| 2018-08-25 15:00:50August 25, 2018 | Clapton CFC men's first team | 5 - 2 | Wanderers FC | 15:00:503:00 pm |
| 2018-08-18 14:30:42August 18, 2018 | Epping Town FC | 4 - 4 | Clapton CFC men's first team | 14:30:422:30 pm |