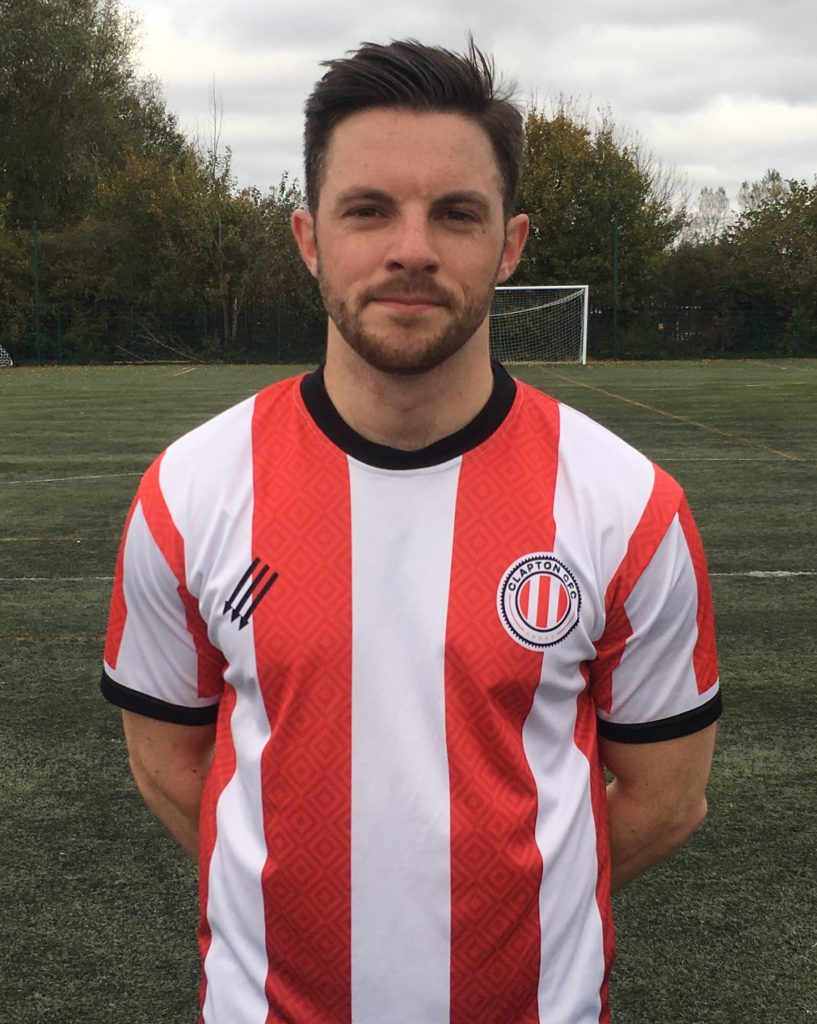 Name

Jake Stevens

Position

Forward

Current Team

Clapton CFC men's first team

Age

31
Previous clubs: Clapton FC, Enfield, Barkingside.
Twitter: @JRStevens1
Q&A
Full name: Jake Robert Stevens
Place of birth: Chelmsford, Essex
Where you live: Stratford
Day job: Account Director for a software consultancy
All time favourite player: Joe Cole
Favourite team, apart from Clapton CFC:  West Ham United
Biggest high in football: Without doubt, winning Clapton CFC's first silverware in the Jim Rogers Cup on penalties, in front of my family, friends and the greatest fans in football
Lowest point in football: Losing two cup finals with Clapton FC in two weeks (to Barking/Bowers & Pitsea) with an aggregate score of 11-3
Likes and hobbies: I attempt to play golf, looking to improve during my spell on the injury table this season.
Dislikes: Defensive duties
Favourite country visited: South Africa
Favourite food: Mexican
Favourite film: Remember the Titans
Favourite music: Pretty eclectic taste, but Sampha, The XX, FKJ are some of the regulars
Favourite TV: Stranger Things, Game of Thrones, Peaky Blinders, Shark Tank
Footballing ambition: Get Clapton CFC to where they belong. Maybe an FA Cup run before I hang the boots up.
Person you'd most like to meet: My grandad Geoff, he was a referee for 40+ years and would have absolutely loved what is happening at Clapton CFC.
| Date | Home | Results | Away | Time |
| --- | --- | --- | --- | --- |
| 2022-05-14 15:00:09May 14, 2022 | Clapton CFC men's first team | 4 - 2 | The Wilberforce Wanderers AFC | 15:00:093:00 pm |
| 2022-05-08 15:00:49May 8, 2022 | Kensington Dragons | 2 - 2 | Clapton CFC men's first team | 15:00:493:00 pm |
| 2022-05-03 20:00:00May 3, 2022 | NW London FC | 3 - 3 | Clapton CFC men's first team | 20:00:008:00 pm |
| 2022-04-30 14:00:12April 30, 2022 | Pitshanger Dynamo | 1 - 0 | Clapton CFC men's first team | 14:00:122:00 pm |
| 2022-04-23 15:00:08April 23, 2022 | Clapton CFC men's first team | 1 - 1 | Larkspur Rovers | 15:00:083:00 pm |
| 2022-04-16 15:00:08April 16, 2022 | Clapton CFC men's first team | 1 - 0 | Kensington Dragons | 15:00:083:00 pm |
| 2022-01-15 13:30:50January 15, 2022 | Sporting Hackney | 3 - 2 | Clapton CFC men's first team | 13:30:501:30 pm |
| 2022-01-08 15:15:31January 8, 2022 | Clapton CFC men's first team | 4 - 2 | Leigh Ramblers | 15:15:313:15 pm |
| 2021-12-18 14:00:03December 18, 2021 | Brentham FC | 4 - 2 | Clapton CFC men's first team | 14:00:032:00 pm |
| 2021-12-11 14:00:42December 11, 2021 | Clapton CFC men's first team | 3 - 0 | AVA | 14:00:422:00 pm |
| 2021-12-04 14:30:19December 4, 2021 | C.B. Hounslow United Res | 2 - 1 | Clapton CFC men's first team | 14:30:192:30 pm |
| 2021-11-20 17:15:00November 20, 2021 | Leigh Town | 3 - 5 | Clapton CFC men's first team | 17:15:005:15 pm |
| 2021-11-13 15:00:01November 13, 2021 | FC Soma | 2 - 1 | Clapton CFC men's first team | 15:00:013:00 pm |
| 2021-11-09 19:45:47November 9, 2021 | Clapton CFC men's first team | 0 - 0 | Stonewall FC | 19:45:477:45 pm |
| 2021-11-06 14:00:39November 6, 2021 | Clapton CFC men's first team | 6 - 2 | AEK London | 14:00:392:00 pm |
| 2021-09-25 15:00:21September 25, 2021 | Clapton CFC men's first team | 5 - 3 | NW London FC | 15:00:213:00 pm |
| 2021-09-18 15:00:37September 18, 2021 | Cricklewood Wanderers | 1 - 2 | Clapton CFC men's first team | 15:00:373:00 pm |
| 2021-09-04 15:00:09September 4, 2021 | AVA | 1 - 2 | Clapton CFC men's first team | 15:00:093:00 pm |
| 2021-08-21 15:00:25August 21, 2021 | Clapton CFC men's first team | 8 - 6 | C.B. Hounslow United Res | 15:00:253:00 pm |
| 2021-08-07 16:00:08August 7, 2021 | FC United of Manchester | 5 - 2 | Clapton CFC men's first team | 16:00:084:00 pm |
| 2021-07-17 16:00:06July 17, 2021 | Clapton CFC men's first team | 3 - 0 | Catholic United | 16:00:064:00 pm |
| 2021-05-22 14:00:05May 22, 2021 | Clapton CFC men's first team | 1 - 1 | Sporting Hackney | 14:00:052:00 pm |
| 2021-05-15 14:00:30May 15, 2021 | AEK London | 0 - 3 | Clapton CFC men's first team | 14:00:302:00 pm |
| 2021-05-08 14:00:05May 8, 2021 | Clapton CFC men's first team | 2 - 0 | Cricklewood Wanderers | 14:00:052:00 pm |
| 2021-05-01 16:00:55May 1, 2021 | NW London FC | 2 - 4 | Clapton CFC men's first team | 16:00:554:00 pm |
| 2021-04-24 12:00:19April 24, 2021 | Clapton CFC men's first team | 1 - 1 | Stonewall FC | 12:00:1912:00 pm |
| 2020-12-05 14:00:00December 5, 2020 | Estudiantes London | 1 - 3 | Clapton CFC men's first team | 14:00:002:00 pm |
| 2020-10-24 14:30:54October 24, 2020 | Clapton CFC men's first team | 2 - 2 | Brentham FC | 14:30:542:30 pm |
| 2020-10-17 15:00:17October 17, 2020 | Hilltop FC | 0 - 2 | Clapton CFC men's first team | 15:00:173:00 pm |
| 2020-10-10 14:30:05October 10, 2020 | Larkspur Rovers | 1 - 2 | Clapton CFC men's first team | 14:30:052:30 pm |
| 2020-08-25 19:30:19August 25, 2020 | Clapton CFC men's first team | 2 - 1 | Hackney Wick FC | 19:30:197:30 pm |
| 2020-08-15 14:00:54August 15, 2020 | Clapton CFC men's first team | 0 - 3 | Dunmow Town | 14:00:542:00 pm |
| 2019-07-25 19:45:24July 25, 2019 | Walthamstow FC | 2 - 1 | Clapton CFC men's first team | 19:45:247:45 pm |
| 2019-07-20 14:00:04July 20, 2019 | Clapton CFC men's first team | 1 - 2 | Sporting Hackney | 14:00:042:00 pm |
| 2019-05-11 15:00:27May 11, 2019 | FC Roast | 0 - 3 | Clapton CFC men's first team | 15:00:273:00 pm |
| 2019-05-04 13:00:18May 4, 2019 | Catholic United | 5 - 1 | Clapton CFC men's first team | 13:00:181:00 pm |
| 2019-04-13 19:45:25April 13, 2019 | Hilltop FC | 2 - 2 | Clapton CFC men's first team | 19:45:257:45 pm |
| 2019-04-08 19:30:41April 8, 2019 | CE Júpiter | 5 - 0 | Clapton CFC men's first team | 19:30:417:30 pm |
| 2019-04-06 15:00:33April 6, 2019 | Hereford Palace FC | 1 - 4 | Clapton CFC men's first team | 15:00:333:00 pm |
| 2019-04-03 19:45:20April 3, 2019 | Clapton CFC men's first team | 4 - 4 | NW London FC | 19:45:207:45 pm |
| 2019-03-30 14:00:35March 30, 2019 | Eastfield FC | 4 - 6 | Clapton CFC men's first team | 14:00:352:00 pm |
| 2019-03-23 15:00:07March 23, 2019 | Ware Sports | 1 - 3 | Clapton CFC men's first team | 15:00:073:00 pm |
| 2019-03-16 14:00:25March 16, 2019 | FC Star London | 1 - 3 | Clapton CFC men's first team | 14:00:252:00 pm |
| 2019-03-09 14:00:33March 9, 2019 | The Wilberforce Wanderers AFC | 0 - 2 | Clapton CFC men's first team | 14:00:332:00 pm |
| 2019-03-02 14:00:59March 2, 2019 | The Wilberforce Wanderers AFC | 1 - 4 | Clapton CFC men's first team | 14:00:592:00 pm |
| 2019-02-02 14:00:37February 2, 2019 | Clapton CFC men's first team | 6 - 1 | The Wilberforce Wanderers AFC | 14:00:372:00 pm |
| 2019-01-19 13:30:18January 19, 2019 | Clapton CFC men's first team | 1 - 1 | London Samurai Rovers | 13:30:181:30 pm |
| 2019-01-12 14:00:08January 12, 2019 | Stonewall FC | 4 - 0 | Clapton CFC men's first team | 14:00:082:00 pm |
| 2018-12-08 14:00:01December 8, 2018 | The Curve FC | 1 - 2 | Clapton CFC men's first team | 14:00:012:00 pm |
| 2018-11-24 14:00:50November 24, 2018 | London Samurai Rovers | 5 - 1 | Clapton CFC men's first team | 14:00:502:00 pm |
| 2018-11-03 14:00:16November 3, 2018 | Clapton CFC men's first team | 11 - 1 | Hereford Palace FC | 14:00:162:00 pm |