Clapton CFC have been drawn to play Plymouth Argyle away in the Women's FA Cup third round proper on Sunday, December 12.
It will be the first time a tier seven side has played in this round after we also became the first side to beat opponents four tiers higher in the tournament.
The Tons won at Hounslow in dramatic style, 3-1 on penalties after the match and extra time ended in a goalless draw
Argyle are in the same division as Hounslow, though a few places higher up the table, and reached this round by beating Keynsham Town away 5-3 and St Austell at home 4-2.
They usually play home games at the Manadon Sports Hub in the city although this game has been switched to Saltash United's Kimberley Stadium, over the border in Cornwall.
So far this season CCFC have beaten third tier Hounslow. fifth tier Haringey Borough and Bedford and sixth tier Biggleswade United, all away from home.
It's our fifth straight away game in the cup, and as home teams get to keep all gate receipts it's been a magically enjoyable but undeniably expensive run so far.
In CCFC's debut season in the Women's FA Cup in 2018/9, we played two home games, winning 6-3 against Margate then lost 3-2 against Oakwood.
Last season we missed out on entering the competition due to Covid-related league administration delays but we're back and 'only' 6 more wins from Wembley.
We are down to the final 52 teams in the tournament, including the 12 top tier teams who enter the competition at the next round.
Match information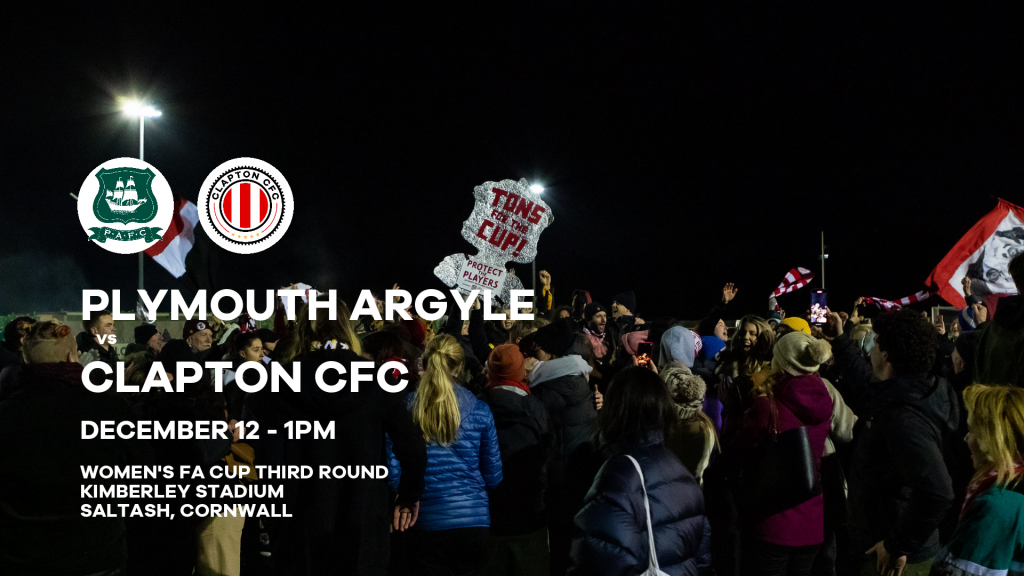 Plymouth Argyle vs Clapton CFC in the Women's FA Cup Third Round is at 1pm on Sunday, December 12 at Kimberley Stadium, Saltash, Cornwall.
Mtatch tickets are £3 and available to buy in advance from the Argyle website or on the day of the game.
However, they will only have 100 tickets on the gate, so do consider buying yours in advance. They can be shown digitally on your phone or printed at home, and cost £3 plus a 75p "fee".
The bar will be open for food and drink and you can pay by card or cash.
Plymouth Argyle have also passed on some info of their own about Saltash United's ground:
They ask that spectators do not stand in front of the seated area.
For health and safety reasons, they ask that spectators do not stand on the grassy banks within the ground.
And finally, they have specifically told fans to "refrain from bringing smoke bombs or flares" to Kimberley Stadium.
A supporters coach is running. Departure from East London will be 6am on Sunday morning and arrival home late on Sunday night.
Pay what you want for your coach seat – £30 (suggested for waged adults) £20 or £10. We won't price anyone out of attending so contact us if you'd like cheaper tickets.
There is a toilet on board! Covid rules will apply.
For those wanting to travel by train, you'll need the 7.51am from Paddington direct to Saltash, and it'll be about £100 for a return.
Group bookings with GWR of 3 to 9 people attract a 33% discount. If you're planning to travel solo or as a pair, feel free to get in touch and we'll see if we can team people up to make a group.
Kimberley Stadium is the home of Saltash United and is about a 13 minute walk or 3 minute taxi ride from Saltash station.
Live in the Bristol area? Tom Bolton is planning to travel from your city to the game. If you're up for travelling down by whatever means, then drop Tom an email as he's gauging whether there's an appetite for a car share/minibus/group train travel.
If you're travelling from the Cardiff area, @ajcox_cymru is offering a lift down.
The draw in full
1 Chorley or Bradford City v Newcastle United
2 Norton & Stockton Ancients or Leeds United v Durham
3 Brighouse Town or Farsley Celtic v Sunderland
4 Burnley v Liverpool
5 Liverpool Feds v Blackburn Rovers
6 Sheffield FC or Huddersfield Town v Loughborough Lightening
7 Leafield Athletic or Lincoln City v Lye Town or Northampton Town
8 Stoke City or Norwich City v Wolverhampton Wanderers or Nottingham Forest
9 West Bromwich Albion v Long Eaton United
10 Stourbridge FC v Sheffield United
11 Watford v Coventry United
12 Gillingham Women or Actonians v Charlton Athletic
13 Ashford Town (Middx) v London City Lionesses
14 Bristol City v Lewes
15 Bridgwater United v Crystal Palace
16 Plymouth Argyle v Clapton CFC
17 Kent Football United or Chesham United v Billericay Town
18 Portsmouth FC v Southampton FC
19 Southampton v Exeter City
20 AFC Wimbledon v Ipswich Town or Crawley Wasps