The Clapton CFC men's first team are looking to bounce back to form with their final home game of 2021.
A draw and two defeats in the last three games has seen the Tons fall off the top of the division although we're still firmly in the chasing pack.
It's the day before the women's first team game away at Plymouth Argyle, but we're hoping Tons fans can turn up the noise and cheer Geoff Ocran's team on to help them out of the sticky run.
It's also a rare opportunity to see the team in the Wadham Lodge Stadium so come along and park your Christmas shopping and drinks until the week after.
AVA are a Romanian heritage side formed in 2016 as a youth football club by former footballer Adrian Avasâlcăi.
They added an adult men's team in 2019 and in the last two Covid-19 affected seasons, they notched up a whopping 15 wins and just 2 defeats.
Unsurprisingly, the Middlesex County Football League decided to lift them up from Division One to the Premier Division to fill vacancies.
After a slow start, AVA won three in a row against Pitshanger Dynamo, Larkspur Rovers and Wilberforce Wanderers, proving they are more than worthy of a place at this level.
In our away game earlier this season, the Tons ground out an impressive 2-1 win thanks to brilliant individual goals from Noah Adejokun and Arthur Wright.
Top scorer Constantin Dron netted the AVA goal in that game, and has played division three football in Romania.
In 2019 AVA signed a partnership with the Gheorghe Hagi Football Academy, the first ever international partnership for the legendary former Romanian player.
Match information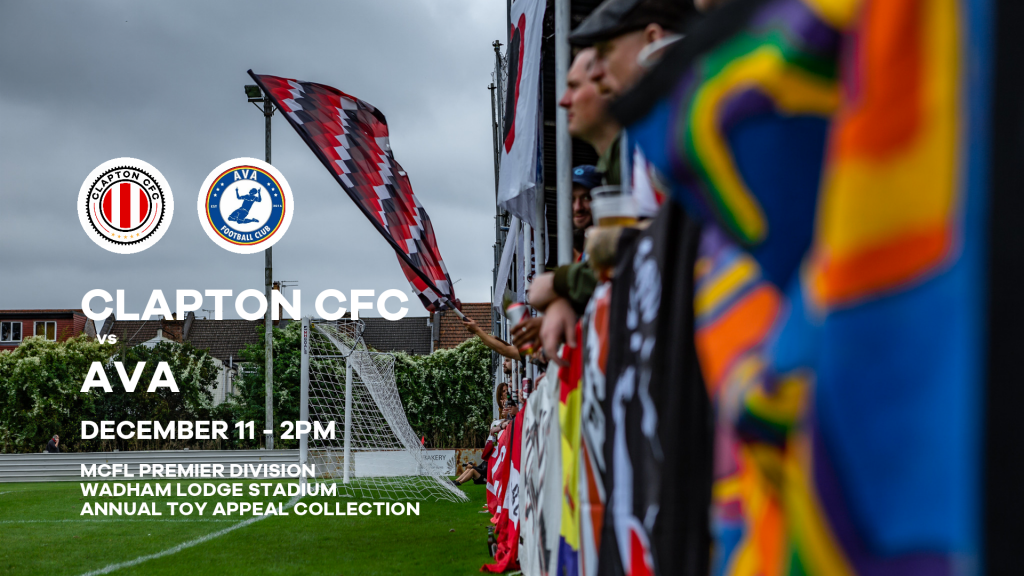 Clapton CFC vs AVA is on Saturday, December 11 2021 at 2pm at the Wadham Lodge Stadium, Kitchener Road, Walthamstow.
Advanced tickets are not needed, you can just turn up.
Entry as usual is free but with donations on the entrance welcome, with a suggested £3 for waged adults.
We will have a mini programme available at the entrance too, pick one up for free.
Fusion Foods are back selling hot food. They will have meat, veggie and vegan options and accept cards or cash. The Matchday Centres bar will be open.
We are collecting for our charity partners Magpie Project but it's toiletries only, they can't accept foodbank donations right now.
Newham Christmas Toy Appeal
Since 2015, Clapton fans have generously raised thousands for the long-running annual Newham Christmas Toy Appeal, and this year we're doing it all over again.
We'll be holding a bucket shake at half-time to help buy presents for up to 3000 children who would otherwise have nothing for Christmas.
If you can't make the game but still want to contribute, you can donate online here.
An important note
Matchday Centres have asked us to ensure that there is no more use of pyro, flares, smoke etc on their property. This has caused damage to their facilities and complaints from staff, officials and neighbours.
They have also banned glass bottles after a serious incident during a game not involving Clapton.
We have a good working relationship with MDC, who have played an invaluable role in helping us establish the club.
They have said that a failure to observe these rules will lead to sanctions that would be damaging for the club, including but not limited to requiring us to play behind closed doors.
We ask all our fans to respect MDC's requests in solidarity with our teams and everyone who works hard to run the club.
Covid rules
The pandemic is by no means over and not every adult has had the chance to have both jabs yet. So although the government and FA have scrapped all rules, we are continuing with the safety measures below. We want everyone to feel safe and comfortable.
If you're arriving by public transport, a reminder that face masks are still compulsory unless exempt
Spectators are encouraged to wear face masks indoors, such as when visiting the bar or toilets
There's hand sanitiser at the entrance and a QR code for those checking in on the app
Free NHS lateral flow tests are available if you wish to take a test before the game
Please follow the signs around the site and instructions from matchday volunteers
Spread out around the ground as much as you can
Please do not attend if…
You are ill or have symptoms of Covid-19 (a high temperature, a new, continuous cough or a loss or change to your sense of smell or taste)
You've tested positive for Covid-19 within the last 10 days or someone you live with has symptoms or tested positive
You've been told you've been in contact with someone who tested positive by NHS Test and Trace or pinged by the NHS COVID-19 app
Directions
Wadham Lodge is about 20 minutes walk from Walthamstow Central station. Turn onto Hoe Street and follow the road all the way along (past the junction with The Bell pub) until Chingford Lane. Continue past Sir George Monoux 6th Form College and take the first right onto Brookscroft Road then left onto Kitchener Road.
You can catch a bus along that route too. The 357, 34, 97, 215 will all take you to the top of Brookscroft Road from Walthamstow Central. It will take about 12 minutes.
There's also car parking space available at the ground but it may be better to park on a street nearby.