Match report by defender Alice Williams:
Not to be deterred by the road closures of Car-Free Sunday OR the horrible weather, a valiant crowd of 261 turned out to spur on our girls at the Stray Dog on Sunday, hoping to cheer us on one step further towards Wembley.
With celebrity goalscorer Emily Link and fancy feet Zhane Amoaten out on injury the ball fell at the feet of a new look front three to try and convert the hard work of the whole team into goals.
The fans did not have long to wait as our resident fitness queen Naomi Scriven beat the opposition defence, running onto a ball which was squared into the box. Running hard as ever, returning Stoke Newington legend Capucine Riom converted the pass into a well deserved early goal.
Her time away from pitch seems to have only made her more hungry to work hard, run the opposition ragged and always get there to provide an option in the box.
Clapton were fairly dominant in possession, with the ever reliable Captain Ciara Monahan being joined in the brutal battle for centre mid by two Lucys; the indefatigable Rolington and calm headed Spours.
Oakwood, however, were not about to be walked all over and made their quality heard over the sound of drums by equalising, and then taking the lead with 2 goals in less than 12 minutes. Clapton found themselves on the back foot and upped the intensity of their attacks accordingly.
Always the first to run after a long ball, and not stop running, the Devonshire terrier Ana Holmes spent huge amounts of time battling Oakwood's fullbacks for the ball, and refused to give up until it was hers. This workrate will be missed when she moves to Australia for a year this week!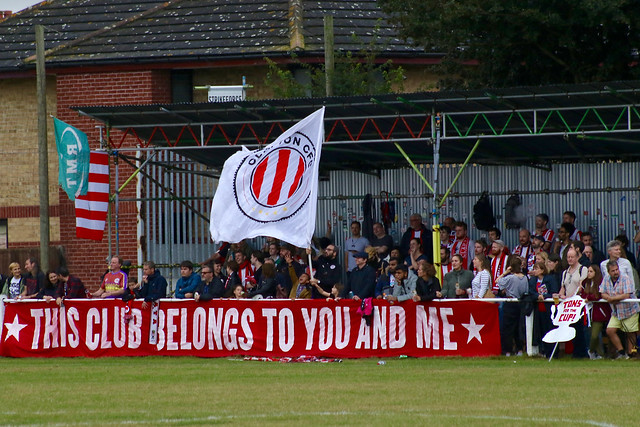 Her battles were not in vain in this final match however, as her lob from outside the box beat the Oakwood keeper to make it 2-2 at 25 minutes. Here was a match that was clearly either side's for the taking.
A solid defensive back four of Harriet Plows, Annika Quartey, Phoebe Parthews and Hannah Wright were kept busy throughout, with Plows in particular putting in an absolute shift both in our half and deep into the opposition's with a number of excellent runs up the wing and crosse into the box.
The Oakwood attack however, led by their strong number 14, were clearly experienced and managed to exploit the inevitable occasional gap to force a way into our box.
A multitude of saves had left our safest safe hands Polly Adams covered in the first mud of the season, but eventually the Oakwood attack overwhelmed our defence and took the lead to 3-2 just before half-time.
A rousing pep talk from coach Patrick McLaughlin and Captain Ciara led to a renewed focus on defending first which has long been the solid foundation on which this team has enjoyed success, winning ourselves promotion last year. The emphasis was on keeping a second half clean sheet was put into action, and indeed no more goals were conceded by our hard working players.
The second half saw fellow long distance runner Lenny Holmes coming on to mirror her sister Ana on the right wing, and the two could not be faulted in their determination to keep working the ball towards the Oakwood end. Naomi also showed her unbeatable stamina by joining in the battle for the ball all over every corner of the pitch.
Alice Nutman replaced Annika Quartey who was struggling with a calf injury and proved herself to be as excellent as ever, leading the back four with calm passes and big clearances to boot.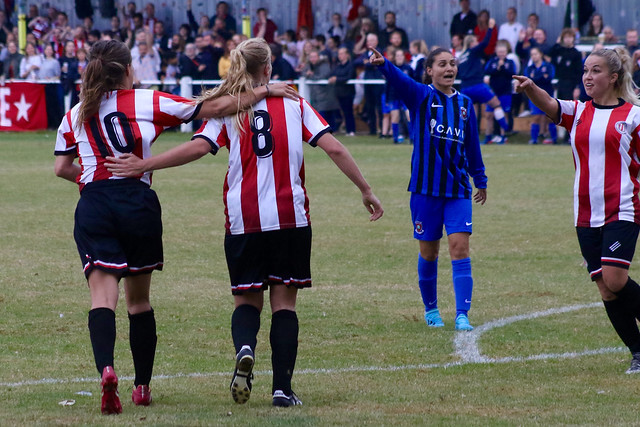 The final sub was a pair of fresh legs for centre mid when naturally defensive Lucy Rolington was exchanged for wildcard Vikki Riddi who had scored an unexpected long range goal in an earlier friendly. We were all wondering, could she do the same today to equalise and push us into extra time?
The high press continued and Clapton had numerous attempts on goal, with one of Capucine Riom's even hitting the back of the net, but being disallowed for offside.
Dead ball specialist Ciara Monahan delivered a couple of perfect corners and free kicks almost directly into the goal, but her best effort was cleared off the line in extra time.
The game ended as the second half began, Clapton CFC 2, Oakwood 3. A worthy opposition we wish them well in their cup run, and refocus our efforts on winning the league!
Photo gallery
Loads of match photos on our new Flickr page.
Post-match reaction
Star player
A close run thing, but Naomi Scriven's endless running wins out
Attendance
261.