Underdogs Clapton CFC have been drawn to play away at Hounslow in the Women's FA Cup second round proper on Sunday, November 28 at 2pm.
The history-making Tons team beat Bedford Ladies away on penalties after a classic cup clash ended 1-1 after extra time.
Hounslow are a whopping four divisions higher than Clapton CFC, and play home games at Hanworth Villa, who some Tons fans visited for the men's first team game at PFC Victoria in November 2019.
After an undeniably tough start to the season, leaving them bottom of the table, Hounslow have improved massively in recent weeks. For instance, having lost 11-0 to Portsmouth in September, they've managed to keep it much closer with a 3-0 and then 2-0 defeat since.
In fact they've won their last two games in a row – both cup games won on penalties – so they will be confident of victory.
The Tridents' head coach is Newham-born retired pro Miguel De Souza, who started his career at Clapton FC before playing for the likes of Birmingham City, Peterborough United and Wycombe Wanderers.
CCFC are one of only two teams from the seventh tier still left in the tournament, while there are no sixth tier teams left at all.
There are just 80 teams left in the cup across the country, with second tier teams like Liverpool and Lewes entering in the next round, then top tier teams in the fourth round.
So far this season we've beaten fifth tier Haringey Borough as well as Bedford and sixth tier Biggleswade United, all away from home, to reach the second round.
In CCFC's debut season in the Women's FA Cup in 2018/9, we played two home games, winning 6-3 against Margate then lost 3-2 against Oakwood.
Last season we missed out on entering the competition due to Covid-related league administration delays but we're back and 'only' 6 more wins from Wembley.
Match information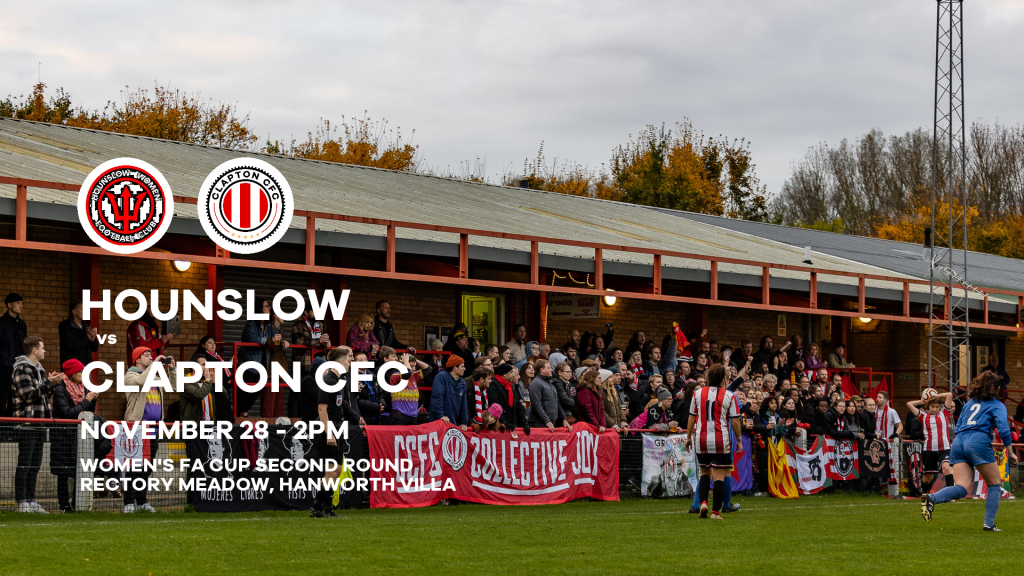 Hounslow vs Clapton CFC in the Women's FA Cup Second Round is at 2pm on Sunday, November 28 at Rectory Meadow, Feltham.
Admission is £4 adults, free for under 16s. You can either buy tickets in advance online, or by cash or contactless on the day.
Food and drink are available in the clubhouse. Programmes are also on sale, priced £1.
Rectory Meadow, or "The Ranch" as it is known locally, is the home ground of men's team Hanworth Villa FC
The nearest rail station is Feltham in Zone 6, which is about a 20 minute train journey from Clapham Junction. The ground is then about 30 minutes' walk away from Feltham.
Alternatively you can travel via Hampton or Sunbury Cross railway stations, both about 45 minutes walk, or Hounslow East Tube station, about an hour.
There are plenty of car parking spaces.
The club have specific instructions for finding the ground: "As you go down Park Road continue around a sharp left hand bend (Please note the entrance to the Rugby club is on this bend. You cannot get to our club via this entrance.) Continue until you are facing the wall of the motorway fly-over and our entrance is on the right."