Just two pre-season friendlies remain for the men's first team before the Middlesex County Football League season begins.
Our final home friendly on the Wadham Lodge 3G sees Cuffley visit – book your ticket for the game here.
Our visitors have thankfully stepped in at short notice after DTFC pulled out. If anyone booked tickets hoping to specifically see the original opponents, please email merch@claptoncfc.co.uk for a refund on your donation.
Our replacements are from near Potters Bar and play in the Herts Senior County League, the same level as us, and were sat in sixth when last season was abandoned.
We played several HSCL in Clapton CFC's first season on the way to the Anagram Records Trophy final, including Letchworth Garden City Eagles, Ware Sports and Chipperfield Corinthians.
It's The Zeppelins' second game on the Wadham Lodge 3G within weeks having lost to Step 5 West Essex.
This will be the last men's first team friendly in London before the season starts on August 14.
Just one game before then – the small matter of FC United of Manchester away, of course.
Match information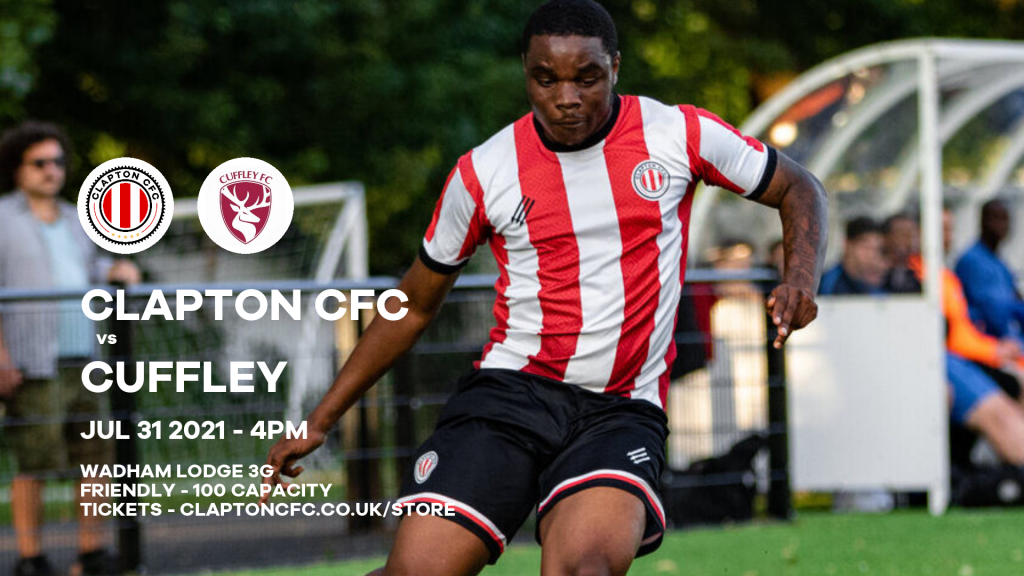 Clapton CFC vs Cuffley is on Saturday, July 31 2021 at 4pm at Wadham Lodge 3G, Matchday Centres, Kitchener Road, Walthamstow.
The match will be on the 3G at Wadham Lodge, which means space is limited, so we will be selling advanced tickets as normal. The 3G pitch has no cover, and you may need to stand outside the cage.
If you're coming, you need to follow our guidelines.
Before the day
Entry is by advanced ticket from the Clapton CFC online store – available here.
There will be a maximum of 100 tickets available for this one, with a maximum of four per person.
Entry as usual is free, but with donations welcome, with a suggested £2 for first team friendlies for waged adults.
If you wish to donate, you can do so when you book the ticket or in a bucket at the entrance (please bring exact money, no change).
We will have a list of ticket-holders, but please bring your ticket confirmation with you (particularly your order number) on your phone or printed out.
If circumstances change and you can't make the game, contact us merch@claptoncfc.co.uk for a refund and so we can resell the ticket to someone else.
On the day
Do not attend if you have Covid-19 symptoms.
Follow all guidance on travelling and social distancing in getting to Wadham Lodge.
Please have your ticket order number ready (a print-out, on your phone or memorised) so we can tick you off the list. It should be a five-digit number.
There are QR codes at Wadham Lodge for those with the NHS Covid-19 app to check in.
As it is a friendly there will be no Clapton CFC matchday programme.
Please make sure you space out 2 metres around the 3G pitch.
The bar upstairs at Wadham Lodge should be open again.
The toilets can be accessed by the side door in the car park – look out for the signs. If you have access issues, you can go up the ramp into the reception instead.
Please follow the signs and instructions from Clapton CFC matchday volunteers on the day. It's a thankless task and your cooperation will be appreciated.
Directions
Wadham Lodge is about 20 minutes walk from Walthamstow Central station. Turn onto Hoe Street and follow the road all the way along (past the junction with The Bell pub) until Chingford Lane. Continue past Sir George Monoux 6th Form College and take the first right onto Brookscroft Road then left onto Kitchener Road.
You can catch a bus along that route too. The 357, 34, 97, 215 will all take you to the top of Brookscroft Road from Walthamstow Central. It will take about 12 minutes.
There's also plenty of car parking space available at the ground.