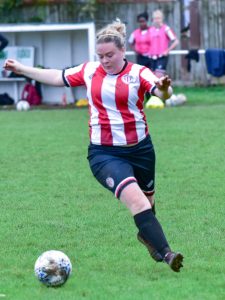 Name

Alice Nutman

Position

Defender

Height

5ft 4in

Current Team

Clapton CFC women's development, Clapton CFC women's first team

Age

30
Full Name: Alice Nutman
Place of Birth: Rochford, Essex
Where you live: Romford
Day job: Geography Teacher
Previous clubs: Colchester United
All time favourite player: Rachel Yankey
Favourite team, apart from Clapton CFC: Tottenham Hotspur
Biggest high in football: Walton win!
Lowest point in football: Losing Gothia Cup semi final
Likes and hobbies: Sampling National Trust scones
Dislikes: Patriarchy
Favourite country visited: Italy
Favourite food: Mexican
Favourite film: Beauty and the Beast
Favourite music: Dolly Parton
Favourite TV: Greys Anatomy
Footballing ambition: Score a hattrick using only my knees
Person you'd most like to meet: Dolly Parton. What a woman. 
| Date | Home | Results | Away | Time |
| --- | --- | --- | --- | --- |
| 2022-04-24 15:30:36April 24, 2022 | Dorking Wanderers | 1 - 0 | Clapton CFC women's first team | 15:30:363:30 pm |
| 2022-04-10 14:00:56April 10, 2022 | Regents Park Rangers | 1 - 3 | Clapton CFC women's first team | 14:00:562:00 pm |
| 2022-04-03 14:00:11April 3, 2022 | Edgware Town | 1 - 2 | Clapton CFC women's first team | 14:00:112:00 pm |
| 2022-03-27 14:00:03March 27, 2022 | Bromley FC | 2 - 0 | Clapton CFC women's first team | 14:00:032:00 pm |
| 2022-03-20 14:00:14March 20, 2022 | Clapton CFC women's first team | 1 - 1 | Sutton United | 14:00:142:00 pm |
| 2022-03-13 14:00:29March 13, 2022 | Clapton CFC women's first team | 2 - 4 | Comets | 14:00:292:00 pm |
| 2022-03-06 14:00:11March 6, 2022 | Clapton CFC women's first team | 3 - 3 | Queens Park Rangers Reserves | 14:00:112:00 pm |
| 2022-02-27 13:00:10February 27, 2022 | Sutton United U23 | 1 - 1 | Clapton CFC women's first team | 13:00:101:00 pm |
| 2022-02-06 14:00:50February 6, 2022 | Clapton CFC women's first team | 3 - 0 | Bromley FC | 14:00:502:00 pm |
| 2022-01-16 14:00:46January 16, 2022 | Clapton CFC women's first team | 6 - 1 | Regents Park Rangers | 14:00:462:00 pm |
| 2021-12-12 13:00:01December 12, 2021 | Plymouth Argyle | 5 - 0 | Clapton CFC women's first team | 13:00:011:00 pm |
| 2021-11-28 14:00:41November 28, 2021 | Hounslow Women | 0 - 0 | Clapton CFC women's first team | 14:00:412:00 pm |
| 2021-11-14 14:00:34November 14, 2021 | Bedford Ladies | 1 - 1 | Clapton CFC women's first team | 14:00:342:00 pm |
| 2021-11-07 14:00:11November 7, 2021 | Clapton CFC women's first team | 4 - 2 | Regents Park Rangers | 14:00:112:00 pm |
| 2021-10-24 14:00:09October 24, 2021 | Biggleswade United Ladies | 0 - 2 | Clapton CFC women's first team | 14:00:092:00 pm |
| 2021-10-17 14:00:15October 17, 2021 | Clapton CFC women's first team | 2 - 0 | Walton Casuals Ladies Reserves | 14:00:152:00 pm |
| 2021-10-16 11:00:28October 16, 2021 | Rising Ballers | 2 - 1 | Clapton CFC women's development | 11:00:2811:00 am |
| 2021-10-10 14:00:10October 10, 2021 | Clapton CFC women's first team | 1 - 1 | Headstone Manor | 14:00:102:00 pm |
| 2021-10-03 15:00:02October 3, 2021 | Haringey Borough Women | 3 - 6 | Clapton CFC women's first team | 15:00:023:00 pm |
| 2021-09-26 14:00:32September 26, 2021 | Clapton CFC women's first team | 11 - 0 | Enfield Town Thirds | 14:00:322:00 pm |
| 2021-09-19 14:00:21September 19, 2021 | Comets | 0 - 2 | Clapton CFC women's first team | 14:00:212:00 pm |
| 2021-09-12 14:00:11September 12, 2021 | Islington Borough | 3 - 3 | Clapton CFC women's first team | 14:00:112:00 pm |
| 2021-09-05 14:00:31September 5, 2021 | Clapton CFC women's first team | 5 - 0 | Sutton United U23 | 14:00:312:00 pm |
| 2021-08-22 14:00:08August 22, 2021 | Hackney WFC | 2 - 0 | Clapton CFC women's first team | 14:00:082:00 pm |
| 2021-08-15 15:00:12August 15, 2021 | Clapton CFC women's first team | 6 - 0 | Upton Park Ladies | 15:00:123:00 pm |
| 2021-08-07 13:30:57August 7, 2021 | FC United of Manchester Women | 9 - 0 | Clapton CFC women's first team | 13:30:571:30 pm |
| 2021-08-01 14:30:23August 1, 2021 | Brentford Women | 1 - 0 | Clapton CFC women's first team | 14:30:232:30 pm |
| 2021-05-30 14:00:15May 30, 2021 | Clapton CFC women's first team | 2 - 2 | New London Lionesses Development | 14:00:152:00 pm |
| 2021-05-16 14:30:54May 16, 2021 | Brentford Women | 2 - 0 | Clapton CFC women's first team | 14:30:542:30 pm |
| 2021-05-02 14:00:06May 2, 2021 | Clapton CFC women's first team | 5 - 1 | Dulwich Hamlet Reserves | 14:00:062:00 pm |
| 2021-04-25 14:15:08April 25, 2021 | Enfield Town Thirds | 2 - 2 | Clapton CFC women's first team | 14:15:082:15 pm |
| 2021-04-18 14:00:13April 18, 2021 | Clapton CFC women's first team | 3 - 0 | Walton Casuals Ladies | 14:00:132:00 pm |
| 2021-04-11 14:00:50April 11, 2021 | Clapton CFC women's first team | 0 - 3 | Clapham United WFC | 14:00:502:00 pm |
| 2020-12-12 11:00:34December 12, 2020 | Clapton CFC women's development | 2 - 3 | SGS XI | 11:00:3411:00 am |
| 2020-08-23 16:00:49August 23, 2020 | Clapton CFC women's first team | 11 - 1 | Tower Hamlets WFC | 16:00:494:00 pm |
| 2020-03-15 11:00:20March 15, 2020 | Luton Town Reserves | 1 - 4 | Clapton CFC women's first team | 11:00:2011:00 am |
| 2020-01-12 14:00:18January 12, 2020 | Comets | 4 - 2 | Clapton CFC women's first team | 14:00:182:00 pm |
| 2020-01-05 15:00:39January 5, 2020 | Walton Casuals Ladies | 3 - 1 | Clapton CFC women's first team | 15:00:393:00 pm |
| 2019-11-10 14:00:32November 10, 2019 | Clapton CFC women's first team | 3 - 4 | Islington Borough | 14:00:322:00 pm |
| 2019-10-27 14:00:39October 27, 2019 | Clapton CFC women's first team | 1 - 4 | Crystal Palace Development | 14:00:392:00 pm |
| 2019-10-20 14:00:05October 20, 2019 | Clapton CFC women's first team | 0 - 5 | Leyton Orient Development | 14:00:052:00 pm |
| 2019-10-13 14:00:59October 13, 2019 | Clapton CFC women's first team | 5 - 2 | Comets | 14:00:592:00 pm |
| 2019-10-06 14:00:37October 6, 2019 | Clapton CFC women's first team | 1 - 2 | Walton Casuals Ladies | 14:00:372:00 pm |
| 2019-09-22 14:00:52September 22, 2019 | Clapton CFC women's first team | 2 - 3 | Oakwood Ladies FC | 14:00:522:00 pm |
| 2019-09-01 14:00:47September 1, 2019 | Clapton CFC women's first team | 6 - 3 | Margate FC Ladies | 14:00:472:00 pm |
| 2019-08-03 16:30:03August 3, 2019 | Clapton CFC women's first team | 5 - 2 | Santacruzense | 16:30:034:30 pm |
| 2019-03-31 14:00:15March 31, 2019 | AFC Stoke Newington | 3 - 2 | Headstone Manor | 14:00:152:00 pm |
| 2019-02-24 14:00:47February 24, 2019 | AFC Stoke Newington | 3 - 2 | Walton Casuals Ladies | 14:00:472:00 pm |
| 2019-02-17 14:00:12February 17, 2019 | AFC Stoke Newington | 0 - 0 | Clapham United Reserves | 14:00:122:00 pm |
| 2019-02-03 14:00:30February 3, 2019 | AFC Stoke Newington | 6 - 5 | Tower Hamlets WFC | 14:00:302:00 pm |
| 2019-01-20 14:15:57January 20, 2019 | Brentford Development | 4 - 7 | AFC Stoke Newington | 14:15:572:15 pm |
| 2019-01-13 14:00:59January 13, 2019 | AFC Stoke Newington | 0 - 3 | New London Lionesses | 14:00:592:00 pm |
| 2019-01-06 14:00:44January 6, 2019 | Balham Panthers WFC | 3 - 0 | AFC Stoke Newington | 14:00:442:00 pm |
| 2018-12-02 14:00:42December 2, 2018 | AFC Stoke Newington | 7 - 0 | Alexandra Park Women | 14:00:422:00 pm |
| 2018-11-18 14:00:41November 18, 2018 | Camden Town Ladies | 1 - 6 | AFC Stoke Newington | 14:00:412:00 pm |
| 2018-11-11 14:00:16November 11, 2018 | Enfield Town Thirds | 3 - 3 | AFC Stoke Newington | 14:00:162:00 pm |
| 2018-11-04 14:00:38November 4, 2018 | Larkspur Rovers Ladies | 0 - 1 | AFC Stoke Newington | 14:00:382:00 pm |
| 2018-10-28 14:00:55October 28, 2018 | AFC Stoke Newington | 6 - 1 | Camden Town Ladies | 14:00:552:00 pm |
| 2018-10-14 14:00:21October 14, 2018 | AFC Stoke Newington | 5 - 1 | Brentford Development | 14:00:212:00 pm |
| 2018-10-07 14:00:08October 7, 2018 | Clapham United Reserves | 1 - 5 | AFC Stoke Newington | 14:00:082:00 pm |
| 2018-09-23 14:00:26September 23, 2018 | Headstone Manor | 1 - 3 | AFC Stoke Newington | 14:00:262:00 pm |
| 2018-09-02 14:00:46September 2, 2018 | AFC Stoke Newington | 1 - 7 | Enfield Town Thirds | 14:00:462:00 pm |