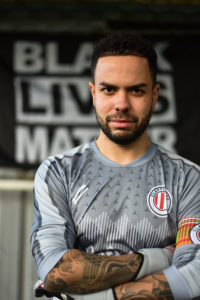 Name

Jack Francis

Position

Goalkeeper

Height

5ft 9in (175cm)

Current Team

Clapton CFC men's first team

Age

32
PREVIOUS CLUBS: Clapton FC, Redbridge, Barkingside, Chingford Athletic
Q&A
PLACE OF BIRTH: London
WHERE YOU LIVE: Walthamstow
DAY JOB: Operations Manager at a media company
ALL TIME FAVOURITE PLAYER: Iker Casillas
FAVOURITE TEAM, APART FROM CLAPTON CFC: Leeds United
BIGGEST HIGH IN FOOTBALL: I've won a few individual awards in my time, but the memories of winning league and cup competitions with some of your best friends can't be beaten.
LOWEST POINT IN FOOTBALL: Once conceded a goal from an obscene distance in a semi-final; we lost 2-1
LIKES AND HOBBIES: A bit of cooking and baking, but a lot of my time is taken up making sure my cat doesn't destroy the flat.
DISLIKES: People that don't fact-check before tweeting
FAVOURITE COUNTRY VISITED: Japan
FAVOURITE FOOD: I've recently turned veggie so all suggestions welcome…
FAVOURITE FILM: Se7en, or anything with an original storyline
FAVOURITE MUSIC: Probably a cliché but I have an eclectic taste. The Strokes are my favourite band, and I have everything The Clash have recorded, but dancehall/reggae is probably what I listen to most…
FAVOURITE TV: The Wire, Narcos,and Scandinavian dramas on BBC Four
FOOTBALLING AMBITION: I've been in a few training sessions for the Dominica national team, just need that one cap now!
PERSON YOU'D MOST LIKE TO MEET: I miss my Mum every day. God rest her soul.
| Date | Home | Results | Away | Time |
| --- | --- | --- | --- | --- |
| 2022-05-14 15:00:09May 14, 2022 | Clapton CFC men's first team | 4 - 2 | The Wilberforce Wanderers AFC | 15:00:093:00 pm |
| 2022-05-08 15:00:49May 8, 2022 | Kensington Dragons | 2 - 2 | Clapton CFC men's first team | 15:00:493:00 pm |
| 2022-05-03 20:00:00May 3, 2022 | NW London FC | 3 - 3 | Clapton CFC men's first team | 20:00:008:00 pm |
| 2022-04-30 14:00:12April 30, 2022 | Pitshanger Dynamo | 1 - 0 | Clapton CFC men's first team | 14:00:122:00 pm |
| 2022-04-23 15:00:08April 23, 2022 | Clapton CFC men's first team | 1 - 1 | Larkspur Rovers | 15:00:083:00 pm |
| 2022-04-16 15:00:08April 16, 2022 | Clapton CFC men's first team | 1 - 0 | Kensington Dragons | 15:00:083:00 pm |
| 2022-04-09 15:00:40April 9, 2022 | Clapton CFC men's first team | 0 - 1 | Brentham FC | 15:00:403:00 pm |
| 2022-04-02 15:00:51April 2, 2022 | Clapton CFC men's first team | 1 - 1 | Cricklewood Wanderers | 15:00:513:00 pm |
| 2022-03-19 14:30:21March 19, 2022 | Clapton CFC men's first team | 2 - 0 | Indian Gymkhana FC | 14:30:212:30 pm |
| 2022-03-15 19:45:05March 15, 2022 | The Wilberforce Wanderers AFC | 1 - 5 | Clapton CFC men's first team | 19:45:057:45 pm |
| 2022-03-12 14:00:35March 12, 2022 | Clapton CFC men's first team | 3 - 0 | Cricklewood Wanderers | 14:00:352:00 pm |
| 2022-02-19 19:45:51February 19, 2022 | NW London FC | 2 - 2 | Clapton CFC men's first team | 19:45:517:45 pm |
| 2022-02-12 14:00:25February 12, 2022 | Stonewall FC | 0 - 4 | Clapton CFC men's first team | 14:00:252:00 pm |
| 2022-02-05 14:00:56February 5, 2022 | Clapton CFC men's first team | 1 - 0 | Sporting Hackney | 14:00:562:00 pm |
| 2022-01-22 13:30:42January 22, 2022 | Clapton CFC men's first team | 6 - 0 | Larkspur Rovers | 13:30:421:30 pm |
| 2022-01-15 13:30:50January 15, 2022 | Sporting Hackney | 3 - 2 | Clapton CFC men's first team | 13:30:501:30 pm |
| 2021-12-18 14:00:03December 18, 2021 | Brentham FC | 4 - 2 | Clapton CFC men's first team | 14:00:032:00 pm |
| 2021-12-11 14:00:42December 11, 2021 | Clapton CFC men's first team | 3 - 0 | AVA | 14:00:422:00 pm |
| 2021-12-04 14:30:19December 4, 2021 | C.B. Hounslow United Res | 2 - 1 | Clapton CFC men's first team | 14:30:192:30 pm |
| 2021-11-13 15:00:01November 13, 2021 | FC Soma | 2 - 1 | Clapton CFC men's first team | 15:00:013:00 pm |
| 2021-11-09 19:45:47November 9, 2021 | Clapton CFC men's first team | 0 - 0 | Stonewall FC | 19:45:477:45 pm |
| 2021-11-06 14:00:39November 6, 2021 | Clapton CFC men's first team | 6 - 2 | AEK London | 14:00:392:00 pm |
| 2021-10-30 14:30:44October 30, 2021 | Kensington Dragons | 0 - 4 | Clapton CFC men's first team | 14:30:442:30 pm |
| 2021-10-23 14:30:37October 23, 2021 | Indian Gymkhana FC | 3 - 0 | Clapton CFC men's first team | 14:30:372:30 pm |
| 2021-10-01 19:45:56October 1, 2021 | Sporting Hackney | 2 - 5 | Clapton CFC men's first team | 19:45:567:45 pm |
| 2021-09-25 15:00:21September 25, 2021 | Clapton CFC men's first team | 5 - 3 | NW London FC | 15:00:213:00 pm |
| 2021-09-18 15:00:37September 18, 2021 | Cricklewood Wanderers | 1 - 2 | Clapton CFC men's first team | 15:00:373:00 pm |
| 2021-09-11 15:00:19September 11, 2021 | Larkspur Rovers | 1 - 2 | Clapton CFC men's first team | 15:00:193:00 pm |
| 2021-09-04 15:00:09September 4, 2021 | AVA | 1 - 2 | Clapton CFC men's first team | 15:00:093:00 pm |
| 2021-08-28 15:00:44August 28, 2021 | Clapton CFC men's first team | 3 - 2 | Pitshanger Dynamo | 15:00:443:00 pm |
| 2021-08-21 15:00:25August 21, 2021 | Clapton CFC men's first team | 8 - 6 | C.B. Hounslow United Res | 15:00:253:00 pm |
| 2021-08-14 15:00:08August 14, 2021 | Clapton CFC men's first team | 2 - 4 | FC Soma | 15:00:083:00 pm |
| 2021-08-07 16:00:08August 7, 2021 | FC United of Manchester | 5 - 2 | Clapton CFC men's first team | 16:00:084:00 pm |
| 2021-07-31 16:00:55July 31, 2021 | Clapton CFC men's first team | 9 - 2 | Cuffley FC | 16:00:554:00 pm |
| 2021-07-24 14:00:50July 24, 2021 | Clapton CFC men's first team | 2 - 1 | Dunmow Town | 14:00:502:00 pm |
| 2021-07-17 16:00:06July 17, 2021 | Clapton CFC men's first team | 3 - 0 | Catholic United | 16:00:064:00 pm |
| 2021-07-13 19:45:56July 13, 2021 | Barking FC | 3 - 1 | Clapton CFC men's first team | 19:45:567:45 pm |
| 2021-07-10 16:00:37July 10, 2021 | Clapton CFC men's first team | 1 - 1 | Estudiantes London | 16:00:374:00 pm |
| 2021-07-03 14:30:49July 3, 2021 | CSM London | 1 - 1 | Clapton CFC men's first team | 14:30:492:30 pm |
| 2021-05-22 14:00:05May 22, 2021 | Clapton CFC men's first team | 1 - 1 | Sporting Hackney | 14:00:052:00 pm |
| 2021-05-15 14:00:30May 15, 2021 | AEK London | 0 - 3 | Clapton CFC men's first team | 14:00:302:00 pm |
| 2021-05-08 14:00:05May 8, 2021 | Clapton CFC men's first team | 2 - 0 | Cricklewood Wanderers | 14:00:052:00 pm |
| 2021-05-01 16:00:55May 1, 2021 | NW London FC | 2 - 4 | Clapton CFC men's first team | 16:00:554:00 pm |
| 2021-04-24 12:00:19April 24, 2021 | Clapton CFC men's first team | 1 - 1 | Stonewall FC | 12:00:1912:00 pm |
| 2020-12-12 16:15:46December 12, 2020 | Hullbridge Sports U23 | 0 - 3 | Clapton CFC men's first team | 16:15:464:15 pm |
| 2020-12-05 14:00:00December 5, 2020 | Estudiantes London | 1 - 3 | Clapton CFC men's first team | 14:00:002:00 pm |
| 2020-10-24 14:30:54October 24, 2020 | Clapton CFC men's first team | 2 - 2 | Brentham FC | 14:30:542:30 pm |
| 2020-10-17 15:00:17October 17, 2020 | Hilltop FC | 0 - 2 | Clapton CFC men's first team | 15:00:173:00 pm |
| 2020-10-10 14:30:05October 10, 2020 | Larkspur Rovers | 1 - 2 | Clapton CFC men's first team | 14:30:052:30 pm |
| 2020-09-26 15:00:25September 26, 2020 | Clapton CFC men's first team | 0 - 1 | Indian Gymkhana FC | 15:00:253:00 pm |
| 2020-09-19 15:00:53September 19, 2020 | Clapton CFC men's first team | 0 - 0 | NW London FC | 15:00:533:00 pm |
| 2020-09-12 15:00:16September 12, 2020 | Enfield Borough | 6 - 0 | Clapton CFC men's first team | 15:00:163:00 pm |
| 2020-09-05 15:00:33September 5, 2020 | Clapton CFC men's first team | 1 - 2 | Hilltop FC | 15:00:333:00 pm |
| 2020-08-25 19:30:19August 25, 2020 | Clapton CFC men's first team | 2 - 1 | Hackney Wick FC | 19:30:197:30 pm |
| 2020-08-15 14:00:54August 15, 2020 | Clapton CFC men's first team | 0 - 3 | Dunmow Town | 14:00:542:00 pm |
| 2020-08-09 14:30:49August 9, 2020 | Baiteze Squad | 11 - 0 | Clapton CFC men's development | 14:30:492:30 pm |
| 2020-08-08 14:00:51August 8, 2020 | Clapton CFC men's first team | 5 - 1 | Sporting Hackney | 14:00:512:00 pm |
| 2020-08-01 15:00:26August 1, 2020 | Chadwell Heath Spartans | 0 - 3 | Clapton CFC men's first team | 15:00:263:00 pm |
| 2020-03-14 14:30:49March 14, 2020 | Clapton CFC men's first team | 1 - 1 | Cricklewood Wanderers | 14:30:492:30 pm |
| 2020-03-07 14:00:39March 7, 2020 | Clapton CFC men's first team | 1 - 1 | London Samurai Rovers | 14:00:392:00 pm |
| 2020-02-29 15:00:42February 29, 2020 | Yeading Town | 1 - 3 | Clapton CFC men's first team | 15:00:423:00 pm |
| 2020-02-22 14:00:34February 22, 2020 | Clapton CFC men's first team | 2 - 3 | Brentham FC | 14:00:342:00 pm |
| 2020-02-15 14:00:10February 15, 2020 | Clapton CFC men's first team | 2 - 0 | Larkspur Rovers | 14:00:102:00 pm |
| 2020-01-25 14:00:58January 25, 2020 | Stonewall FC | 2 - 6 | Clapton CFC men's first team | 14:00:582:00 pm |
| 2020-01-11 14:00:34January 11, 2020 | Clapton CFC men's first team | 2 - 2 | PFC Victoria London | 14:00:342:00 pm |
| 2020-01-04 14:00:31January 4, 2020 | Brentham FC | 2 - 2 | Clapton CFC men's first team | 14:00:312:00 pm |
| 2019-11-30 15:00:36November 30, 2019 | London Samurai Rovers | 1 - 3 | Clapton CFC men's first team | 15:00:363:00 pm |
| 2019-11-09 15:00:39November 9, 2019 | PFC Victoria London | 2 - 3 | Clapton CFC men's first team | 15:00:393:00 pm |
| 2019-11-05 19:45:44November 5, 2019 | Clapton CFC men's first team | 1 - 0 | NW London FC | 19:45:447:45 pm |
| 2019-11-02 13:30:44November 2, 2019 | Runwell Sports | 2 - 1 | Clapton CFC men's first team | 13:30:441:30 pm |
| 2019-10-26 14:30:07October 26, 2019 | Clapton CFC men's first team | 4 - 0 | C.B. Hounslow United Res | 14:30:072:30 pm |
| 2019-10-19 14:00:54October 19, 2019 | Runwell Sports | 1 - 2 | Clapton CFC men's first team | 14:00:542:00 pm |
| 2019-10-12 14:30:35October 12, 2019 | Clapton CFC men's first team | 5 - 2 | Stonewall FC | 14:30:352:30 pm |
| 2019-10-05 14:30:16October 5, 2019 | Cricklewood Wanderers | 5 - 0 | Clapton CFC men's first team | 14:30:162:30 pm |
| 2019-09-21 15:00:28September 21, 2019 | Hilltop FC | 2 - 2 | Clapton CFC men's first team | 15:00:283:00 pm |
| 2019-08-31 15:00:01August 31, 2019 | Wivenhoe Town | 5 - 1 | Clapton CFC men's first team | 15:00:013:00 pm |
| 2019-08-24 15:00:11August 24, 2019 | Pitshanger Dynamo | 2 - 0 | Clapton CFC men's first team | 15:00:113:00 pm |
| 2019-08-20 19:45:42August 20, 2019 | Clapton CFC men's first team | 2 - 0 | Sporting Hackney | 19:45:427:45 pm |
| 2019-08-03 14:00:06August 3, 2019 | Clapton CFC men's first team | 2 - 6 | NW London FC | 14:00:062:00 pm |
| 2019-07-27 12:30:29July 27, 2019 | Peckham Town | 3 - 4 | Clapton CFC men's first team | 12:30:2912:30 pm |
| 2019-07-25 19:45:24July 25, 2019 | Walthamstow FC | 2 - 1 | Clapton CFC men's first team | 19:45:247:45 pm |
| 2019-07-20 14:00:04July 20, 2019 | Clapton CFC men's first team | 1 - 2 | Sporting Hackney | 14:00:042:00 pm |
| 2019-07-13 12:00:36July 13, 2019 | Lopes Tavares | 4 - 1 | Clapton CFC men's first team | 12:00:3612:00 pm |
| 2019-07-06 14:00:04July 6, 2019 | Clapton CFC men's first team | 3 - 2 | Wanderers FC | 14:00:042:00 pm |