Underdogs Clapton CFC visit a Bedford Ladies side two division above us in the first round proper of the Women's FA Cup on Sunday, November 14.
The Tons reached this stage after a bye and two away wins at higher division opponents, firstly at Haringey Borough and then Biggleswade United.
We are one of just five Level Seven teams left in the competition, so we are very much rank outsiders, but our chances will improve with another big turnout.
The combined attendances for our last two rounds was a superb 519, while over 1800 people have seen our women's first team play this season alone.
We were due to play this tie at home but London Seaward have a home tie at the Wadham Lodge Stadium and we discovered that the Stray Dog is a few metres short of the minimum pitch size for FA Cup football.
After days of trying to find an alternative venue in East London and surrounding areas, we've had to switch the tie to Bedford, specifically Kempston Rovers' Hillgrounds Stadium.
It's a 42 minute train trip from St Pancras to Bedford, then a 30 minute walk, so it's very similar to the journey to Biggleswade last month.
The prestigious tie also coincides with the Women's Football Weekend, which takes place annually during the November men's football international break.
Bedford Ladies & Girls Football Club was founded in 1996 as part of the boys club West End FC before setting out on their own.
They have a superb pedigree, including several seasons higher in the pyramid in the FA Women's Premier League South East Division One.
This season they are second top of the Eastern Region Women's Football League Premier, two levels above us, and in the same division as Haringey who we played two rounds ago.
After a slowish start to the season, they won seven games in a row in all competitions, before a good draw away at Luton Town last week.
In the Women's FA Cup, they beat Hutton 2-0 first, from the level below, then Bowers & Pitsea on penalties next, from their own division.
This season they have 13 teams, from age 6 to adult, and are paired with Arsenal as part of their sister club programme.
In 2018 they moved to the Eyrie Stadium, also home of the men's team Bedford Town, though our FA Cup clash will be at Kempston Rovers FC instead.
In CCFC's debut season in the Women's FA Cup in 2018/9, we played two home games at the Stray Dog, winning 6-3 against Margate then lost 3-2 against Oakwood, with a combined attendance of 571.
Last season we missed out on entering the competition due to Covid-related league administration delays but we're back and 'only' 7 more wins from Wembley.
Winning teams in the first round proper will receive £850. Meanwhile, clubs who exit after these fixtures will pick up £215.
Match information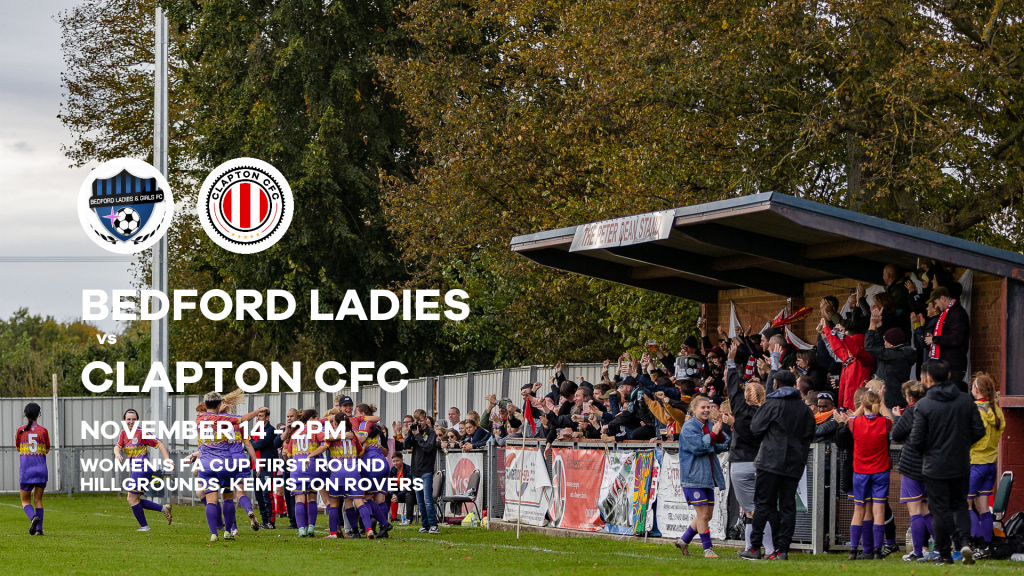 Bedford Ladies FC vs Clapton CFC is on Sunday, November 14 at 2pm at Hillgrounds Stadium, Hillgrounds Road, Kempston, Bedfordshire MK42 8SZ
We have spaces on the team coach. Just a tenner gets you from East London to the ground and back. Email womensfirstteam@claptoncfc.co.uk to book or for more info.
Trains run from London St Pancras to Bedford frequently and take as little as 42 minutes. It's about a 30 minute walk from there, or you can catch a bus (number 1 or 53) to take you very close.
If you're travelling by car, there's plenty of spaces in the car park outside the ground. The turning into the ground is just after Kempston Pool.
Admission is £3 for adults (16 and over) and under 16s free. There will be a programme available too.
The bar will be open for drinks and hot food. They take payments by cash or card.
The ground has one covered side, which has the choice of seating or standing.