It's a revenge mission for Clapton CFC men's first team on Saturday away at a side who beat us on the opening day.
Newly promoted FC Soma caused something of a shock when they deservedly won 4-2 at the Wadham Lodge 3G in their first game at this level.
After a few wobbly wins, the Tons have hit form and the two teams have been battling it out for number one spot since, only separated by goals scored at the moment.
Soma have so far won seven games, drawn with Larkspur Rovers, Pitshanger Dynamo and Kensington Dragons, and lost to Indian Gymkhana and NW London.
in a week of huge games for CCFC – Stonewall FC for the men's first team on Tuesday night, and particularly Bedford Ladies in the Women's FA Cup on Sunday – this one is important too.
A bit of background information about Saturday's hosts. FC Soma are a youth and mens football club originally from the London borough of Camden.
They joined the league in 2019/20, meaning they've had just two Covid-affected seasons so far, but were promoted in the summer on the strength of being top after six games last season.
This summer they appointed Mansor Omar as their new manager at the young age of 28 who seems to be doing a cracking job so far.
Their home ground is the new 3G development at Bannister Sports Ground in Harrow. That's named after local hero Roger Bannister, who ran the first four-minute mile in 1954 and opened the facility in 1966.
Match information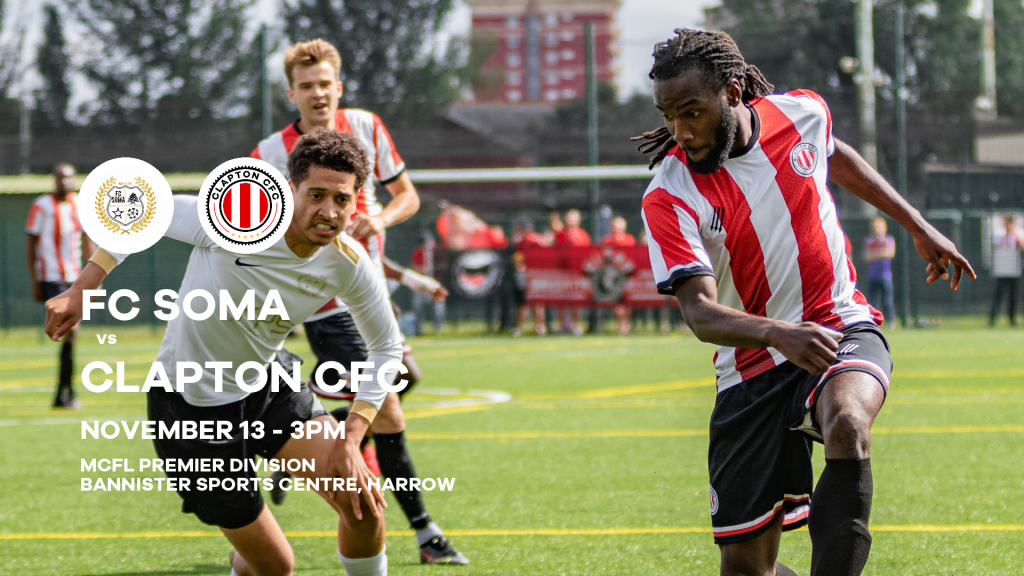 FC Soma vs Clapton CFC men's first team is on Saturday, November 13 at 3pm at Bannister Sports Centre, Uxbridge Road, Harrow. HA3 6SW
The nearest Overground station is Hatch End, 15 minutes walk away, while Harrow & Wealdstone on the Bakerloo is the closest Underground station, about 30 minutes walk.
Or mix them both and go to Queen's Park on the Bakerloo line and change to board an Overground train to Hatch End, direction of Watford Junction.
There is one side of the pitch where spectators can stand behind the cordoned gate at the pitch. It's a leisure centre vibe so there isn't a bar on site but there will be food available.
Please note that the Middlesex County Football League have instructed all teams to hold a minute's silence prior to kick-off for Remembrance Sunday.