42 days after their 2020/2021 season finished, the Clapton CFC men's first team are back with the first pre-season friendly ahead of 2021/2022 against CSM London FC.
Geoff Ocran's side's season ended with the bittersweet feeling of going unbeaten in the Middlesex Super 6 League – a replacement mini-tournament after the league season was abandoned – but missing out on the top spot.
After a short break the Tons are returning to training this week, ahead of the new Middlesex County Football League Premier Division season, expected to kick off on August 14.
It will be a makeshift CCFC side mainly to help work on fitness, including some fringe players and possibly trialists too.
Geoff said:
It's the first pre-season game of what we hope will be a long but successful season that we finally complete.

It will be a mixed side on Saturday with first team, development and trialist players as we attempt to go into next season with our strongest squad ever.

Chairman Anees Ikramullah and manager Will Broby are doing greats things over at CSM with the multiple teams they have set up and there are a few players who represented both teams.
CSM London FC play in the Essex Alliance Premier Division, which has recently been upgraded by the FA to the same Step 7 as us, so it will be a good early test of levels.
There are some familiar faces connected to CSM, notably their committee member Tom Carding, who has made 15 appearances for CCFC in defence including our first ever game at Holland FC and international games against CE Jupiter and UE Sant Miquel.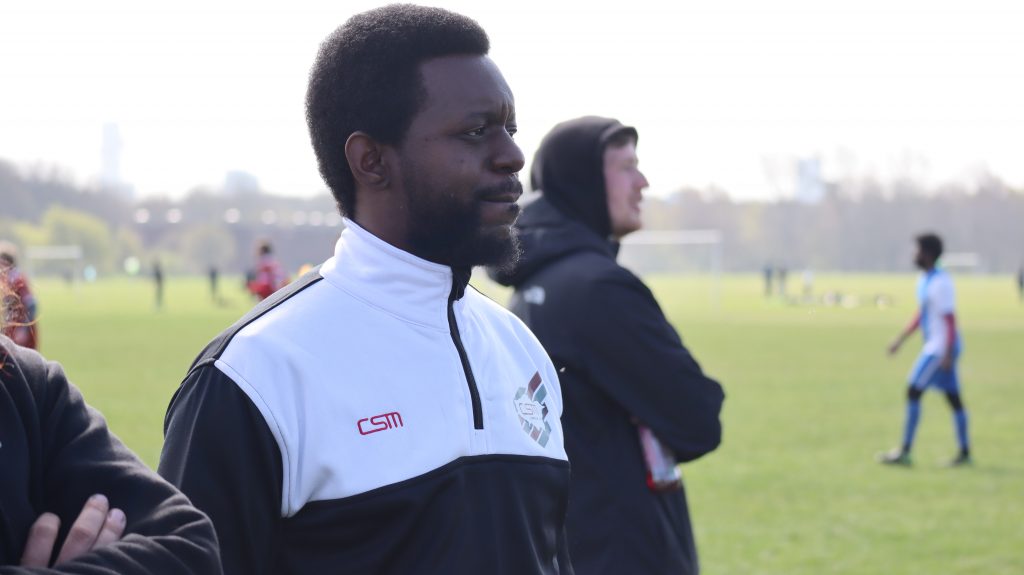 Others in the CSM set-up have played with some of our players, including in Sunday league football for Downs FC, and they also have some Clapton CFC members too.
If you're wondering, CSM stands for Centric Sports Management and as a non-profit foundation with charitable objectives they're doing some excellent community work.
CSM London FC chairman Anees Ikramullah, a CCFC member, told us more…
We are doing a number of community projects one of which our most recent is #JustTalk – running a series of Level 1 Mental Health Awareness courses for people in grassroots football and having local people share their Grassroots Stories via our #JustTalk podcast.

Another is This Girl Can… Play – we are managing a project to support 10 grassroots clubs to deliver female only beginners football sessions for more than 250 women.

And finally we have Coach-Ed., which is our coach education programme that gives offers free FA Level 1 Coaching in Football courses for volunteers from low-income backgrounds. We have just completed our third cycle which has seen 51 people complete their Level 1 for free.
On to the game, and Anees said
It's incredibly exciting to be playing against Clapton CFC. Having been a member myself for the past two years it is great to host the club in our first pre-season game of the summer.

We make our first step into Step 7 football in the Essex Alliance League so testing ourselves early on was important to us.

Also, our clubs are connected with Tom Carding on our committee a long-time Clapton fan, and myself having coached current manager Geoff Ocran back in his playing days with London APSA.

Also, our own manager William Brobby often plays with CCFC manager Geoff Ocran on Saturday mornings with ANM FC so I'm sure there's some bragging rights to be had in a few WhatsApp groups they share in the football circles!

It's been a crazy couple of football seasons and we have not really been able to test ourselves with a first full season in the Senior Division of Essex Alliance League having got a double promotion two years back.

We expect a tough time now we are in a Step 7 league but we embrace the challenge and look forward the long season ahead.

We have recently had a fresh team come in towards the back end of last season having lost many of our experienced players to retirement.

For the greater good of football a complete season for everyone in the game is all I can wish for.
Match information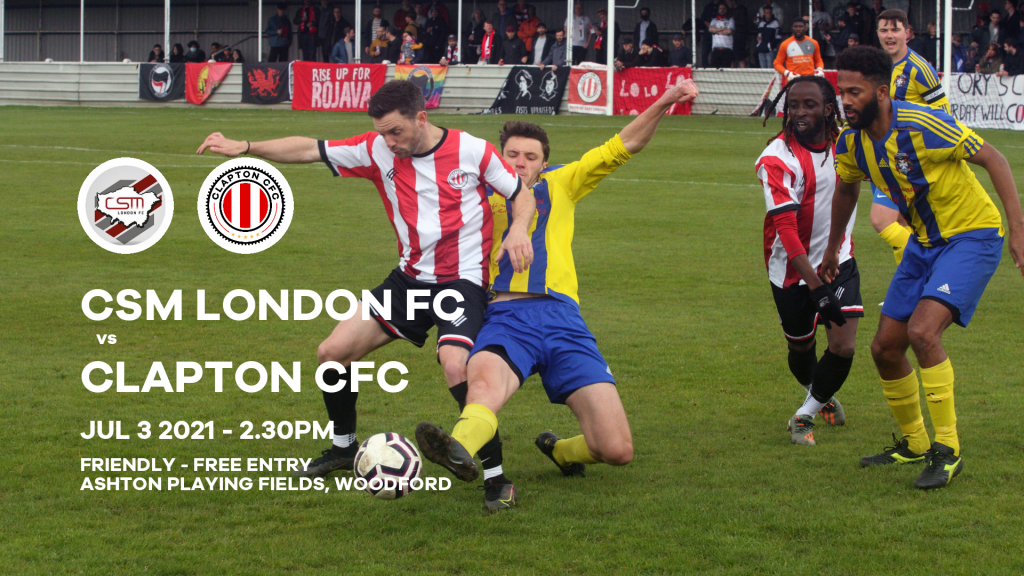 CSM London FC vs Clapton CFC is on Saturday, 3 July 2021 at 2.30pm at Ashton Playing Fields, 598 Chigwell Road, Woodford Green, IG8 8AA
CSM's usual home venue is the West Ham Foundation 3G at Beckton, but this game will take place at Ashton Playing Fields.
In our season preview, we used a photo of the new stand at the main athletics stadium at Ashton Playing Fields, which will soon be home to Essex Senior League side Woodford Town.
This game, however, will be on one of the other pitches at Ashton behind the athletics stadium. It's possibly the fenced off second pitch but there are also a couple of open park pitches.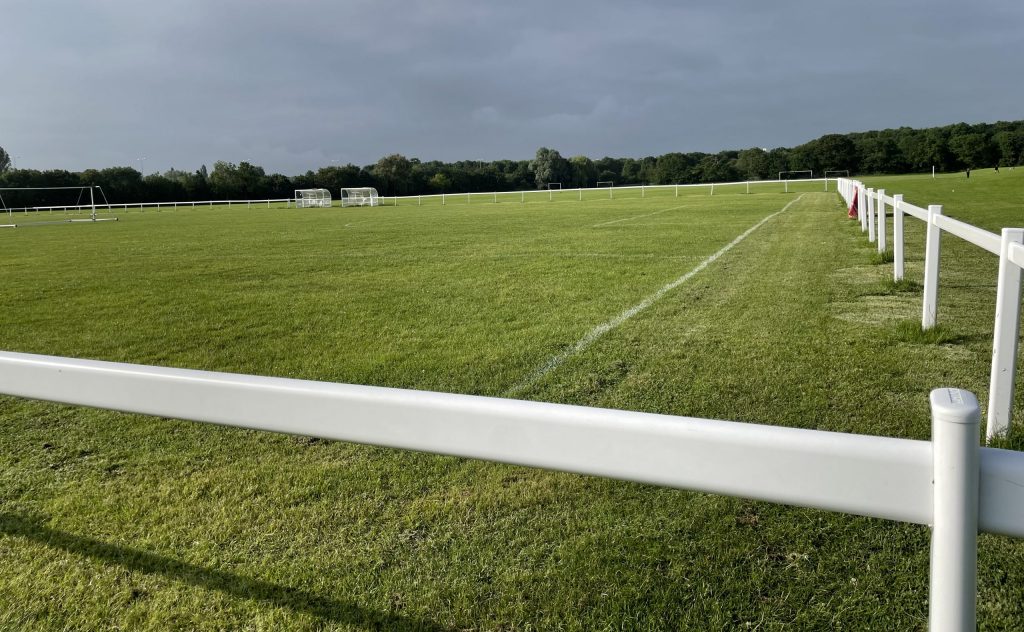 Spectators are welcome, it's free entry and no tickets are needed. Covid social distancing rules apply, however, including…
Do not attend if you have Covid-19 symptoms
Follow all guidance on travel and social distancing in getting to Ashton Playing Fields
Follow all signage and instructions at the site
Keep two metre distance from others where possible
Spectators can gather in groups of up to 30 only, so larger numbers can't all group together
The nearest London Underground station is Woodford, 10 to 15 minutes walk away, while other Central Line stations are also walkable. The 275 bus stops right outside Ashton Playing Fields and there's a car park too.