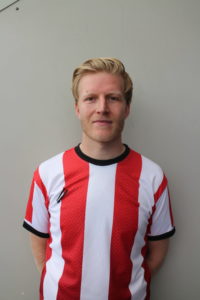 Name

Tom Carding

Position

Defender

Height

6ft 2in (188cm)

Current Team

Clapton CFC men's first team

Age

34
Previous clubs: Kitroom FC, Downs FC.
Twitter: @tommmmmmmc
Q&A
Full Name: Thomas Carding
Place of Birth: Chester
Place where you live: Forest Gate
Day job: Sixth form teacher
Favourite player: Ivan Zamarano
Favourite team, apart from Clapton CFC: Ipswich Town
Most memorable match played in: I won the double with my university team, and lifted the cup as captain
Favourite ground played at: I liked the Friday night at Wadham Lodge, but the first game at the Stray Dog with over 400 fans there was pretty memorable too
Biggest high in football: Probably this season so far to be honest. Unlike most of the lads, I've not played at a higher level before, and I've loved the buzz and the support so far
Lowest point in football: The elbow to the face a couple of years ago which split my lip and left me needing stitches and time off work and playing
Likes and hobbies: Football, cycling, politics, music, food
Dislikes: I think Sham's answer to this summed it up really well ('Racism, sexism, homophobia, Tories')
Favourite charity: Lola's Homeless does great work in Newham
Favourite country visited: Italy
Favourite food: Indian
Favourite music/performers: Talking Heads
Favourite TV shows: The Wire, The Sopranos, Bake Off
Favourite film: I'm going to watch Land and Freedom again after all the interest in the Spanish Republic shirts
What you love about football: Winning, clean sheets, slide tackles
What you hate about football: Conceding, not starting
Biggest influence on you: My parents
Footballing ambition: Establish myself as a starter and help Clapton CFC do the double (at least)
Who you would most like to meet: I always find this question a bit strange. They say you shouldn't meet your heroes. Let's say some of our Spanish fans on an end-of-season tour!
| Date | Home | Results | Away | Time |
| --- | --- | --- | --- | --- |
| 2020-08-08 14:00:51August 8, 2020 | Clapton CFC men's first team | 5 - 1 | Sporting Hackney | 14:00:512:00 pm |
| 2019-07-06 14:00:04July 6, 2019 | Clapton CFC men's first team | 3 - 2 | Wanderers FC | 14:00:042:00 pm |
| 2019-04-20 15:00:08April 20, 2019 | Clapton CFC men's first team | 6 - 5 | The Curve FC | 15:00:083:00 pm |
| 2019-04-08 19:30:41April 8, 2019 | CE Júpiter | 5 - 0 | Clapton CFC men's first team | 19:30:417:30 pm |
| 2019-04-07 11:00:40April 7, 2019 | Clapton CFC men's first team | 2 - 6 | U.E. Sant Miquel | 11:00:4011:00 am |
| 2019-04-06 15:00:33April 6, 2019 | Hereford Palace FC | 1 - 4 | Clapton CFC men's first team | 15:00:333:00 pm |
| 2019-03-25 19:45:06March 25, 2019 | Barkingside FC | 0 - 0 | Clapton CFC men's first team | 19:45:067:45 pm |
| 2019-02-09 12:15:33February 9, 2019 | NW London FC | 2 - 1 | Clapton CFC men's first team | 12:15:3312:15 pm |
| 2018-10-20 14:30:19October 20, 2018 | Clapton CFC men's first team | 3 - 1 | Epping Town FC | 14:30:192:30 pm |
| 2018-09-29 14:30:25September 29, 2018 | South Kilburn Reserves | 2 - 4 | Clapton CFC men's first team | 14:30:252:30 pm |
| 2018-09-22 14:00:19September 22, 2018 | Clapton CFC men's first team | 4 - 5 | Hutton FC | 14:00:192:00 pm |
| 2018-09-15 15:00:52September 15, 2018 | Ealing Town FC | 1 - 2 | Clapton CFC men's first team | 15:00:523:00 pm |
| 2018-08-25 15:00:50August 25, 2018 | Clapton CFC men's first team | 5 - 2 | Wanderers FC | 15:00:503:00 pm |
| 2018-08-18 14:30:42August 18, 2018 | Epping Town FC | 4 - 4 | Clapton CFC men's first team | 14:30:422:30 pm |
| 2018-07-21 15:30:26July 21, 2018 | Holland FC | 5 - 0 | Clapton CFC men's first team | 15:30:263:30 pm |
Alec Smith Premier Division Cup
| Season | Club | POTM | Goals | Assists | Yellows | Reds | Apps | Win Ratio | Draw Ratio | Loss Ratio |
| --- | --- | --- | --- | --- | --- | --- | --- | --- | --- | --- |
| Men's first team - 2020/2021 | Clapton CFC men's first team | 0 | 0 | 0 | 0 | 0 | 0 | 0 | 0 | 0 |
| Men's first team - 2018/2019 | Clapton CFC men's first team | 0 | 0 | 0 | 0 | 0 | 0 | 0 | 0 | 0 |
| Men's first team - 2019/2020 | Clapton CFC men's first team | 0 | 0 | 0 | 0 | 0 | 0 | 0 | 0 | 0 |
Anagram Records Trophy
| Season | Club | POTM | Goals | Assists | Yellows | Reds | Apps | Win Ratio | Draw Ratio | Loss Ratio |
| --- | --- | --- | --- | --- | --- | --- | --- | --- | --- | --- |
| Men's first team - 2020/2021 | Clapton CFC men's first team | 0 | 0 | 0 | 0 | 0 | 0 | 0 | 0 | 0 |
| Men's first team - 2018/2019 | Clapton CFC men's first team | 0 | 0 | 0 | 0 | 0 | 1 | 0.00 | 0.00 | 0.00 |
| Men's first team - 2019/2020 | Clapton CFC men's first team | 0 | 0 | 0 | 0 | 0 | 0 | 0 | 0 | 0 |
BBC Essex Premier Cup
| Season | Club | POTM | Goals | Assists | Yellows | Reds | Apps | Win Ratio | Draw Ratio | Loss Ratio |
| --- | --- | --- | --- | --- | --- | --- | --- | --- | --- | --- |
| Men's first team - 2020/2021 | Clapton CFC men's first team | 0 | 0 | 0 | 0 | 0 | 0 | 0 | 0 | 0 |
| Men's first team - 2018/2019 | Clapton CFC men's first team | 0 | 0 | 0 | 0 | 0 | 1 | 0.00 | 0.00 | 0.00 |
| Men's first team - 2019/2020 | Clapton CFC men's first team | 0 | 0 | 0 | 0 | 0 | 0 | 0 | 0 | 0 |
Friendly
| Season | Club | POTM | Goals | Assists | Yellows | Reds | Apps | Win Ratio | Draw Ratio | Loss Ratio |
| --- | --- | --- | --- | --- | --- | --- | --- | --- | --- | --- |
| Men's first team - 2020/2021 | Clapton CFC men's first team | 0 | 0 | 0 | 0 | 0 | 0 | 0 | 0 | 0 |
| Men's first team - 2018/2019 | Clapton CFC men's first team | 0 | 0 | 0 | 0 | 0 | 2 | 0.00 | 50.00 | 50.00 |
| Men's first team - 2019/2020 | Clapton CFC men's first team | 0 | 0 | 0 | 0 | 0 | 0 | 0 | 0 | 0 |
Jim Rogers President's Division One Cup
| Season | Club | POTM | Goals | Assists | Yellows | Reds | Apps | Win Ratio | Draw Ratio | Loss Ratio |
| --- | --- | --- | --- | --- | --- | --- | --- | --- | --- | --- |
| Men's first team - 2020/2021 | Clapton CFC men's first team | 0 | 0 | 0 | 0 | 0 | 0 | 0 | 0 | 0 |
| Men's first team - 2018/2019 | Clapton CFC men's first team | 0 | 0 | 0 | 0 | 0 | 1 | 0.00 | 0.00 | 0.00 |
| Men's first team - 2019/2020 | Clapton CFC men's first team | 0 | 0 | 0 | 0 | 0 | 0 | 0 | 0 | 0 |
Middlesex County Football League Division 1 Central & East
| Season | Club | POTM | Goals | Assists | Yellows | Reds | Apps | Win Ratio | Draw Ratio | Loss Ratio |
| --- | --- | --- | --- | --- | --- | --- | --- | --- | --- | --- |
| Men's first team - 2020/2021 | Clapton CFC men's first team | 0 | 0 | 0 | 0 | 0 | 0 | 0 | 0 | 0 |
| Men's first team - 2018/2019 | Clapton CFC men's first team | 0 | 0 | 0 | 0 | 0 | 2 | 50.00 | 0.00 | 0.00 |
| Men's first team - 2019/2020 | Clapton CFC men's first team | 0 | 0 | 0 | 0 | 0 | 0 | 0 | 0 | 0 |
Middlesex County Football League Premier Division
| Season | Club | POTM | Goals | Assists | Yellows | Reds | Apps | Win Ratio | Draw Ratio | Loss Ratio |
| --- | --- | --- | --- | --- | --- | --- | --- | --- | --- | --- |
| Men's first team - 2020/2021 | Clapton CFC men's first team | 0 | 0 | 0 | 0 | 0 | 0 | 0 | 0 | 0 |
| Men's first team - 2018/2019 | Clapton CFC men's first team | 0 | 0 | 0 | 0 | 0 | 0 | 0 | 0 | 0 |
| Men's first team - 2019/2020 | Clapton CFC men's first team | 0 | 0 | 0 | 0 | 0 | 0 | 0 | 0 | 0 |
Career Total
| Season | POTM | Goals | Assists | Yellows | Reds | Apps | Win Ratio | Draw Ratio | Loss Ratio |
| --- | --- | --- | --- | --- | --- | --- | --- | --- | --- |
| Men's first team - 2020/2021 | 0 | 0 | 0 | 0 | 0 | 0 | 0 | 0 | 0 |
| Men's first team - 2018/2019 | 0 | 0 | 0 | 0 | 0 | 7 | 14.29 | 14.29 | 14.29 |
| Men's first team - 2019/2020 | 0 | 0 | 0 | 0 | 0 | 0 | 0 | 0 | 0 |