Sorry to all but the match is postponed.
The pitch was playable on inspection by Matchday Centres in the morning.
But after several hours of torrential rain, Clapton CFC volunteers, Stonewall and Matchday Centres inspected the pitch for a second time at around noon.
The pitch had standing water in three places and it was agreed it was unplayable.
The men's first team opponents for Saturday, October 31st need no introduction as the world's most successful LGBT+ football team.
As of this season, Stonewall FC are also our near neighbours, having moved from Barnes to the mini stadium next to West Ham United's huge home in Stratford.
This will be our sixth meeting with Stonewall which is more than any other opponent in our club's short history.
After a thumping 4-0 defeat in our first meeting with Stonewall in January 2019, Clapton CFC have since had a clear edge on results.

In that 2018/19 season we made it honours even with a 5-1 win at our then home, the Stray Dog, on the way to just pipping Stonewall to the Middlesex County Football League Division One title.

After promotion to the MCFL Premier, the Tons secured two convincing league wins – 5-2 at Wadham Lodge Stadium and 6-2 at Barnes in the abandoned 2019/20 season.

And in the Alec Smith Premier Cup in December, after a 1-1 draw at full-time, Clapton emerged with a 6-5 win in a penalty shoot-out.

They were some of our most memorable games of the CCFC story so far, but for Stonewall they had a much bigger recent match.

In December 2018, they played against Wilberforce Wanderers at Wembley Stadium to mark the start of Rainbow Laces season.

With a capacity of just 300 now due to Covid-19 restrictions, this Saturday's game will be a lot more compact than our previous meetings. 909 turned out for this game last season; 616 the season before, and 527 for the cup game.

For those looking forward to a visit to Stonewall's new London Marathon Community Stadium home, sadly all games are currently behind doors due to Covid-19 restrictions.

Hopefully the return fixture will be later in the season when that may have changed and we can fill the ground
Match information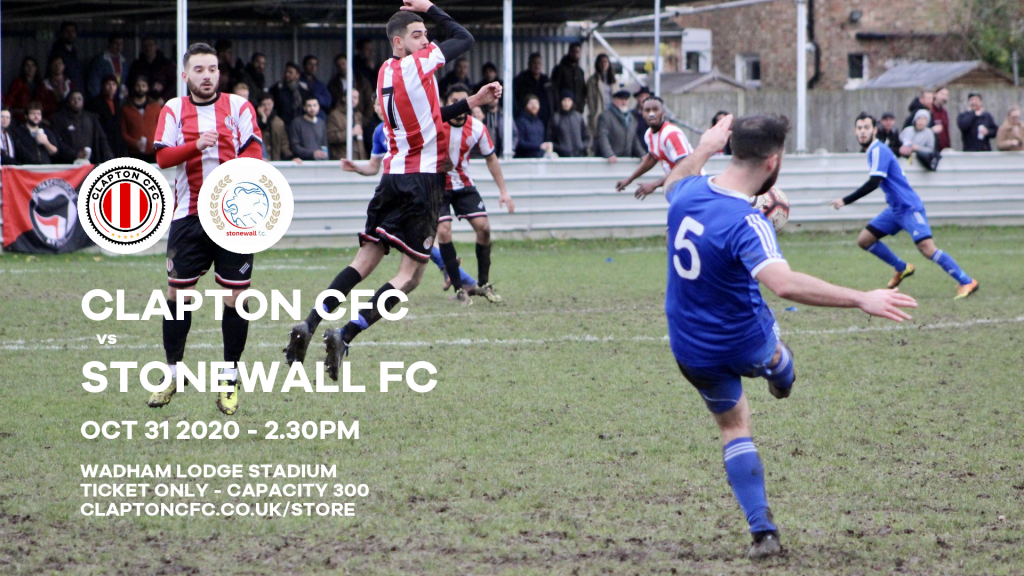 Clapton CFC vs Stonewall FC is at 2.30pm on Saturday, October 31st, 2020 at Wadham Lodge Stadium, Kitchener Road, Walthamstow, E17 4JP.
Due to ongoing Covid-19 restrictions and our efforts to keep games as safe as possible for everyone present, the match will be ticketed with a strict maximum below our usual average attendance.
If you're coming, you need to follow our Covid-19 guidelines.
Before the day
Entry is only by advanced ticket from claptoncfc.co.uk/store
There will be a maximum of 300 tickets available for this one, with a maximum of four per person.
The details entered when booking tickets will only be used, if necessary, for NHS Track and Trace.
Members will be given the opportunity to book first, via the newsletter, before we post on social media. Not a member? Sign up or renew now.
Entry as usual is free, but with donations welcome. If you wish to donate, you can do so when you book the ticket or in a bucket at the entrance (please bring exact money, no change).
We will have a list of ticket-holders, but please bring your ticket confirmation with you (particularly your order number) on your phone or printed out.
Please only book tickets if you are definitely attending the game. If circumstances change and you can't make it, contact us merch@claptoncfc.co.uk for a refund and so we can resell the ticket to someone else.
On the day
Do not attend if you have Covid-19 symptoms
Follow all guidance on travelling and social distancing in getting to Wadham Lodge
Mask up on public transport and ideally at the ground too, particularly when passing other spectators and if singing
Kick off is at 2.30pm and gates open at 1.30pm. Remember that entry will take a bit longer so please come earlier than usual.
Please have your ticket order number ready (a print-out, on your phone or memorised) so we can tick you off the list quickly. It should be a five-digit number, starting with 1.
We will do a no-contact digital thermometer check at the entrance, Please sanitise your hands there too.
There will be QR codes at the entrance for those with the NHS Covid-19 app to check in.
Mini programmes are available at the entrance. Please take one for free, donations welcome.
We are able to collect donations at the entrance for the Magpie Project foodbank, helping mums and under fives in Newham.
When you are inside, please make sure you space out 2 metres around the ground. We can't allow people to congregate in groups outside their own social bubble.
If you're closer to 2 metres to someone else, for instance watching on the terraces or passing other spectators. we strongly encourage you to wear a face mask
Please keep walkways clear so people can walk around the ground easily.
The Matchday Centre bar won't be open and they have asked that no alcohol be brought to the game,
There is no ban on singing, flag waving etc but please be sensible, keep your distance and wear a mask if possible.
The toilets can be accessed by the side door in the car park – look out for the signs. If you have access issues, you can go up the ramp into the reception instead. You'll need a mask when indoors.
Please follow the signs around the ground and instructions from Clapton CFC matchday volunteers on the day. It's a thankless task and your cooperation will be appreciated.
If circumstances change and you or one of your party can't make it, please contact us at merch@claptoncfc.co.uk for a refund and so we can release another ticket for sale.
The Comms committee will be looking to live stream the game on YouTube for those that can't make it.
Directions
Wadham Lodge is about 20 minutes walk from Walthamstow Central station. Turn onto Hoe Street and follow the road all the way along (past the junction with The Bell pub) until Chingford Lane. Continue past Sir George Monoux 6th Form College and take the first right onto Brookscroft Road then left onto Kitchener Road.
You can catch a bus along that route too. The 357, 34, 97, 215 will all take you to the top of Brookscroft Road from Walthamstow Central. It will take about 12 minutes.
There's also plenty of car parking space available at the ground.