The Clapton CFC men's first team return to Middlesex County Football League action on December 4 after a three-week gap.
The Tons progressed through two cup competitions in the meantime – 5-3 away at Leigh Town in the BBC Essex Premier Cup, and then a walkover win against Old Parmiterians.
We still sit nicely in second place in the league table, within striking distance of leaders FC Soma if we win our games in hand.
CB and CCFC have met twice before, with the Tons winning at the Wadham Lodge Stadium 4-0 in October 2019 then that amazing 8-6 win on the Stray Dog pitch in August 2021.
This will be our first visit to the Green Lane Sports Club, which is also home to the CB first team in the Combined Counties League Premier Division, two steps above us.
It's an impressive facility by all accounts, next to where Heathrow Airport planes take off. and is capable of hosting games several leagues higher.
The Dragons first team joined the Middlesex County Football League in 1994 and progressed through the divisions and beyond while their reserve team has been in MCFL for 20 years too and in the Premier Division since 2014.
The CB stands for Cater Bank, a company owned by their former chairman's dad. It's stuck ever since.
Match information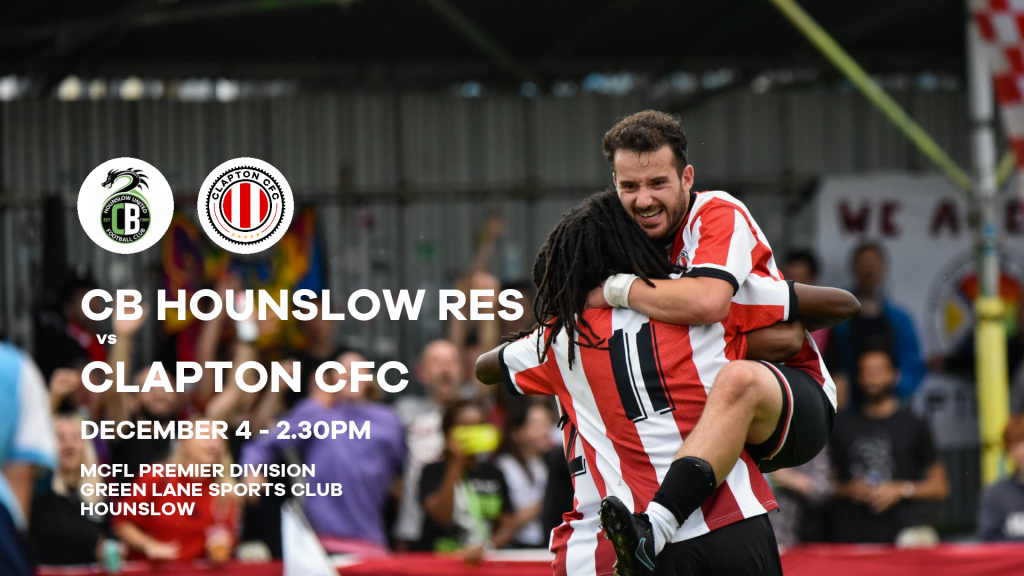 CB Hounslow United Reserves vs Clapton CFC men's first team is on Saturday, December 4 at 2.30pm at Green Lane Sports Club, Hounslow, TW4 6DH
The nearest stations are Hounslow West and Hatton Cross on the Piccadilly line in Zone 5, both of which are about 20 minutes walk away.
Admission is £3 adults, £2 concessions, U16s free. Their match programme is online here but there may be some printed copies available too.
CB Hounslow have a clubhouse, and while drinks can also be taken outside in plastic glasses, they do not allow alcoholic drinks around the pitch itself, whether plastic, cans or glass. This is a rule the club enforces at all games, not just for this one.