After two byes, Clapton CFC men's first team are due to finally kickstart their BBC Essex Premier Cup campaign away at Leigh Town on November 20.
The Tons received a bye for the first round while in the second round opponents Wakebury withdrew from the competition as they were unable to raise a team.
Our Step 8 hosts (one level below CCFC) play in the Essex Olympian League Division 1, in the village of Hadleigh, between Leigh-on-Sea and Benfleet.
However, for this game they have switched the venue to the Len Forge Centre in Southend, with a 5.15pm kick off. It has stands and a bar so should be much more suitable for a crowd.
Leigh Town have the claim to fame of being the oldest football club in Essex, formed in 1865, and were the first winners of the Junior County Cup, which was in the 1890s.
They later disbanded but reformed in 1950 and spent decades in the Southend Borough Combination League before joining the EOFL four seasons ago.
They have since been promoted twice after finishing sixth and third and now sit in third once again.
The winners will be at home to either Leigh Ramblers (EOFL, Step 7) or Brentwood Town Reserves (Essex Senior League Reserves Division) in the fourth round.
Last season we beat Hullbridge Sports U23 3-0 in this competition in December 2020, our last game before the return of Covid-19 lockdown. The competition was then abandoned before the away tie to Billericay Town U23s in the next round.
In our first two seasons, we went out at the first hurdle. Firstly, a 5-4 defeat in a terrific match at home to Hutton, then a defeat at Runwell Sports.
That one proved controversial as the Tons won but the game was ordered to be replayed as the ref had allowed roll-on roll-off subs, against competition rules.
Match information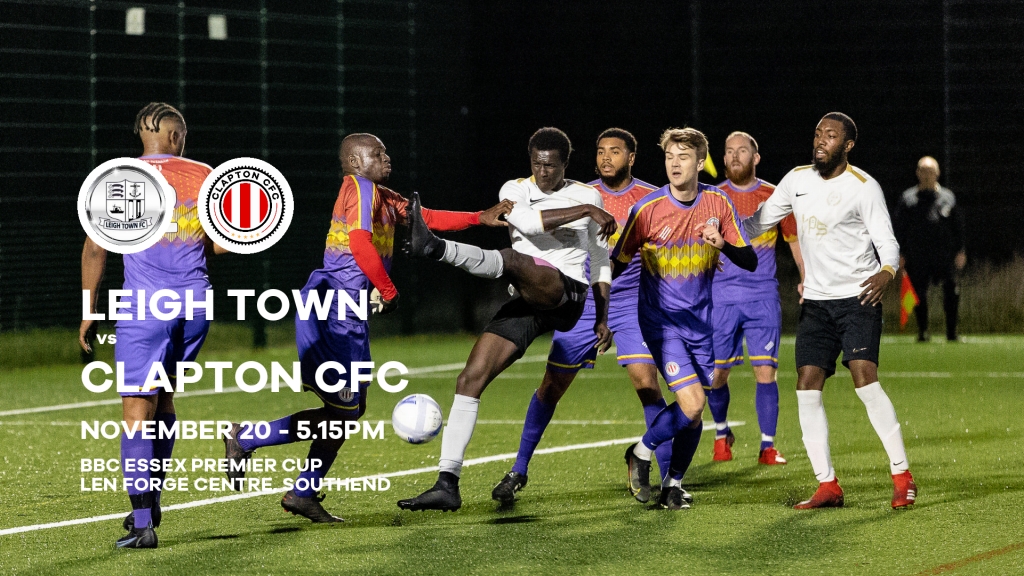 Leigh Town vs Clapton CFC is on Saturday, November 20 at 5.15pm at Len Forge Centre, Eastwoodbury Lane, Southend-on-Sea SS2 6UH
There will be a result on the day with extra time and potentially penalties if level at full-time.
The bar will be open and entrance is free.
The ground is a little out of the city centre but you can hop in a taxi from Southend or Leigh-on-Sea stations in about 10 minutes, or on a bus in about 20 minutes.
The quickest route from London is a train to Rayleigh, then a bus to the Eastwoodbury Lane at the ground, overall just over an hour from Stratford.
If you want to walk, it's probably quickest to get a train to Southend Airport then a 35 minute walk from there.
First round
Old Southendian Reserves 1 Herongate Athletic 3
Takeley Reserves 2 ACD United 4
Barnston 0 Sungate 3
Walthamstow Reserves 2 DT 5
Harold Wood Athletic 2 Tiptree Heath 4 aet
May & Baker EC Reserves 2 Chigwell Town 1
Dunmow Town 4 Springfield 4 aet 7-6 on pens
Shoebury Town 4 West Bergholt 0
Lawford Lads 1 Leyton Royal 3
Lymore Gardens 1 Epping Town 2
Corinthians 2 Halstead Town Reserves 1
Basildon Town 5 Earls Colne 1
Old Southendian v Dedham Old Boys H/W
Toby 2 Old Chelmsfordians 0
Little Oakley Reserves v Waltham Abbey Reserves A/W
Second round
Hashtag United Reserves 1 Dunmow Town 2
Hutton Reserves 3 Frenford Reserves 5
Tiptree Heath 6 Leyton Royal 1
Brentwood Town FC Reserves 2 May & Baker EC Reserves 1
Redbridge FC Reserves 1 West Essex Development 5
Clapton CFC v Wakebury H/W
Manford Way 3 Runwell Sports 2
Waltham Abbey Reserves 3 Snaresbrook 2
Chadwell Heath Spartans 3 Leigh Town 3 aet 2-3 on pens
Harold Wood Athletic Reserves 4 AS Rawreth 3
Epping Town 0 Wakering Sports 5
Colne Athletic 3 Kelvedon Hatch 0
Shenfield 1 Basildon Town 5
Rayleigh Town Reserves 4 CSM London 1
Barkingside Reserves 0 Concord Rangers Reserves 6
Stanway Pegasus v Gas Recreation H/W
Wivenhoe Town Reserves 0 Cornard Rangers Reserves 6
Alresford Colne Rangers 2 Witham Town FC Reserves 0
Canning Town 3 Saffron Walden Town Reserves 1
Herongate Athletic 1 Catholic United 2
DT v Holland Reserves H/W
White Ensign Reserves 1 Woodford East 2
Toby 4 Corinthians 2
Hutton v Rochford Town H/W
Grays Athletic FC Reserves 2 Ongar Town 1
Galleywood 0 Leigh Ramblers 2
White Notley 1 Chingford Athletic 2
Old Foresters 1 Chelmsford City Reserves 2
Beacon Hill Rovers v Harold Hill A/W
Shoebury Town 1 May & Baker A 3
Billericay Town Reserves 2 Old Southendian 3
Rayleigh Town 1 ACD United 3
Third round
Manford Way v ACD United
Catholic United v West Essex Development
Old Southendian v Harold Wood Athletic Reserves
Toby v Stanway Pegasus
Sungate v Wakering Sports
Tiptree Heath v Chelmsford City Reserves
Chingford Athletic v Canning Town
Harold Hill v Grays Athletic Reserves
Colne Athletic v DT
Leigh Ramblers v Brentwood Town Reserves
Leigh Town v Clapton CFC
Hutton v Rayleigh Town Reserves
Waltham Abbey Reserves v Basildon Town
Arlesford Colne Rangers v Concord Rangers Reserves
May & Baker 'A' v Woodford East
Dunmow Town v Frenford Reserves
Fourth round
Colne Athletic or DT v Catholic United ir West Essex Development
Arlesford Colne Rangers or Concord Rangers Reserves v Tiptree Heath v Chelmsford City Reserves
Old Southendian or Harold Wood Athletic Reserves v Toby or Stanway Pegasus
Sungate or Wakering Sports v Harold Hill or Grays Athletic Reserves
Waltham Abbey Reserves or Basildon Town v Hutton or Rayleigh Town Reserves
Dunmow Town or Frenford Reserves v May & Baker 'A' or Woodford East
Leigh Town or Clapton CFC v Leigh Ramblers or Brentwood Town Reserves
Manford Way or ACD United v Chingford Athletic or Canning Town