Clapton CFC men's first team have been drawn away to Sporting Hackney in the first round of the Alec Smith Premier Cup.
This is the league cup competition for teams in our league, the Middlesex County Football League Premier Division.
The East London derby takes place on Friday, October 1st at Sporting Hackney's new home ground, a groundshare at Barking FC's Mayesbrook Park.
This will be our sixth meeting, but only second competitive match, with Sporting Hackney, with the Tons winning 3 to 1 so far and 2 draws.

The Parrots were a fixture on the famous Hackney Marshes since 1986 but left the borough this summer to groundshare at Barking FC's newly revamped Mayesbrook Park and its 3G pitch.

Sporting Hackney are third tenants, alongside Romford FC, and with Barking FC at home on Saturday this game was moved to Friday.

Pre-CCFC Tons fans might recall The Parrots' manager Pete Harrington and assistant Dan Portsmouth from their spell at the Old Spotted Dog, working with then Clapton FC manager, Mike Walther.
The winners will take on Larkspur Rovers or PFC Victoria London at home in the quarter-final and another home draw in the semi-final.
The competition did not run last season due to Covid-19 restrictions.
In 2019/20, the Tons lost on penalties against London Samurai Rovers in the semi-final after beating Hillngdon and Stonewall on the way.
In the league cup we played in 2018/19, the Jim Rogers Presidents Cup, we ended up winning on penalties against Hilltop.
Match information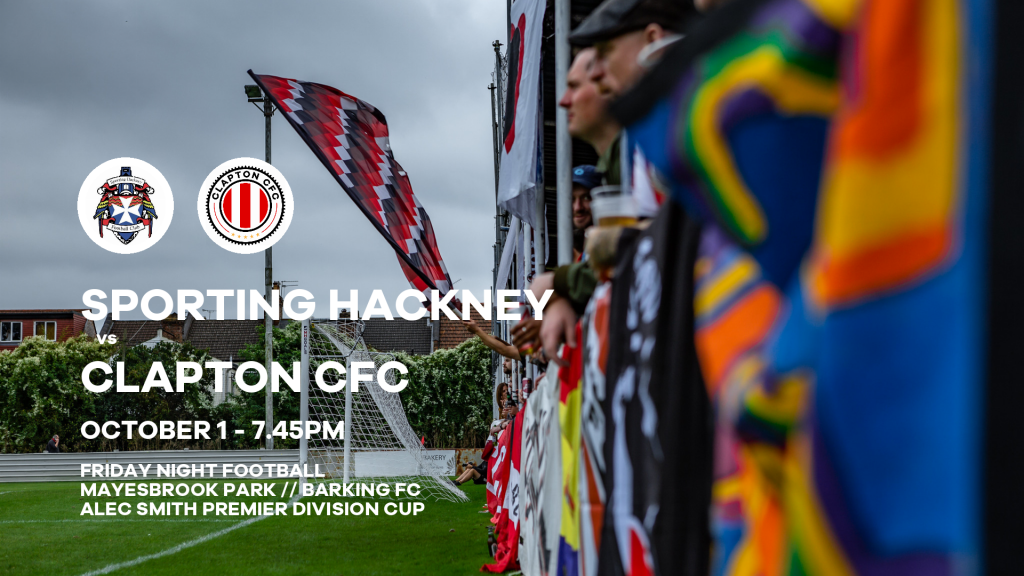 Sporting Hackney vs Clapton CFC is at 7.45pm on Friday, October 1 at Mayesbrook Park, Lodge Avenue, Dagenham, Essex, RM8 2JR.
Admission is by £3 donation, pay on the gate. This also includes a matchday programme. Funds raised will help their community mental health programme with MIND.
Barking's bar will be open. They are currently fundraising for a memorial to Jack Leslie, a black former Barking FC player denied the opportunity to play for England in 1926 due to the colour of his skin.
The nearest Tube station is Upney on the District Line, which is about a 15 minute walk away through the park, while the 368 bus stops outside.
Alternatively there's a car park with free parking (if you have enough petrol).
Full Alec Smith cup draw
Round 1
Brentham v AEK London
CB Hounslow United Reserves v AVA
FC Soma v NW London
Kensington Dragons v Stonewall
Larkspur Rovers v PFC Victoria London
Sporting Hackney v Clapton CFC
Wilberforce Wanderers v Cricklewood Wanderers
Indian Gymkhana Club v Pitshanger Dynamo
Quarter-final
Brentham or AEK London vs Indian Gymkhana Club or Pitshanger Dynamo
CB Hounslow United Reserves or AVA vs Wilberforce Wanderers or Cricklewood Wanderers
Kensington Dragons or Stonewall vs FC Soma v NW London
Sporting Hackney or Clapton CFC vs Larkspur Rovers or PFC Victoria London
Semi-final
Brentham or AEK London or Indian Gymkhana Club or Pitshanger Dynamo
vs Kensington Dragons or Stonewall or FC Soma or NW London

Sporting Hackney or Clapton CFC or Larkspur Rovers or PFC Victoria London
vs CB Hounslow United Reserves or AVA or Wilberforce Wanderers or Cricklewood Wanderers
Final
Brentham or AEK London or Indian Gymkhana Club or Pitshanger Dynamo or Kensington Dragons or Stonewall or FC Soma or NW London
vs Sporting Hackney or Clapton CFC or Larkspur Rovers or PFC Victoria London or CB Hounslow United Reserves or AVA or Wilberforce Wanderers or Cricklewood Wanderers