Clapton CFC women's first team will hope for a big upset after being drawn away to Haringey Borough in the Women's FA Cup second qualifying round.
Boro play in the Eastern Region Premier League, two levels higher than the Tons, and play their home games at Coles Park on White Hart Lane, like their men's team.
The tie will take place at 3pm on 3 October after the Tons were given a bye through from the first qualifying round. The kick off is later than usual as Spurs are playing at home at 2pm, just down the Lane.
The Boro women's team were formed in 2000 through mergers and have had several good runs in the Women's FA Cup in the past before losing to Tottenham Hotspur and Lewes.
So far this season, they're in fourth having won 3, drawn 1 and lost 2, scoring 17 goals including 4 for Aaliyah Boyea.
They warmed up for the game with a 7-1 thrashing of St Ives Town on Sunday, while the Tons beat Enfield Town Thirds 11-0.
In our debut season in the Women's FA Cup in 2018/9, we played two home games at the Stray Dog, winning 6-3 against Margate then lost 3-2 against Oakwood, with a combined attendance of 571.
Last season we missed out on the competition entering due to Covid-related league administration delays but we're back and 'only' 9 wins from Wembley.
Round Dates
First Round Qualifying Sunday 12 September 2021
Second Round Qualifying Sunday 3 October 2021
Third Round Qualifying Sunday 24 October 2021
First Round Proper Sunday 14 November 2021
Second Round Proper Sunday 28 November 2021
Third Round Proper Sunday 12 December 2022
Fourth Round Proper Sunday 30 January 2022
Fifth Round Proper Sunday 27 February 2022
Quarter-Final Sunday 20 March 2022
Semi-Final Sunday 17 April 2022
Final Sunday 15 May 2022
Match information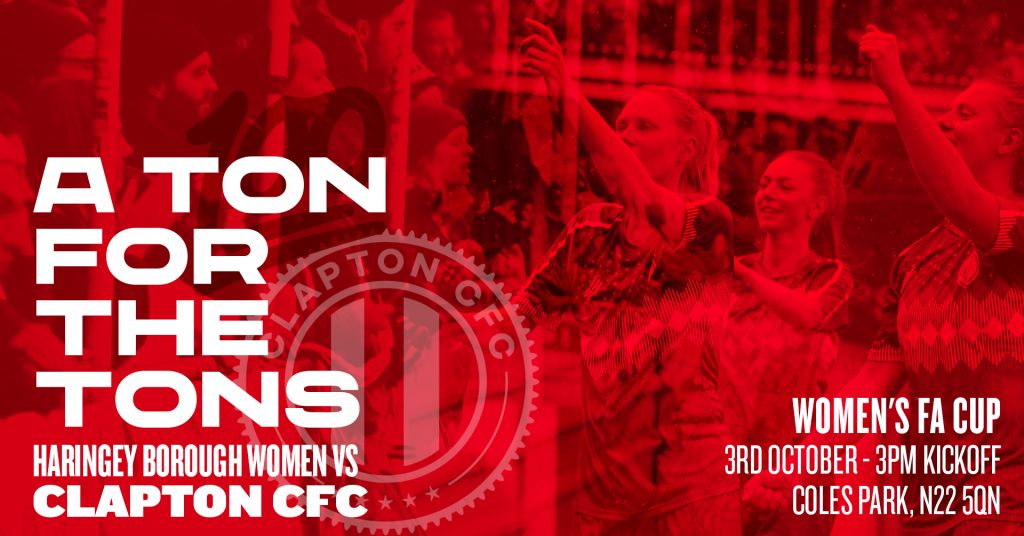 Haringey Borough Women vs Clapton CFC is at 3pm on Sunday, October 3 at Coles Park on White Hart Lane, N17 7JP.
Advanced tickets are not needed and admission is free.
The nearest National Rail station is White Hart Lane. The nearest Underground station is Wood Green.
You can walk from either in about 20 minutes. Or you can catch bus W3 from either station – journey time about 5 minutes – but best to wait until the Spurs game has kicked off at 2pm when traffic has died down.
Parking is a problem due to the Spurs game and an earlier event at Coles Park but from about 2.15pm you should be able to park in Boro's other car park, via the entrance on White Hart Lane. It's £1 per hour.