It's top vs second on Saturday, September 18 as our men's first team head to Cricklewood Wanderers for a third away game in a row.
The Tons saw off previously unbeaten Larkspur Rovers last weekend, but it doesn't get any easier as they now face the team with the best record so far.
Cricklewood Wanderers have been consistently near the top of the table in the last few Covid-affected seasons, nestled in second place in 2019/20 then sixth in 2020/21 when time was called.
This season they've started even better with 3 wins, 1 draw and 0 defeats so far, and boast the league's top scorer in Anthony Whyte, with 6 goals in 4 games. He's just ahead of the Tons' own Arthur Wright, Aaron Yfeko and Noah Adejokun, all on 4 goals each.
Our record against Cricklewood is mixed. Our only away visit resulted in a 5-0 loss, a heavy defeat over at Wembley FC's Vale Farm ground in 2019.
Since then we've had two home games behind closed doors – a 1-1 draw in the final action of the abruptly ended 2019/20 season, and then a 2-0 win in the post-season Middlesex Super 6 League competition.
Vale Farm is one of the better facilities in our league and is renowned for its excellent pitch – so much so that England used it as their training base for the 1966 World Cup.
Cricklewood Wanderers themselves have a short, but inspirational history. The club was formed in 2011 by a group of young people with help from homeless charity Ashford Place.
It is now run by Youth Engagement Solutions (YES), a charity which helps young people in education, employment, training, sport and health. They now have four teams – boys, girls, first team and reserves.
Match information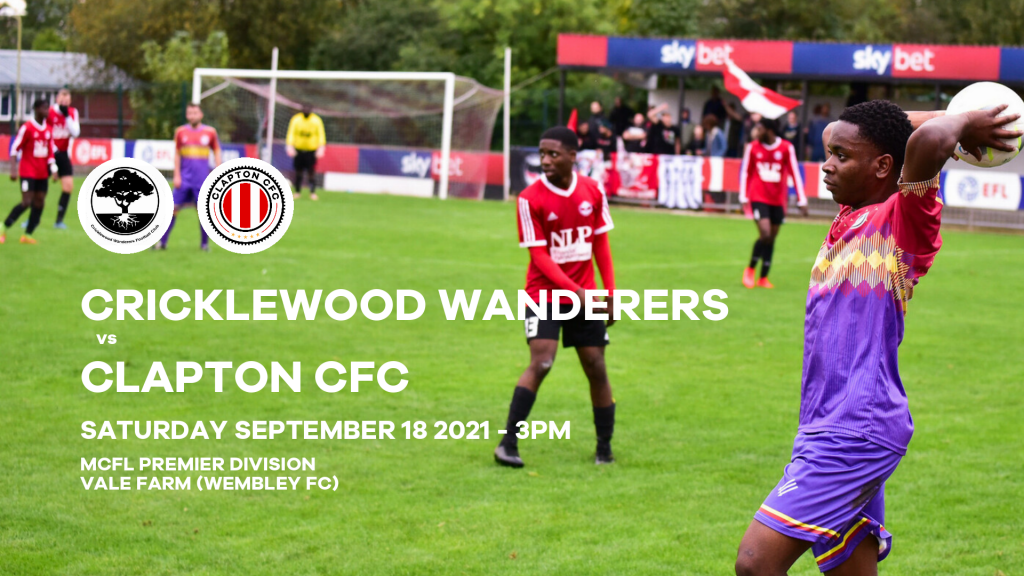 Cricklewood Wanderers vs Clapton CFC is on Saturday, September 18 at 3pm at Vale Farm, Watford Road, Wembley, HA0 3HG.
Sudbury Town (zone 4) on the Piccadilly Line is the closest tube station, a 10 minute walk away from the stadium. There is also ample parking.
More details to follow.