Clapton CFC men's first team finally return to competitive action after a seven-week break at a hastily rearranged new time and venue.
The BBC Premier Cup tie was due to take place on on our opponent's home pitch in Lower Road, Hullbridge, but by midweek it was already looking unplayable.
So rather than a likely postponed game, the teams have switched it to the 3G pitch at Wadham Lodge in Walthamstow, although it remains nominally a Hullbridge home game.
In-form Hullbridge Sports Under 23s are a point off the top of the Essex Senior League Reserves section, with games in hand.
In striker Jack Walker they have the league's highest scorer with seven goals in the first six games.
With no Hullbridge Sports first team games right now, we might see a few of their Isthmian League first team players dropping in for some minutes too.
The team play in an open age league, so the under 23 tag is not a hard and fast rule. It is essentially a rebrand and refocus for the existing Hullbridge Sports Reserves.
This will be the men's frst team's first competitive game on 3G, which is slap bang between the Wadham Lodge Stadium and the Stray Dog pitch.
Tons player-manager Geoff Ocran prepped for the game by playing another young, talented side Estudiantes in a friendly last Saturday.
This cup competition is not one of Clapton CFC's favourites, having narrowly gone out at the first hurdle in the last two seasons.
Firstly, a 5-4 defeat in a terrific match at home to Hutton, then a defeat at Runwell Sports last season.
That one proved controversial as the Tons won but the game was ordered to be replayed as the ref had allowed roll-on roll-off subs, against competition rules.
There will be extra time and penalties if the scores are level at full-time.
Match details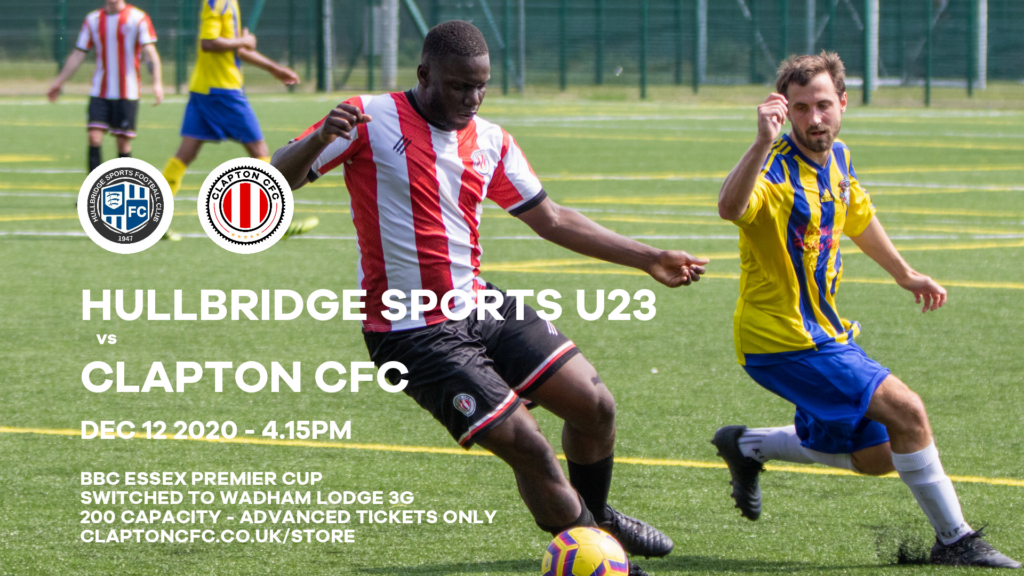 Hullbridge Sports U23 vs Clapton CFC men's first team is on Saturday, December 12th 2020 at 4.15pm on the 3G pitch at Wadham Lodge, Walthamstow.
Due to ongoing Covid-19 restrictions and our efforts to keep games as safe as possible for everyone present, the match will be ticketed with a strict maximum below our usual average attendance.
The 3G pitch at Wadham Lodge, Walthamstow, has no cover, and you may need to stand outside the cage. So it's going to be basic, but it's better than no game.
If you're coming, you need to follow our Covid-19 guidelines.
Before the day
Entry is only by advanced ticket from claptoncfc.co.uk/store
There will be a maximum of 200 tickets available for this one, with a maximum of four per person.
The details entered when booking tickets will only be used, if necessary, for NHS Track and Trace.
Entry as usual is free, but with donations welcome. If you wish to donate, you can do so when you book the ticket or in a bucket at the entrance (please bring exact money, no change).
We will have a list of ticket-holders, but please bring your ticket confirmation with you (particularly your order number) on your phone or printed out.
Please only book tickets if you are definitely attending the game. If circumstances change and you can't make it, contact us merch@claptoncfc.co.uk for a refund and so we can resell the ticket to someone else.
On the day
Do not attend if you have Covid-19 symptoms
Follow all guidance on travelling and social distancing in getting to Wadham Lodge
Mask up on public transport and ideally at the match too, particularly when passing other spectators and if singing
Kick off is at 4.15pm but you can come any time after 3.30pm. Remember that entry will take a bit longer so please come earlier than usual.
Please have your ticket order number ready (a print-out, on your phone or memorised) so we can tick you off the list quickly. It should be a five-digit number, starting with 1.
We will do a no-contact digital thermometer check when you arrive. Please sanitise your hands there too.
There are QR codes at Wadham Lodge for those with the NHS Covid-19 app to check in.
As this is an away game there will be no Clapton CFC matchday programme.
We are able to collect donations at the entrance for the Magpie Project foodbank, helping mums and under fives in Newham.
We will also be holding a bucket shake for the Newham Recorder Toy Appeal.
Please make sure you space out 2 metres around the 3G pitch. We can't allow people to congregate in groups outside their own social bubble.
If you're closer to 2 metres to someone else, we strongly encourage you to wear a face mask
The Matchday Centre bar won't be open and they have asked that no alcohol be brought to the game,
There is no ban on singing, flag waving etc but please be sensible, keep your distance and wear a mask if possible.
The toilets can be accessed by the side door in the car park – look out for the signs. If you have access issues, you can go up the ramp into the reception instead. You'll need a mask when indoors.
Please follow the signs and instructions from Clapton CFC matchday volunteers on the day. It's a thankless task and your cooperation will be appreciated.
If circumstances change and you or one of your party can't make it, please contact us at merch@claptoncfc.co.uk for a refund and so we can release another ticket for sale.
The Comms committee will be looking to live stream the game on YouTube for those that can't make it.
Directions
Wadham Lodge is about 20 minutes walk from Walthamstow Central station. Turn onto Hoe Street and follow the road all the way along (past the junction with The Bell pub) until Chingford Lane. Continue past Sir George Monoux 6th Form College and take the first right onto Brookscroft Road then left onto Kitchener Road.
You can catch a bus along that route too. The 357, 34, 97, 215 will all take you to the top of Brookscroft Road from Walthamstow Central. It will take about 12 minutes.
There's also plenty of car parking space available at the ground.