For the women's first team's first home league game of the season it's a pleasure to host Crystal Palace, a major presence in the women's game since their formation in 1992.
There's a strong historic link as Clapton FC actually had a superb women's team in the mid to late 1990s, which had formerly been the Crystal Palace reserve side.
The Eagles' first team play in the FA Women's Championship, the second tier of the game, while their second team play in the FA Women's National League South Reserves division.
So CCFC are taking on what is essentially Crystal Palace's third team, who were in third place in the Greater London Women's Football League table last season when football abruptly ended.
With games in hand, and the best defensive record in the league, the young Eagles (eaglets according to Google) had looked on course to finish second. That would have meant a second successive promotion. But then the season was deemed null and void.
The only time these two teams met, 85 fans watched the Tons go down to an impressive Palace side 4-1 at the Stray Dog, Esther Routledge scoring a late consolation.
The season before, the Eagles' Development squad had won the Greater London Women's Football League Division 2 South. They also completed the double with the John Greenacre Memorial Trophy.
Opening day (pink and) blues
Both CCFC and CPFC started the new Greater London Women's Football League season with away defeats last Sunday.
Clapton lost 2-1 in a tense game at Dulwich Hamlet Reserves. This was in spite of Emily Link putting the Tons in front in the first half on a quick breakaway sparked by Lucy Spours' through ball.
Head coach Claudio Gomes had plenty to mull over after seeing his team in competitive action for the first time:
Our focus was to implement our style from the outset while maintaining good tactical organisation. I thought we did this brilliantly. However, a lack of aggression from our side allowed the opposition to press higher and win important challenges. After adjusting the strategy, we were able to create some insecurity in the opposition again. However we couldn't get the ball to our forwards with the same quality as earlier. This limited us to only a few clear chances. The same could be said about the opposition who only secured the three points after an own goal from Phoebe. She put in an outstanding performance and didn't deserve a moment like that.
While Clapton were slipping to defeat in South London, Palace Development lost 4-0 to Regents Park Rangers. This was a surprise result, against a side who ended up second bottom last season.
But Gomes stressed the importance of the Tons focussing on their own game:
Despite losing their opening game, we know we'll be facing an aggressive and technically strong team and we expect no favours from anyone. We are Clapton CFC, and we know we can't take anything for granted. We plan to come back stronger and even more organised, providing our great fans with an enjoyable afternoon of football.
Match information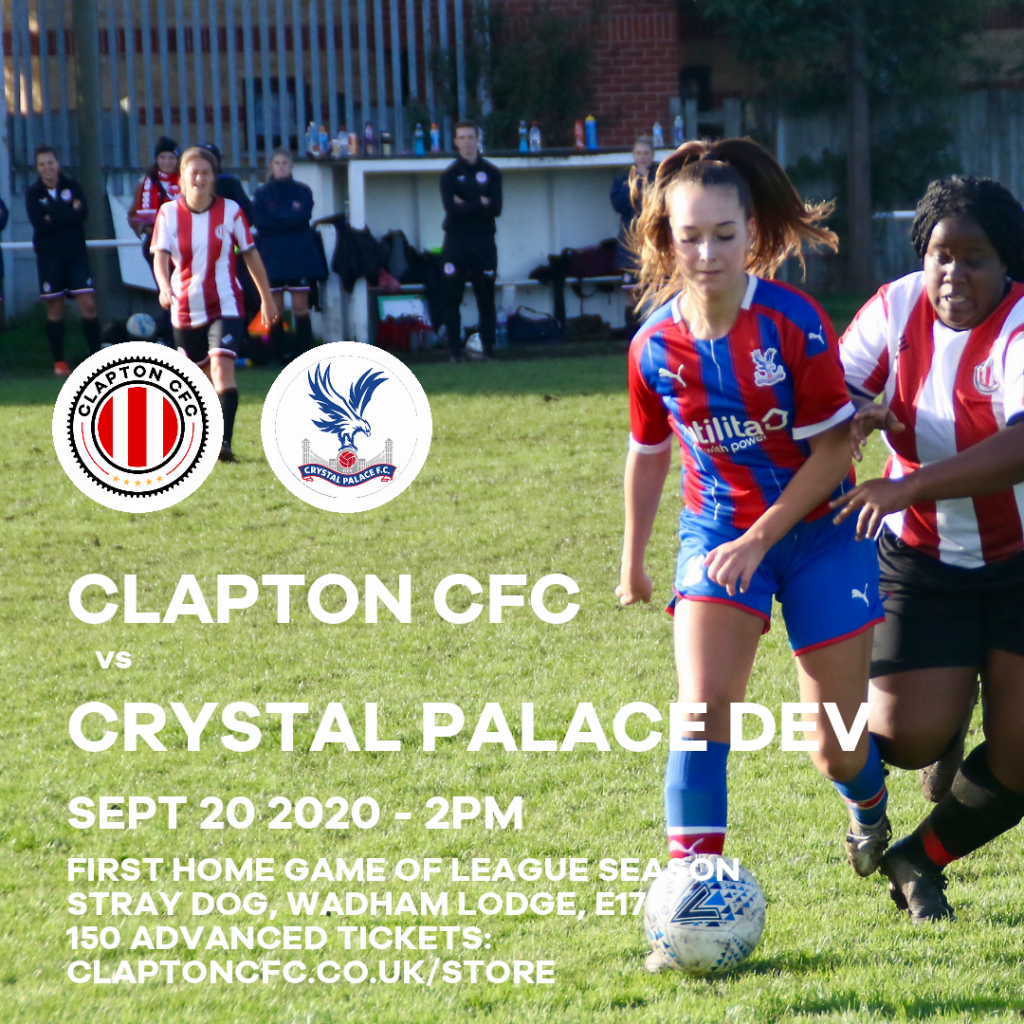 Clapton CFC vs Crystal Palace Development in the Greater London Women's Football League Premier Division is on Sunday, September 20th 2020, kick off 2pm.
Before the day
Entry is only by advanced ticket from claptoncfc.co.uk/store
There will be a maximum of 150 tickets available, with a maximum of four per person if you are booking for your household 'bubble'.
The details entered when booking tickets will only be used, if necessary, for NHS Track and Trace.
Members will be given the opportunity to book first, via the newsletter, before we post on social media. Not a member? Sign up or renew now.
Entry as usual is free, but with donations welcome, with a suggested £3 for waged adults.
If you wish to donate, you can do so when you book the ticket or in a bucket at the entrance (please bring exact money, no change).
We will have a list of ticket-holders, but please bring your ticket confirmation with you on your phone or printed out. There will be no walk-up admission.
Please only book tickets if you are definitely attending the game. If circumstances change and you can't make it, contact us merch@claptoncfc.co.uk for a refund and so we can resell the ticket to someone else.
On the day
Follow all guidance on travelling and social distancing in getting to the Stray Dog (Mask up on public transport).
Kick off is at 2pm and gates open at 1pm. Remember that entry will take a bit longer so please come earlier than the usual last minute rush.
Maintain two metre distance in the queue at the Stray Dog entrance. We will do no-contact digital thermometer and ticket checks there you can sanitise your hands.
When you are inside the Stray Dog, please make sure you space out 2m around the ground. Remember the 'rule of six' – we can't allow people to congregate in groups outside their own social bubble.
A mini-programme will be available in exchange for a donation, suggested £1, in a collection bucket.
The Matchday Centre bar won't be open and they have asked that no alcohol be brought to the game, There is no ban on singing, flag waving etc but please be sensible and keep your distance.
The toilets can be accessed by the side door in the car park – look out for the signs. If you have access issues, you can go up the ramp into the reception instead. You'll need a mask when indoors.
Please follow the signs around the ground and instructions from Clapton CFC matchday volunteers on the day. It's a thankless task and your co-operation will be appreciated.
The Comms committee will be looking to live stream the game on YouTube for those that can't make it.
Directions
The Stray Dog is about 20 minutes walk from Walthamstow Central station. Turn onto Hoe Street and follow the road all the way along (past the junction with The Bell pub) until Chingford Lane. Continue past Sir George Monoux 6th Form College and take the first right onto Brookscroft Road then left onto Kitchener Road.
You can catch a bus along that route too. The 357, 34, 97, 215 will all take you to the top of Brookscroft Road from Walthamstow Central. It will take about 12 minutes.
There's also plenty of car parking space available at the ground.