The Clapton men's team found themselves at a potential loose end due to a FA Vase-inspired fixture clash. With NW London not available, we turned to the other name on the 'favourites' page of our address book and pinged old pals Eastfield for a friendly.
Playing time on the Wadham Lodge pitch has been limited so far this season, the 2-0 win over Sporting Hackney last month the only competitive minutes Clapton have had at the other end of the car park.
After the problems Eastfield caused us last season, they were decent candidates to put the player's through their paces on our new vast, expansive surface.
Player-manager Geoff Ocran named an experimental line up for this one – a mixture of regular first teamers and fringe players alongside Scottish lower leagues legend, "A.Trialist", running up the spine of the team.
Jordan Odofin, having recovered from his head knock last week, continued as captain. Bogdan Panescu returned to the team, while Prince Kwakye was given the number 10 shirt. Billy Wise and Justin Cummins joined forces to form an utterly hench left flank.
Both of last season's league meetings with Eastfield were open, free-scoring affairs. So it was a bit surprising that the opening 30 minutes of this encounter was fairly turgid.
Everyone seemed relatively comfortable keeping it tight until A.Trialist (real name Marlinho) slipped his defender and looped the ball over the out-rushing Eastfield 'keeper.
As we recently discovered with Bruno Pereira, the stereotype holds up – Brazilians are all good at football. Marlinho only further demonstrated the point with that classy finish.
Everyone suddenly perked up after the goal and Kwakye, freed from his usual role as Ocran's defensive midfield apprentice, attempted an audacious overhead kick. Either side of the goalkeeper and it would have been one of those "were you there?" moments.
The second half started much like the first ended, with Clapton on the front foot. Lewis Owiredu, moonlighting down south after his move to West Yorkshire, came off the bench and effortlessly caused havoc throughout.
Roughly midway through the half, Owiredu's run was beautifully picked out by a millimetre-perfect through ball from Kwakye. He stood up his defender, moved inside and banged it into the near post. 2-0.
Eastfield made a couple of rare excursions into the Clapton half, but even with Odofin subbed off, stand-in 'keeper Atik never looked overly concerned.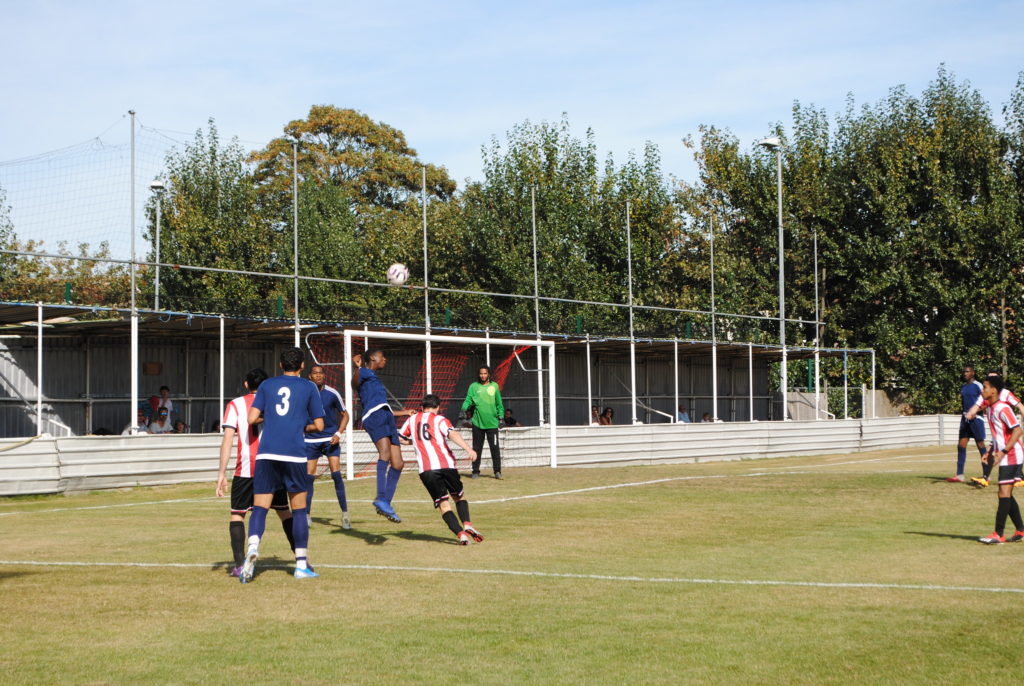 Wise also deserves special mention, after a run at the defence from the left wing, momentarily lost control of the ball. The Eastfield number 5 was about to clear, when he simply stood still and looked at him. Terrorised, the defender just gave the ball straight back, with his goalkeeper bailing him out with a decent save.
The visiting 'keeper made a number of good saves in the second half, although he probably had his afternoon ruined by Clapton's third goal.
A shot from what must have been all of 30 yards, floated over the outstretched goalkeeper and into the top corner. Panescu arguably produced the game's finest moment with the goal, making possibly his strongest case yet for a run in the team.
Strikers have been hard to come by lately for the Tons, so it was heartening to see Sherwin Stanley in his Clapton gear, among a number of his rested first team colleagues, standing among supporters.
On an unseasonably hot day, in only our third match at Wadham Lodge since officially moving in, Geoff, Yac and the guys will no doubt be pleased in the way the team covered the additional square meterage on that pitch.
Andrew Lastic seems to be growing ever more comfortable sweating buckets at right back, while Cemal Agdelen never looked troubled holding the midfield.
Along with The Curve, Eastfield were probably the best team not to get promoted from Division 1 last season. Completing a comfortable win over them with a makeshift team should give everyone plenty to go from for next week's trip to Hilltop. 
Post-match reaction
The thoughts of a happy coaching team – Yacine Rabia and Geoff Ocran.
Attendance
102.