CCFC's men's side played their first game in the FA Vase on Saturday. And they will have to wait at least another year for the second, as they were dumped out by a slick Wivenhoe Town outfit.
For the second week running Geoff Ocran was without a recognised striker. In last week's league defeat to Pitshanger Dynamo, he tried Stefan Kilron up top. This time another defender, Nick Loblack, was leading the line. New boy Bilal Hussain also made his first competitive start.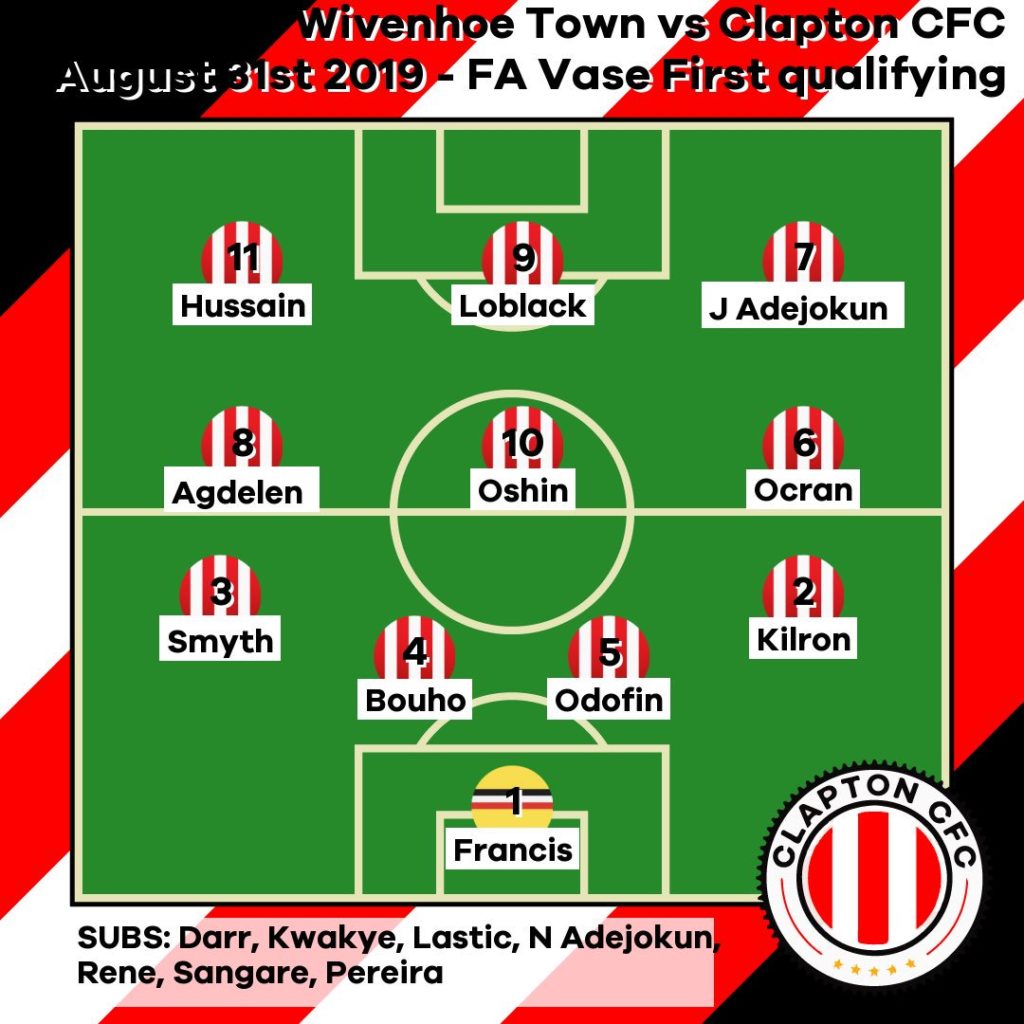 Hart ache
Clapton opened well.
Josh Adejokun broke through on goal in the first minute. However, his shot was deflected round the post. The resultant corner evaded Wivenhoe goalie Ben Gallifant, but there was no-one in red and white on the end of it.
Then Jordan Odofin was close to prodding home a lofted free-kick, but couldn't quite make contact.
But after this early flurry of Clapton promise, the hosts established control. They play one step higher in the football pyramid – 25 league places above – and it started to show.
Dragons striker Dean Merrett nodded home their first from close range. Then George Hart latched on to an excellent pass out of defence and lobbed Jack Francis for 2-0.
On 35 minutes, Clapton got a goal back to give themselves some hope. Gallifant was wrong-footed by a low Hussain shot and could only palm into the path of a sliding Loblack, who couldn't miss.
Reaching half-time with only a one goal deficit would have left things finely poised. But again the hosts sliced through the Tons defence. Hart finished off a neat move to make it 3-1 at the break.
Down in flames
Game over? Not quite. Right at the start of the second 45, there was a good chance for the East Londoners to get back in the game.
Ocran carried the ball from deep and arrowed a defence-splitter into the path of Paul Oshin. The big midfielder raced through on goal, but the chasing centre back got a touch on the ball. This could have taken it past the outrushing keeper for an own goal, but it bounced off his toe.
After that, a worrying moment. Odofin and Hart needed treatment after a clash of heads. The Tons defender was subbed off as a precaution. Fama Sangare went in at right back, with Kilron moving to centre back.
And it was soon 4-1.
Francis was unable to deal with a tricky highball, which fell for Merrett to head in his second.
Photos by Annu Mayor
The scoring was completed by Peter Maina with another nice lobbed finish, after Clapton had given away the ball in midfield.
A dejected Tons support tried to cheer themselves up with this anti-dragon ditty:
We love imps and fairies

We love unicorns too (and mermaids!)

We love the Loch Ness Monster

But dragons we hate you

Clapton fans, to the tune of 'Over Land And Sea'
There are two teams nicknamed the Dragons in CCFC's league, so this one might get further outings.
The visitors actually had their best spell in the last ten minutes. Second half substitutes Sangare and Noah Adejokun were linking play well. Cemal Agdelen fired in a couple of dangerous balls. But nothing was breaking for the Tons and they were unable to get another consolation.
Happier news later, as paramedics checked over Odofin and allowed him to go home. He feels OK now after the clash of heads.
Post-match reaction
The thoughts of a disappointed Tons management team:
Star player
Paul Oshin was one player who the Tons could hit with long balls to release the near relentless pressure they were under:
Attendance
133