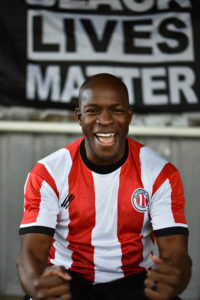 Name

Paul Oshin

Position

Midfielder

Height

6ft (183cm)

Current Team

Clapton CFC men's first team

Age

37
Previous clubs: Borehamwood FC, Enfield 1893 and so many more.
Twitter: @MrDarkskin4
Q&A
Full name: Paul Olujimi Oshin
Place of birth: London (Newham)
Place where you live: Newham
Day job: Personal trainer
Favourite player: Adejokun
Favourite team, apart from Clapton CFC: Enfield and Borehamwood
Most memorable match played in: Scoring last minute goal in the FA Cup
Favourite ground played at: West Ham United
Biggest high in football: Playing abroad
Lowest point in football: Ankle injury
Likes and hobbies: Music and going to the gym.
Dislikes: People who abuse power
Favourite charity: When the work or money goes where it is needed… True charity
Favourite country visited: Mexico
Favourite food: Pounded yam with okra stew
Favourite music/performers: Lauryn Hill, Shina Peters, 2pac, Oasis, to name a few.
Favourite TV shows: Fresh Prince, Game of Thrones
Favourite film: Coming to America.
What you love about football: Stress relief
What you hate about football: Losing
Biggest influence on you: As a player: Vieira
Footballing ambition: Still maybe FA Cup First Round proper, against a big club like West Ham United.
| Date | Home | Results | Away | Time |
| --- | --- | --- | --- | --- |
| 2022-03-05 14:00:13March 5, 2022 | Clapton CFC men's first team | 1 - 3 | Woodford East | 14:00:132:00 pm |
| 2021-04-24 12:00:19April 24, 2021 | Clapton CFC men's first team | 1 - 1 | Stonewall FC | 12:00:1912:00 pm |
| 2020-12-12 16:15:46December 12, 2020 | Hullbridge Sports U23 | 0 - 3 | Clapton CFC men's first team | 16:15:464:15 pm |
| 2020-12-05 14:00:00December 5, 2020 | Estudiantes London | 1 - 3 | Clapton CFC men's first team | 14:00:002:00 pm |
| 2020-10-24 14:30:54October 24, 2020 | Clapton CFC men's first team | 2 - 2 | Brentham FC | 14:30:542:30 pm |
| 2020-10-17 15:00:17October 17, 2020 | Hilltop FC | 0 - 2 | Clapton CFC men's first team | 15:00:173:00 pm |
| 2020-09-19 15:00:53September 19, 2020 | Clapton CFC men's first team | 0 - 0 | NW London FC | 15:00:533:00 pm |
| 2020-09-05 15:00:33September 5, 2020 | Clapton CFC men's first team | 1 - 2 | Hilltop FC | 15:00:333:00 pm |
| 2020-08-15 14:00:54August 15, 2020 | Clapton CFC men's first team | 0 - 3 | Dunmow Town | 14:00:542:00 pm |
| 2020-08-08 14:00:51August 8, 2020 | Clapton CFC men's first team | 5 - 1 | Sporting Hackney | 14:00:512:00 pm |
| 2020-08-01 15:00:26August 1, 2020 | Chadwell Heath Spartans | 0 - 3 | Clapton CFC men's first team | 15:00:263:00 pm |
| 2020-03-07 14:00:39March 7, 2020 | Clapton CFC men's first team | 1 - 1 | London Samurai Rovers | 14:00:392:00 pm |
| 2020-02-29 15:00:42February 29, 2020 | Yeading Town | 1 - 3 | Clapton CFC men's first team | 15:00:423:00 pm |
| 2020-02-22 14:00:34February 22, 2020 | Clapton CFC men's first team | 2 - 3 | Brentham FC | 14:00:342:00 pm |
| 2020-01-04 14:00:31January 4, 2020 | Brentham FC | 2 - 2 | Clapton CFC men's first team | 14:00:312:00 pm |
| 2019-11-30 15:00:36November 30, 2019 | London Samurai Rovers | 1 - 3 | Clapton CFC men's first team | 15:00:363:00 pm |
| 2019-11-09 15:00:39November 9, 2019 | PFC Victoria London | 2 - 3 | Clapton CFC men's first team | 15:00:393:00 pm |
| 2019-11-05 19:45:44November 5, 2019 | Clapton CFC men's first team | 1 - 0 | NW London FC | 19:45:447:45 pm |
| 2019-11-02 13:30:44November 2, 2019 | Runwell Sports | 2 - 1 | Clapton CFC men's first team | 13:30:441:30 pm |
| 2019-10-26 14:30:07October 26, 2019 | Clapton CFC men's first team | 4 - 0 | C.B. Hounslow United Res | 14:30:072:30 pm |
| 2019-10-12 14:30:35October 12, 2019 | Clapton CFC men's first team | 5 - 2 | Stonewall FC | 14:30:352:30 pm |
| 2019-08-31 15:00:01August 31, 2019 | Wivenhoe Town | 5 - 1 | Clapton CFC men's first team | 15:00:013:00 pm |
| 2019-08-20 19:45:42August 20, 2019 | Clapton CFC men's first team | 2 - 0 | Sporting Hackney | 19:45:427:45 pm |
| 2019-08-10 16:00:58August 10, 2019 | Roter Stern Leipzig | 2 - 2 | Clapton CFC men's first team | 16:00:584:00 pm |
| 2019-07-27 12:30:29July 27, 2019 | Peckham Town | 3 - 4 | Clapton CFC men's first team | 12:30:2912:30 pm |
| 2019-04-08 19:30:41April 8, 2019 | CE Júpiter | 5 - 0 | Clapton CFC men's first team | 19:30:417:30 pm |
| 2019-03-02 14:00:59March 2, 2019 | The Wilberforce Wanderers AFC | 1 - 4 | Clapton CFC men's first team | 14:00:592:00 pm |
| 2019-01-19 13:30:18January 19, 2019 | Clapton CFC men's first team | 1 - 1 | London Samurai Rovers | 13:30:181:30 pm |
| 2018-12-15 14:00:07December 15, 2018 | Clapton CFC men's first team | 1 - 4 | Ealing Town FC | 14:00:072:00 pm |
| 2018-12-08 14:00:01December 8, 2018 | The Curve FC | 1 - 2 | Clapton CFC men's first team | 14:00:012:00 pm |
| 2018-11-17 12:15:25November 17, 2018 | FC Deportivo Galicia Reserves | 1 - 4 | Clapton CFC men's first team | 12:15:2512:15 pm |
| 2018-11-10 15:00:24November 10, 2018 | Letchworth Garden City Eagles | 0 - 2 | Clapton CFC men's first team | 15:00:243:00 pm |
| 2018-10-20 14:30:19October 20, 2018 | Clapton CFC men's first team | 3 - 1 | Epping Town FC | 14:30:192:30 pm |
| 2018-09-29 14:30:25September 29, 2018 | South Kilburn Reserves | 2 - 4 | Clapton CFC men's first team | 14:30:252:30 pm |
| 2018-09-22 14:00:19September 22, 2018 | Clapton CFC men's first team | 4 - 5 | Hutton FC | 14:00:192:00 pm |
| 2018-09-15 15:00:52September 15, 2018 | Ealing Town FC | 1 - 2 | Clapton CFC men's first team | 15:00:523:00 pm |
| 2018-08-25 15:00:50August 25, 2018 | Clapton CFC men's first team | 5 - 2 | Wanderers FC | 15:00:503:00 pm |