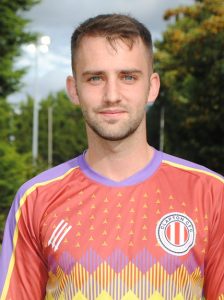 Name

Charlie Fagan

Position

Defender

Height

5ft 10in

Current Team

Clapton CFC men's development, Clapton CFC men's first team

Age

30
Previous clubs: Todo Ciudad FC, Owens Park Rangers, New North Rangers, Canonbury & Islington FC
Q&A
Full Name: Charlie Antonio Fagan
Place of Birth: Homerton Hospital
Place where you live: Hackney
Day job: Project Manager, developing new schools
Favourite player: Ian Wright, Zidane, the original Ronaldo
Favourite team, apart from Clapton CFC: Arsenal
Most memorable match played in: Drawing the London Cup Final 2-2 after extra time with our Year 11 school team and having to share the trophy. I glanced a header against the post which would have won it in the final moments. Still think about it to this day…
Favourite ground played at: Highbury
Biggest high in football: Cup final win at Brisbane Rd, Leyton Orient's ground.
Lowest point in football: Cup final loss on penalties in 2017.
Likes and hobbies: Cycling, good food, bad-mouthing the Tories in Irish pubs.
Dislikes: Tories
Favourite charity: Mind
Favourite country visited: Colombia
Favourite food: Seafood pasta
Favourite music/performers: Hip-Hop and Jazz mainly, but a bit of everything.
Favourite TV shows: The Wire, The Sopranos
Favourite film: Spotlight
What you love about football: Being part of a group all pulling in the same direction. And third man runs.
What you hate about football: The money at the top of the game. Martin Keown's punditry.
Biggest influence on you: A selfless mum, enthusiastic dad and an opinionated brother.
Footballing ambition: Winning the league this year then helping the club climb the divisions.
Who you would most like to meet Guardiola…in the Scaffold after we've beaten Clapton FC in the cup.
| Date | Home | Results | Away | Time |
| --- | --- | --- | --- | --- |
| 2022-05-14 15:00:09May 14, 2022 | Clapton CFC men's first team | 4 - 2 | The Wilberforce Wanderers AFC | 15:00:093:00 pm |
| 2022-05-08 15:00:49May 8, 2022 | Kensington Dragons | 2 - 2 | Clapton CFC men's first team | 15:00:493:00 pm |
| 2022-05-03 20:00:00May 3, 2022 | NW London FC | 3 - 3 | Clapton CFC men's first team | 20:00:008:00 pm |
| 2022-04-30 14:00:12April 30, 2022 | Pitshanger Dynamo | 1 - 0 | Clapton CFC men's first team | 14:00:122:00 pm |
| 2022-04-23 15:00:08April 23, 2022 | Clapton CFC men's first team | 1 - 1 | Larkspur Rovers | 15:00:083:00 pm |
| 2022-04-09 15:00:40April 9, 2022 | Clapton CFC men's first team | 0 - 1 | Brentham FC | 15:00:403:00 pm |
| 2022-03-19 14:30:21March 19, 2022 | Clapton CFC men's first team | 2 - 0 | Indian Gymkhana FC | 14:30:212:30 pm |
| 2022-03-12 14:00:35March 12, 2022 | Clapton CFC men's first team | 3 - 0 | Cricklewood Wanderers | 14:00:352:00 pm |
| 2022-03-05 14:00:13March 5, 2022 | Clapton CFC men's first team | 1 - 3 | Woodford East | 14:00:132:00 pm |
| 2022-02-19 19:45:51February 19, 2022 | NW London FC | 2 - 2 | Clapton CFC men's first team | 19:45:517:45 pm |
| 2022-02-12 14:00:25February 12, 2022 | Stonewall FC | 0 - 4 | Clapton CFC men's first team | 14:00:252:00 pm |
| 2022-02-05 14:00:56February 5, 2022 | Clapton CFC men's first team | 1 - 0 | Sporting Hackney | 14:00:562:00 pm |
| 2022-01-29 13:30:18January 29, 2022 | Clapton CFC men's first team | 3 - 2 | Manford Way | 13:30:181:30 pm |
| 2021-10-30 14:30:44October 30, 2021 | Kensington Dragons | 0 - 4 | Clapton CFC men's first team | 14:30:442:30 pm |
| 2021-10-23 14:30:37October 23, 2021 | Indian Gymkhana FC | 3 - 0 | Clapton CFC men's first team | 14:30:372:30 pm |
| 2021-10-16 14:00:37October 16, 2021 | Clapton CFC men's first team | 5 - 1 | Estudiantes London | 14:00:372:00 pm |
| 2021-08-28 15:00:44August 28, 2021 | Clapton CFC men's first team | 3 - 2 | Pitshanger Dynamo | 15:00:443:00 pm |
| 2021-08-21 15:00:25August 21, 2021 | Clapton CFC men's first team | 8 - 6 | C.B. Hounslow United Res | 15:00:253:00 pm |
| 2021-08-14 15:00:08August 14, 2021 | Clapton CFC men's first team | 2 - 4 | FC Soma | 15:00:083:00 pm |
| 2021-08-07 16:00:08August 7, 2021 | FC United of Manchester | 5 - 2 | Clapton CFC men's first team | 16:00:084:00 pm |
| 2021-07-31 16:00:55July 31, 2021 | Clapton CFC men's first team | 9 - 2 | Cuffley FC | 16:00:554:00 pm |
| 2021-07-10 16:00:37July 10, 2021 | Clapton CFC men's first team | 1 - 1 | Estudiantes London | 16:00:374:00 pm |
| 2021-07-03 14:30:49July 3, 2021 | CSM London | 1 - 1 | Clapton CFC men's first team | 14:30:492:30 pm |
| 2021-05-15 14:00:30May 15, 2021 | AEK London | 0 - 3 | Clapton CFC men's first team | 14:00:302:00 pm |
| 2021-04-24 12:00:19April 24, 2021 | Clapton CFC men's first team | 1 - 1 | Stonewall FC | 12:00:1912:00 pm |
| 2021-04-18 10:30:41April 18, 2021 | The Gun | 0 - 1 | Clapton CFC men's development | 10:30:4110:30 am |
| 2020-12-12 16:15:46December 12, 2020 | Hullbridge Sports U23 | 0 - 3 | Clapton CFC men's first team | 16:15:464:15 pm |
| 2020-12-05 14:00:00December 5, 2020 | Estudiantes London | 1 - 3 | Clapton CFC men's first team | 14:00:002:00 pm |
| 2020-08-15 14:00:54August 15, 2020 | Clapton CFC men's first team | 0 - 3 | Dunmow Town | 14:00:542:00 pm |
| 2019-12-07 13:30:03December 7, 2019 | Clapton CFC men's first team | 1 - 1 | Stonewall FC | 13:30:031:30 pm |
| 2019-10-05 14:30:16October 5, 2019 | Cricklewood Wanderers | 5 - 0 | Clapton CFC men's first team | 14:30:162:30 pm |
| 2019-09-28 15:00:20September 28, 2019 | Indian Gymkhana FC | 5 - 4 | Clapton CFC men's first team | 15:00:203:00 pm |
| 2019-08-10 16:00:58August 10, 2019 | Roter Stern Leipzig | 2 - 2 | Clapton CFC men's first team | 16:00:584:00 pm |
| 2019-08-03 14:00:06August 3, 2019 | Clapton CFC men's first team | 2 - 6 | NW London FC | 14:00:062:00 pm |
| 2018-10-20 14:30:19October 20, 2018 | Clapton CFC men's first team | 3 - 1 | Epping Town FC | 14:30:192:30 pm |
| 2018-10-06 14:30:49October 6, 2018 | Clapton CFC men's first team | 4 - 4 | FC Roast | 14:30:492:30 pm |
| 2018-09-15 15:00:52September 15, 2018 | Ealing Town FC | 1 - 2 | Clapton CFC men's first team | 15:00:523:00 pm |
| 2018-08-25 15:00:50August 25, 2018 | Clapton CFC men's first team | 5 - 2 | Wanderers FC | 15:00:503:00 pm |