Clapton CFC men's first team take on Essex Olympian Football League side Manford Way in the BBC Essex Premier Cup on Saturday, January 29.
This one will take place at a neutral venue – Oakside Stadium, home of Redbridge FC and Newbury Forest. It will be our first game there since losing the Anagram Records Trophy final against Catholic United in 2019.
We were originally due to play away at Pitshanger Dynamo in the league on this date, and all three pitches at our temporary home Wadham Lodge were subsequently booked by other teams.
This is one of three cup competitions the team are involved in. Last weekend we reached the semi-finals of the Alec Smith Premier Division Cup with a 6-0 win over Larkspur Rovers. Next month we will visit NW London in the quarter-final of the Anagram Records Trophy.
The Tons reached this round of the county cup with a walkover win over Wakebury and victories over Leigh Town and Leigh Ramblers, all from the EOFL too.
Hainault-based Manford Way are one of the previous winners of the BBC Essex Premier Cup, back in 2004/05.
They joined the Essex Olympian Football League in 1999 and quickly rose to the Premier Division, which is the same level as our own Middlesex County Football League Premier Division.
Manford Way stayed there for twelve seasons in a row before relegation two years ago, but they bounced back at the first attempt with promotion last season.
However, in the summer they were hit by a crisis as their management and players left, meaning the club decided to drop down a couple of divisions and rebuild.
They're now looking for promotion back to Division One and are going well in fourth place with games in hand.
Although two divisions lower than us, they've upset the odds several times in this cup already. They've knocked out Division Two leaders ACD United and the top two in Division One, Chingford Athletic and Runwell Sports.
Three players, David Alele, James Dobson and Samuel Oramadike have 30 goals between them this season, pretty much three-quarters of all their goals.
The Tons reached this round with a walkover win over Wakebury and victories over Leigh Town and Leigh Ramblers, all from the EOFL.
Match information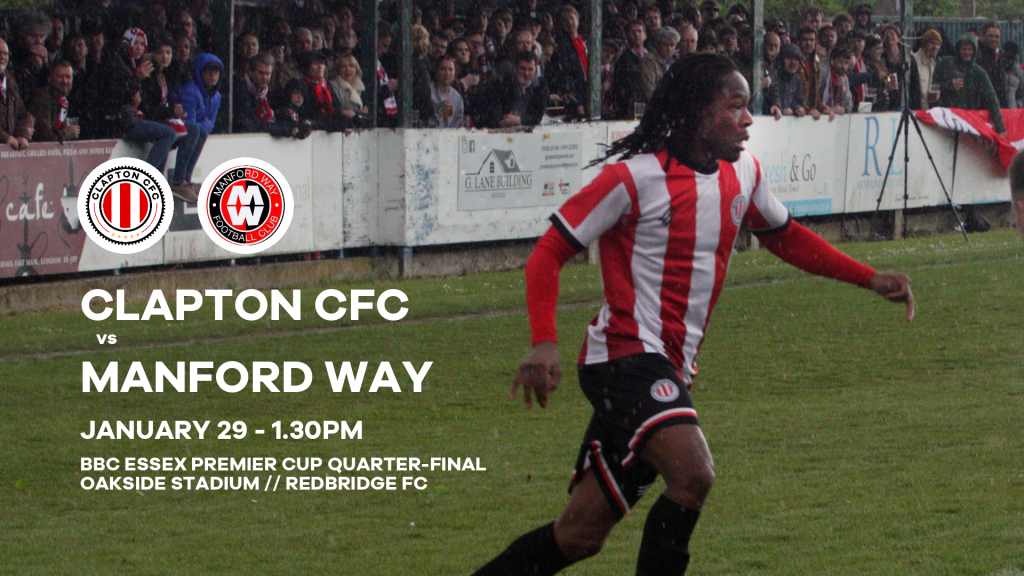 Clapton CFC vs Manford Way is on Saturday, January 29 2021 at 1.30pm at Oakside Stadium, Station Road, IG6 1NB.
Oakside Stadium is right next to Barkingside station on the Central Line, in Zone 4. There is free parking in a car park at the ground.
Advanced tickets are not needed, you can just turn up. Entry as usual is free but with donations welcome, with a suggested £3 for waged adults.
We will have a mini programme available at the entrance, pick one up for free, donations welcome.
Redbridge's bar and burger bar will be open.
BBC Essex Premier Cup 2021/22 so far
First round
Old Southendian Reserves 1 Herongate Athletic 3
Takeley Reserves 2 ACD United 4
Barnston 0 Sungate 3
Walthamstow Reserves 2 DT 5
Harold Wood Athletic 2 Tiptree Heath 4 aet
May & Baker EC Reserves 2 Chigwell Town 1
Dunmow Town 4 Springfield 4 aet 7-6 on pens
Shoebury Town 4 West Bergholt 0
Lawford Lads 1 Leyton Royal 3
Lymore Gardens 1 Epping Town 2
Corinthians 2 Halstead Town Reserves 1
Basildon Town 5 Earls Colne 1
Old Southendian v Dedham Old Boys H/W
Toby 2 Old Chelmsfordians 0
Little Oakley Reserves v Waltham Abbey Reserves A/W
Second round
Hashtag United Reserves 1 Dunmow Town 2
Hutton Reserves 3 Frenford Reserves 5
Tiptree Heath 6 Leyton Royal 1
Brentwood Town FC Reserves 2 May & Baker EC Reserves 1
Redbridge FC Reserves 1 West Essex Development 5
Clapton CFC v Wakebury H/W
Manford Way 3 Runwell Sports 2
Waltham Abbey Reserves 3 Snaresbrook 2
Chadwell Heath Spartans 3 Leigh Town 3 AET 2-3 on pens
Harold Wood Athletic Reserves 4 AS Rawreth 3
Epping Town 0 Wakering Sports 5
Colne Athletic 3 Kelvedon Hatch 0
Shenfield 1 Basildon Town 5
Rayleigh Town Reserves 4 CSM London 1
Barkingside Reserves 0 Concord Rangers Reserves 6
Stanway Pegasus v Gas Recreation H/W
Wivenhoe Town Reserves 0 Cornard Rangers Reserves 6
Alresford Colne Rangers 2 Witham Town FC Reserves 0
Canning Town 3 Saffron Walden Town Reserves 1
Herongate Athletic 1 Catholic United 2
DT v Holland Reserves H/W
White Ensign Reserves 1 Woodford East 2
Toby 4 Corinthians 2
Hutton v Rochford Town H/W
Grays Athletic FC Reserves 2 Ongar Town 1
Galleywood 0 Leigh Ramblers 2
White Notley 1 Chingford Athletic 2
Old Foresters 1 Chelmsford City Reserves 2
Beacon Hill Rovers v Harold Hill A/W
Shoebury Town 1 May & Baker A 3
Billericay Town Reserves 2 Old Southendian 3
Rayleigh Town 1 ACD United 3
Third round
Manford Way 5 ACD United 0
Catholic United 3 West Essex Development 2
Old Southendian v Harold Wood Athletic Reserves H/W
Toby 1 Stanway Pegasus 2 AET
Sungate 4 Wakering Sports 0
Tiptree Heath 3 Chelmsford City Reserves 3 AET 10-9 pens
Chingford Athletic 3 Canning Town 0
Harold Hill 2 Grays Athletic Reserves 1
Colne Athletic 4 DT 1
Leigh Ramblers 4 Brentwood Town Reserves 3
Leigh Town 3 Clapton CFC 5 AET
Hutton 3 Rayleigh Town Reserves 0
Waltham Abbey Reserves v Basildon Town A/W
Arlesford Colne Rangers 3 Concord Rangers Reserves 1
May & Baker 'A' 3 Woodford East 5
Dunmow Town 2 Frenford Reserves 0
Fourth round
Colne Athletic 3 Catholic United 5
Arlesford Colne Rangers 1 Tiptree Heath 4
Old Southendian 1 Stanway Pegasus 3
Sungate 5 Harold Hill 1
Basildon Town 2 Hutton 1
Dunmow Town 3 Woodford East 1
Clapton CFC 4 Leigh Ramblers 2
Manford Way 2 Chingford Athletic 1
Quarter-final
Catholic United vs Stanway Pegasus
Clapton CFC vs Manford Way
Sungate vs Basildon Town
Tiptree Heath vs Dunmow Town