The tough start to the season gets even tougher as the Clapton men's team face table-topping Brentham FC.
The Tons have recovered from a defeat in the first game of the season to win two on the bounce at two quality sides, Larkspur Rovers and Hilltop.
But Brentham – on course for the title when last season was abruptly ended – look like the biggest challenge of all.
They've picked up where they left off with three wins from their first three games this season to lead the table at this early stage.
The Brentham Club was founded in 1919 and is known for cricket, tennis, lawn bowls, darts and bridge. Fred Perry and Peter Crouch are two illustrious names who played there early in their careers.
Another world famous name joined the club this summer for a friendly – sadly Patrice Evra was only with them for a short while getting fit ahead of Soccer Aid.
Last season the Tons were cruising at 2-0 up at Brentham thanks to goals from Sherwin Stanley and Lewis Owiredu – but were pegged back to 2-2 with an injury time equaliser.
Even more annoyingly, Brentham later took our unbeaten home record – albeit this one was switched to Mabley Green – when they won 3-2 with the last kick of the game.
The leaders boast last season's Middlesex County Football League top scorer, Edward Clements, who scored four against us, two each in both games. He's already bagged six in the first three games of this season.
For all those reasons above, Geoff Ocran's team will be up for revenge. It should be a cracker.
Match information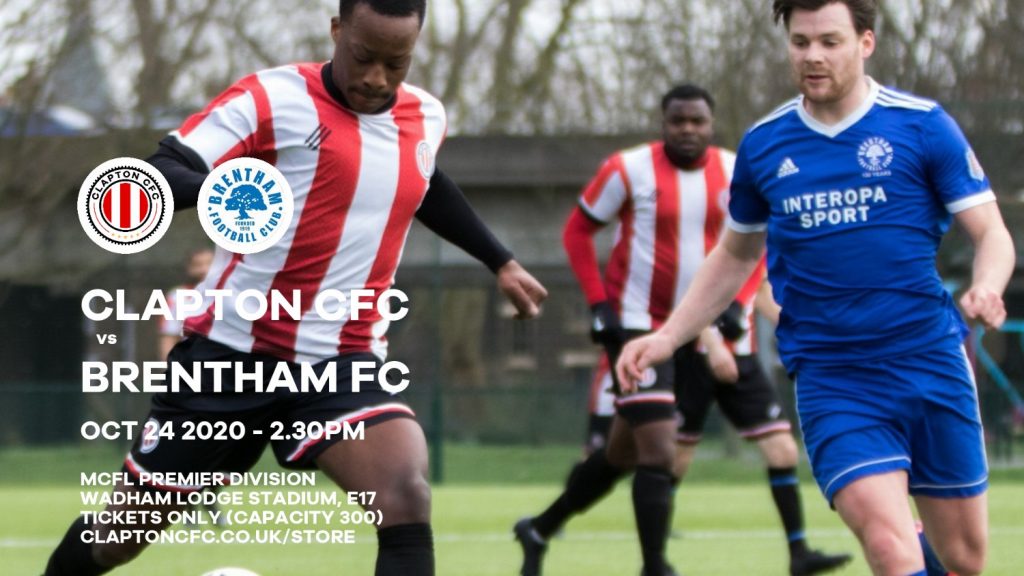 Clapton CFC vs Brentham is at 2.30pm on Saturday, October 24th, 2020 at Wadham Lodge Stadium, Kitchener Road, Walthamstow, E17 4JP.
Due to ongoing Covid-19 restrictions and our efforts to keep games as safe as possible for everyone present, the match will be ticketed with a strict maximum attendance below our usual average attendance.
If you're coming, you need to follow our Covid-19 guidelines.
Before the day
Entry is only by advanced ticket from claptoncfc.co.uk/store
There will be a maximum of 300 tickets available for this one, with a maximum of four per person.
The details entered when booking tickets will only be used, if necessary, for NHS Track and Trace.
Members will be given the opportunity to book first, via the newsletter, before we post on social media. Not a member? Sign up or renew now.
Entry as usual is free, but with donations welcome. If you wish to donate, you can do so when you book the ticket or in a bucket at the entrance (please bring exact money, no change).
We will have a list of ticket-holders, but please bring your ticket confirmation with you (particularly your order number) on your phone or printed out.
Please only book tickets if you are definitely attending the game. If circumstances change and you can't make it, contact us merch@claptoncfc.co.uk for a refund and so we can resell the ticket to someone else.
On the day
Do not attend if you have Covid-19 symptoms
Follow all guidance on travelling and social distancing in getting to Wadham Lodge
Mask up on public transport and ideally at the ground too, particularly when passing other spectators and if singing
Kick off is at 2.30pm and gates open at 1.30pm. Remember that entry will take a bit longer so please come earlier than usual.
Please have your ticket booking number ready (either a print-out or on your phone) so we can tick you off the list.
We will do no-contact digital thermometer at the entrance, Please sanitise your hands there too.
There will be QR codes at the entrance for those with the NHS Covid-19 app to check in.
When you are inside, please make sure you space out 2 metres around the ground. We can't allow people to congregate in groups outside their own social bubble.
If you're closer to 2 metres to someone else, for instance while walking past others. we strongly encourage you to wear a face mask
Please keep walkways clear so people can walk around the ground easily.
The Matchday Centre bar won't be open and they have asked that no alcohol be brought to the game,
There is no ban on singing, flag waving etc but please be sensible, keep your distance and wear a mask if possible.
The toilets can be accessed by the side door in the car park – look out for the signs. If you have access issues, you can go up the ramp into the reception instead. You'll need a mask when indoors.
Please follow the signs around the ground and instructions from Clapton CFC matchday volunteers on the day. It's a thankless task and your co-operation will be appreciated.
The Comms committee will be looking to live stream the game on YouTube for those that can't make it.
Directions
Wadham Lodge is about 20 minutes walk from Walthamstow Central station. Turn onto Hoe Street and follow the road all the way along (past the junction with The Bell pub) until Chingford Lane. Continue past Sir George Monoux 6th Form College and take the first right onto Brookscroft Road then left onto Kitchener Road.
You can catch a bus along that route too. The 357, 34, 97, 215 will all take you to the top of Brookscroft Road from Walthamstow Central. It will take about 12 minutes.
There's also plenty of car parking space available at the ground.