The Clapton CFC men's side are on the road again on Saturday with a very tough clash at Hilltop FC.
Happily we can now confirm that spectators will be allowed within strict Covid-19 rules – full details below.
That cup win
Hilltop and Clapton CFC have shared plenty of history.
It all started with one of the high points of the Clapton CFC story: that penalty shootout win in the final of the Jim Rogers President's Cup in 2018/9 after a 2-2 draw.
Yacine Rabia scored the winning spot-kick to the delight of 427 fans on a famous Saturday night in Uxbridge.
In the curtailed 2019/20 season the teams met once, a 2-2 draw that is mainly remembered for a sporting gesture on Clapton CFC's behalf.
Prince Kwakye put the Tons 2-1 up late on, but the Hilltop players protested that one of theirs was injured at the time. In response, player-manager Geoff Ocran told his side to step aside and let Hilltop to score an unopposed goal. 👏🏻
At the end of last season, Hilltop were sat one place above the Tons in third place, and with the best points per game in the league.
The season so far
Our latest meeting was a pre-season friendly at Wadham Lodge Stadium where the very impressive visitors won it 1-0.
But the Tons lodged a fine 2-1 win at Larkspur Rovers on Saturday and will be hopefully they are finding some form.
Hilltop, a mostly Somali heritage side, have started this season with one win and one defeat, exactly like Clapton CFC.
Their games have been absolute goal feasts – 4-5 vs Sporting Hackney, 5-3 vs Stonewall – so this could be a cracker too.
Match information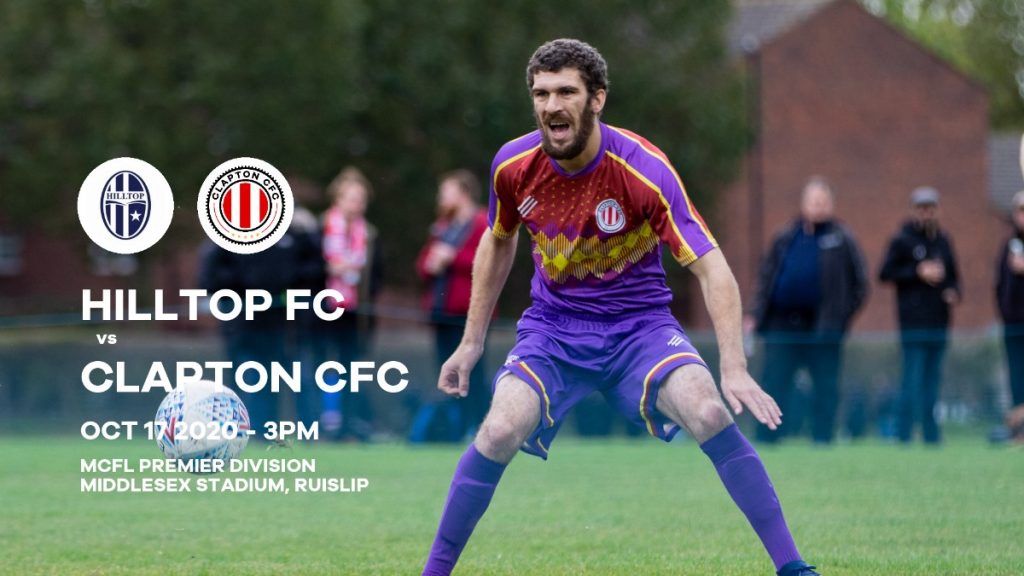 Hilltop FC vs Clapton CFC is on Saturday, October 17th at 3pm, at the Middlesex Stadium, Ruislip, HA4 7SB
Spectators will be allowed. Do not attend if you have Covid-19 symptoms.
Check in with NHS Track & Trace app, then you will have a temperature check and please use hand sanitiser.
Entrance will be £5, with concessions at £3. Contactless payments only so entry may take longer.
It's a big stadium so please spread out 2 metres apart. Remember the rule of six, so no congregating.
There will be a bar selling alcohol and light refreshments. Please wear a face mask when indoors and passing close by others.
We will be live streaming the game on our YouTube channel.