Following developments in the world of sport, we have made the decision to host our home game today behind closed doors, with only essential volunteers in attendance.
We are sadly therefore informing supporters that they should not attend. We will be reviewing the situation for future home matches.

The club have become concerned that with other events called off, we might see a higher turnout when we would rather have room for the necessary social distancing measures.
We are taking this action to reduce the risk of transmission of the Coronavirus, and to reduce the need for lots of people to travel – to give more space on public transport to those who need it to get to work.
As for the game, it's another Saturday, another top of the table six-pointer.
Following the Tons' tight 2-3 loss to Brentham, the match against Cricklewood Wanderers now presents an even more ominous test for Geoff Ocran's red and whites.
Cricklewood Wanderers, you may recall, were formed by a group of young people in 2011.
It is now run by Youth Engagement Solutions (YES), a charity which helps young people in education, employment, training, sport and health.
Their players don't pay subs to play as they strongly believe in making football accessible to people from disadvantaged backgrounds.
You may also recall that the away fixture resulted in a 5-0 loss for the Tons…
But! That was then, this is now.
Both Geoff and assistant manager Stu Purcell promised a reaction after that thrashing and the players certainly delivered.
The next nine games on the bounce went unbeaten as Clapton put themselves well in contention for the league title, with games in hand on those above.
Cricklewood have been no slouches either but have lost three of their intervening games and left the door open, if only just a crack.
In recent history, Clapton have been put under pressure by the attacking trio of Ciara, Dennis and Jorge.
Blown off the Wadham Lodge Stadium pitch to Mabley Green, then holding their nerve as wind, rain, hail, own goals and a sin-bin-athon was thrown at them at Yeading Town.
Even Cricklewood's excellent pitch has not escaped the attentions of the weather gods, the Wembley-based team went a month with only one league game.
Clapton will hope some rust has crept in along with all the damp.
Clapton CFC player-manager Geoff Ocran said:
Cricklewood, to be honest, taught us a lesson earlier in the season.

We did have a young squad that day and I think it was a turning point in the season, as we had to assess the squad at that time in regards to the league.

So we definitely owe them a game and being at home they will definitely get one.
Cricklewood Wanderers manager, Alfred Ekpenyong, gave us his thoughts ahead of the tie:
The season is going well so far, we had a shaky start to season especially in September but have managed to steady the ship since then.

The squad has grown throughout the season and continue to become stronger as a team, they have come to terms with the physical demands of the league.

At the last match, we enjoyed the atmosphere that the travelling fans of Clapton created, it spurred us on to really show our quality as a football team.

We worked towards our strengths as a team and it paid off. It was a good, entertaining game to be involved in.

Our recent form has been progressive, it is far from perfect, but we have had more positive than negatives lately.

We are expecting an enthralling, entertaining game. We know Clapton have quality in their team and on their day can give any team in the league a run for their money

The recent weather has been a big inconvenience with the games being called off.

As a team we have had to adapt and find other avenues to keep up with match fitness, but as a football club we have found the situation challenging.
Match information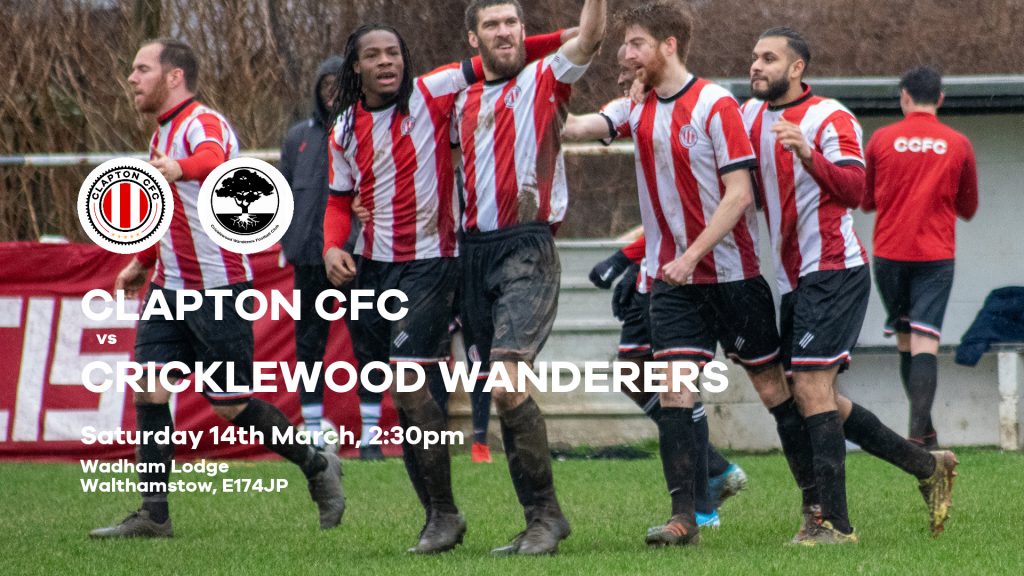 Cricklewood Wanderers vs Clapton CFC is at 2.30pm on March 14th, 2020 at the Wadham Lodge Stadium, Kitchener Rd, Walthamstow, E17 4JP.
We heartily recommend tuning in to our livestream from wherever you are.
We'll even see the return of Martin Fletcher commentating with any luck, who you may recall from last season's memorable cup finals!
We also, of course, look forward to welcoming fans from further afield to get together digitally and watch with us! Isolation doesn't have to be isolating, feel free to comment on the stream and we'll all be there in spirit.
We also encourage those of you who are fit and able to engage with local mutual aid groups to see if anyone needs any help. You can search for something in your area on Facebook. There are some useful links on this page.
Also as a reminder, please keep an eye on all of our social media feeds as news like this can sometimes break fast. Links to all of them are below.

Solidarity is strength.