This Saturday, the men's team kick off 2020 with one of their biggest challenges of the season, away to table-toppers Brentham. It will be the first time the two sides have met.
Situated on the edge of Pitshanger Park (near fierce rivals Pitshanger Dynamo), The Brentham Club was founded in 1919.
As well as football, it is known for cricket, tennis, lawn bowls, darts and bridge.
Fred Perry and Peter Crouch are two illustrious names who played there early in their careers.
Brentham FC currently sit four points ahead of second-placed Samurai atop the MCFL Premier.
They are also the top scorers in the division. Their main dangerman is Edward Clements, who is averaging over a goal a game, including two hattricks so far this season.
But the hosts will be looking to bounce back from a disastrous result in their last game. They went down to a 4-0 thrashing away to Hilltop on December 14.
A ton of years
Brentham Club Secretary Jamie Cuttica gave us the lowdown on how their season is going:
Brentham FC are celebrating their centenary, so hoping to end the season with some silverware. Whilst going into the winter break in top position, we are very aware that there are several other teams able to mount a serious challenge, Clapton Community being one of them. Our recent form saw us get good wins away to PFC Victoria and Cricklewood Wanderers. But we were humbled by a lively Hilltop side who brought us back to earth with a bump. We also have a Intermediate County Cup Quarter final coming up against Indian Gymkhana so hoping to progress further in that competition too.
Cry me a river
Due to pitch issues, the Tons have not been in league action since their impressive 3-1 win at Samurai on November 30. The weekend after saw a dramatic cup win over Stonewall back in Walthamstow.
Other than than that, the only gametime was a hastily-arranged friendly with New River Athletic. A makeshift Clapton side was hosed 9-1, with Josh Adejokun scoring the consolation.
Saturday will tell us what effects an extended break (and festive indulgences) have had on Geoff Ocran's side. They will be seeking their sixth league win on the trot.
Match information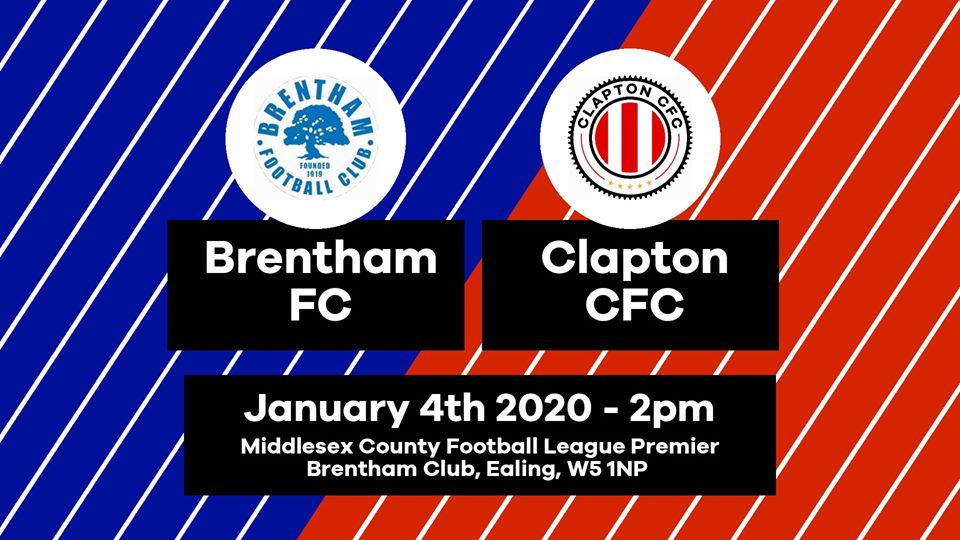 Brentham FC vs Clapton CFC is on Saturday, 4 January 2020 at 2pm at The Brentham Club, 38a Meadvale Rd, Pitshanger, London W5 1NP.
The Brentham Club is 15 minutes walk from Hanger Lane station or 20 minutes walk from Ealing Broadway, both in Zone 3.
Admission is free. Programmes are on sale for donation of 50p or more.
Food and drink are available in the cafe (named after Fred Perry). There is also a bar (unfortunately not yet named after Peter Crouch).
When entering the grounds, walk straight ahead towards the tennis courts and follow the path left, right (past the bowling green) then left towards the pitch.
Don't know anyone else going? Feel free to drop an email to comms @ claptoncfc.co.uk and we can help you meet up with other fans before the game.
You can join the Facebook event here.