When Clapton CFC step onto the pitch at the Xcel Sports Hub in Walton-on-Thames, it will have been 56 days since they last played a game.
CCFC women's team's last game was the 3-4 defeat at home to Islington Borough.
Due to bad weather, both the Stray Dog and opposition pitches have been waterlogged since.
The Tons have seen games against Dulwich Hamlet Reserves, Islington Borough, Luton Town Reserves and Regents Park Rangers be postponed.
Staggering form
Whilst the Tons have played seven league games so far this season, Walton Casuals have played 11, and have yet to drop any points.
They sit comfortably at the top of the league on 33 points, nine above second-placed Crystal Palace Development.
The last time the two sides met, on 6 October, Walton narrowly won with 1-2, after the Tons took the lead with beautiful Scriven / Walker link-up.
Clapton goalkeeper Polly Adams was having a blinder of a game, but a collision with a Walton player caused the shoulder injury which has seen her out since.
Out of the 51 goals the Stags have scored so far, 10 have been scored by Molly Jones, and 11 by Megan Saunders, making them two players for the Clapton defence to look out for.
With the Tons' last victory being at home against Comets on October 13, they will want to start 2020 by getting back to winning ways.
Match information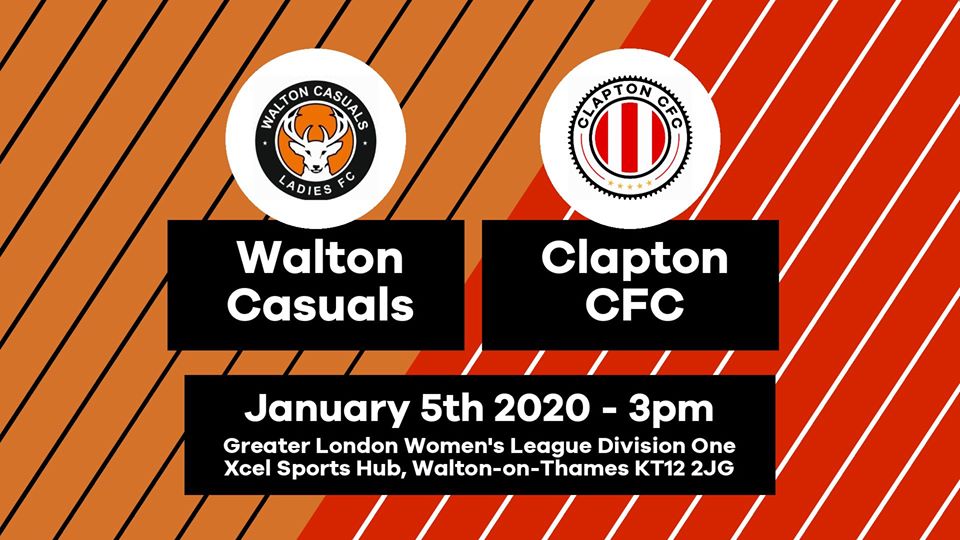 Walton Casuals Ladies FC vs Clapton CFC is on Sunday, 5 January 2020 at 3pm at Xcel Sports Hub, Waterside Drive, Walton On Thames, KT12 2JG.
The Xcel Sports Hub is not well served by public transport so we are running a coach for players and supporters.
It's pay on the day, £10 waged, £5 unwaged, under 10s free. Departure is from Stratford at 11.30am. Email matchday@claptoncfc.co.uk to bag a seat and for more details.
The two nearest railway stations, Walton-on-Thames and Hersham, are both a 40 minute walk away. The 555 bus can take you half of the way from the former though.
The venue does have parking space for those coming by car. More transport options can be found on the club's website.
Admission is free and there is a bar where you can buy food and drinks.
You can join the Facebook event here.