Clapton CFC men's team play our friends Stonewall FC in the quarter-final of the Alec Smith Premier Division Cup on Saturday, December 7th.
We've enjoyed some exciting battles already with Britain's top-ranking LGBT+ football team, with CCFC winning two and Stonewall one with an average of six goals per game.
They've also seen huge crowds and our two wins have kickstarted good runs. Last season 618 people saw the Tons beat Stonewall 5-1 as we went on an unbeaten run of 8 wins in 9 games that saw us to the title.
This season our 5-2 win over Stonewall in front of 909 people on Non-League Day was the start of a run of five straight league wins.
That game was chosen as one of Kick It Out's selected games and they produced this brilliant video of the day.
Stonewall FC manager Eric Najib told us:
It's been a mixed season so far, with results not always reflecting some very positive performances, despite missing key players through injury.

We have won our last two league games pushing us up the table and we look forward to renewing acquaintances with our friends from Clapton FC.

It is always a privilege to play in front of the dedicated and noisy Clapton fans and we are very appreciative of the warm welcome we always receive.

In our last game Vs Clapton we had a terrific start going 2-0 up before collapsing to a 2-5 defeat due in part to some excellent football from the hosts but also some poor defending so we hope to put that right!
So with both teams are in good form – CCFC five league wins in a row, Stonewall two – this should be a quality clash.
The Alec Smith Premier Division Cup is the league cup for clubs in the Middlesex County Football League Premier Division.
Clapton CFC's men's team reached the quarter-final after a bye in Round One and a 3-0 away win at Hillingdon FC in Round Two.
Geoff Ocran's team won the equivalent league cup competition – the Jim Rogers President's Division One Cup – last season on penalties against Hilltop.
Kick off is an early 1.30pm in case penalties are needed. There will be a result on the day, no replay.
Match information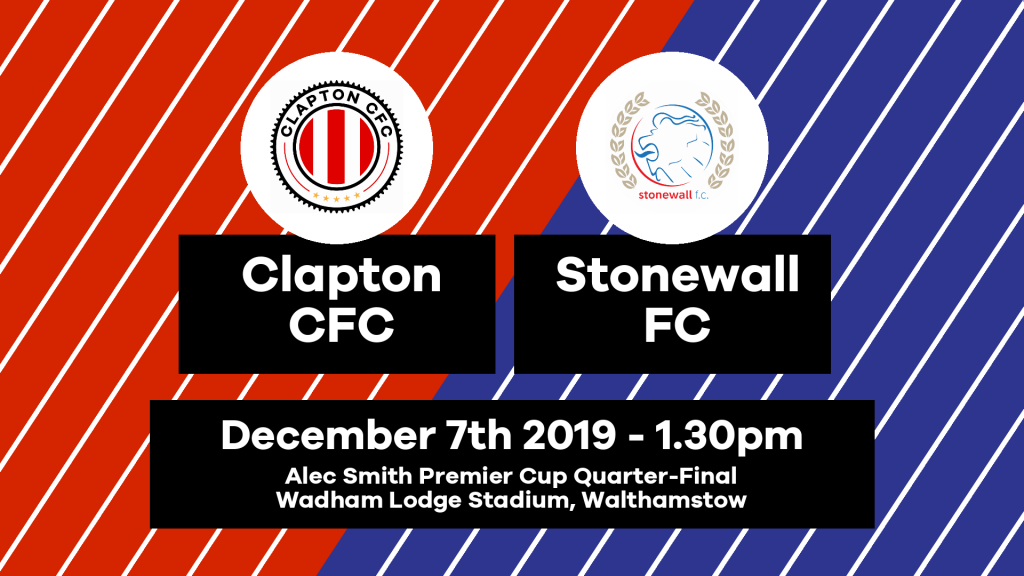 The game takes place on Saturday, December 7th at 1.30pm at Wadham Lodge Stadium, Kitchener Road, Walthamstow, E17 4JP.
There's covered seating and both covered and uncovered standing.
Entry as always is free, but we welcome donations, with a suggested £3 for waged adults.
We have a range of merch on sale at all home games, including our away shirts.
Our full-colour matchday programme will be on sale for £2. There's a different cover artist each time.
Fusion Foods will be selling hot food at the entrance. They will have meat, veggie and vegan options and accept cards or cash.
Our landlords Matchday Centres run an outside can bar and a full bar inside.
Rainbow Laces campaign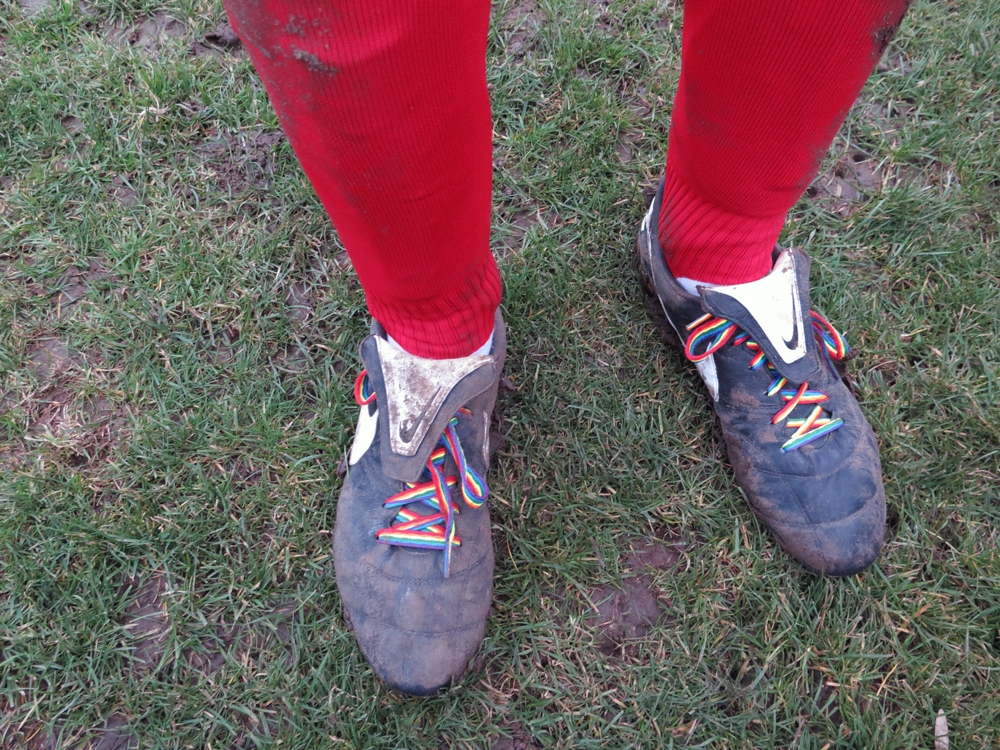 We're proud to once again be taking part in the annual Rainbow Laces campaign, which was set up by Stonewall, the charity with strong links to our opponents.
According to Stonewall research, four in ten LGBT people (43 per cent) think public sporting events aren't welcoming.
Rainbow Laces is aimed at raising awareness and making change so every person feels welcome in sport.
Dozens of football teams, from the Premier League and the Women's Super League down, are getting involved, along with other sports including horse racing, gold and rugby.
akt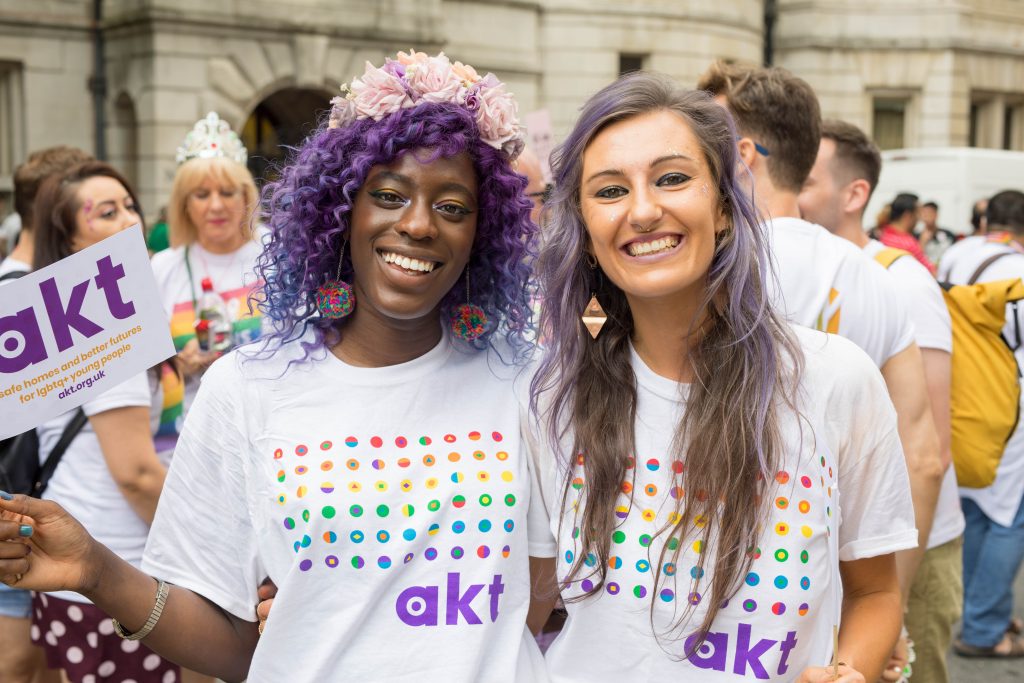 Volunteers from akt, the national LGBTQ+ youth homelessness charity formerly the Albert Kennedy Trust, will be attending to promote their charity and do a bucketshake.
24 per cent of young people facing homelessness identify as LGBTQ+, and over three quarters of those people face homelessness because of abuse or rejection at home.
akt provides emergency housing support, rooms in its Purple Door safe house, spare rooms in the akt host programme and help into private rented accommodation.
akt also helps support young people into employment, as well as help with other complex experiences, from domestic abuse, to substance misuse and mental health issues.
Magpie Project collection
At each home game we collect food and toiletries for our charity partner, the Magpie Project. They support mums and young children who live in temporary and emergency accommodation in East London.
If you have any of these to spare, please bring them to our collection point at the entrance:
● Toothpaste ● Toothbrushes ● Shower gel ● Shampoo ● Soap ● Deodorant ● Bags of rice ● Bags of pasta ● Breakfast cereals ● Washing powder
Directions
Wadham Lodge Stadium is about 20 minutes walk from Walthamstow Central station. Turn onto Hoe Street and follow the road all the way along (past the junction with The Bell pub) until Chingford Lane. Continue past Sir George Monoux 6th Form College and take the first right onto Brookscroft Road then left onto Kitchener Road.
You can catch a bus along that route too. The 357, 34, 97, 215 will all take you to the top of Brookscroft Road from Walthamstow Central. It will take about 12 minutes.
There's also plenty of car parking space available at the ground.
Any questions? Email comms@claptoncfc.co.uk, Join the Facebook group here.