This Saturday, the men's side head out to Northwood to play London Samurai.
These sides first clashed swords in a pre-season friendly last year, the Tons winning 1-0.
Samurai won the first competitive game, a proper 5-1 mauling in the MCFL East and Central Division One in their then home in a 3G cage in Southall.
But Clapton hit back with two massive home victories, knocking the Japanese heritage side out of the Jim Rogers Cup on penalties, then winning a nerve-wracking league game 3-2.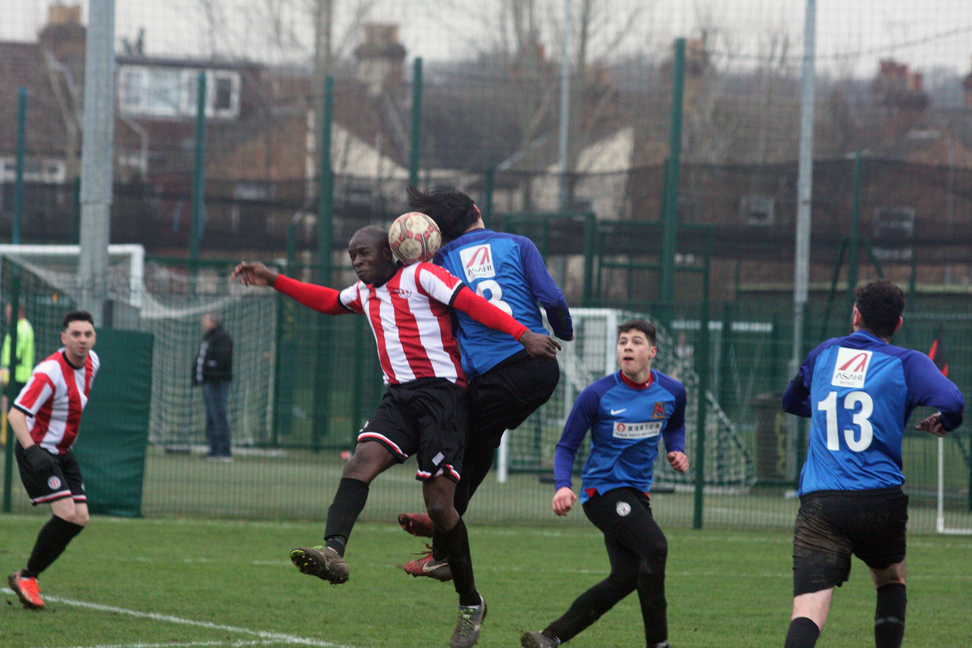 That result was probably Clapton's biggest step to winning the title. Samurai were the outstanding team in the division and we only kept them off top spot due to a heavy points deduction for fielding an ineligible player.
Level up
Samurai have started this season off in red hot form too. Now groundsharing with Northwood FC, they are still unbeaten after 11 games.
In one remarkable game in October, Hillingdon managed to score five against them. But Samurai scored seven to take the points.
However, they have drawn quite a few and are conceding goals, showing that they can be got at. And the last team to beat them in a league game was…Clapton CFC.
In November, Samurai have drawn 0-0 with Cricklewood Wanderers and 2-2 with Indian Gymkhana Club. Last week's visit to Isleworth was recorded by groundhopper Chris White. As well as bringing back memories of Clapton's abject 5-4 loss there in September, it will give a taste for how the opposition are shaping up. Highlights start at the five minute mark.
Ambition
This is only Samurai's second season in their current guise, after a merger with JL Rovers in the summer of 2018.
With an extensive youth system, the club aim to establish themselves as a prominent part of the community around the Acton area where they are based.
And their first team will be confident they can go up a few more tiers too.
Masakatsu Shibasaki, who took over managerial duties from Hideyuki Miyahara this summer, told us about his team's start to the season and his expectations for the Clapton game:
Our first season in the Premier Division has started with six wins, six draws and no losses. But we had some injuries and some players have left the UK, so I wouldn't say our start was as good as we would have liked. However we think we have more strength on the bench than last season so gradually we should get the results we are looking for. The Premier Division is very tough and competitive with 17 teams and 32 matches, so there are no easy games. And every opposition team is well organised. We know Clapton CFC are one of strongest teams in the league, with great supporters, who know us very well from last season. So this match should be very exciting and close – it's going to be a thriller!
Match information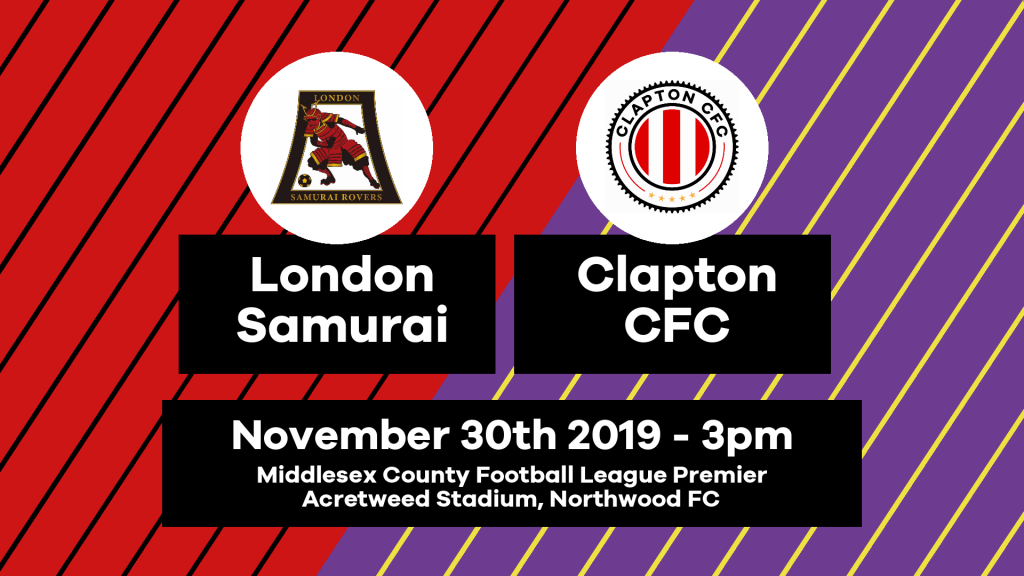 London Samurai vs Clapton CFC is on November 30th at 3pm at Northwood FC's Acretweed Stadium, Chestnut Avenue, HA6 1HR.
Admission is £3 for adults, £1 for students and pensioners and free for under 16s.
Programmes are £1, there's a bar selling alcohol and the clubhouse kitchen will sell hot food and hot drinks.
Please note it's cash only though.
The nearest station is Northwood Hills, about ten minutes' walk away, in Zone 6 on the Metropolitan line.
There's free car parking available at the ground.
Don't know anyone else going? Feel free to drop us an email and we can help you meet up with other fans before the game.
Any questions? Email comms@claptoncfc.co.uk. Join the Facebook event here.