Here we go again. The men's team will be taking on fellow promotees NW London for the fifth time. And the visitors to the Wadham Lodge Stadium for this Bonfire Night game have a slight historical edge.
The first game was a pre-season win for the Tons at the New River Stadium last summer. Then the Gorillas, as they are known, won the first league game 2-1.
The return fixture, last season's only game played under the lights in the main stadium, was a dramatic 4-4 draw.
Then this pre-season, NW recorded a thumping 6-2 win over an experimental Tons side at the Stray Dog. Winger Bilal Hussain bagged both of the consolation goals.
But the Clapton side will look very different from that day. One interesting change will be the presence of former North West players Bruno Pereira and Marlinho, who could be facing their old teammates in the red and white of Clapton.
While Geoff Ocran's side have toiled against some of their new Premier League opponents, NW are holding their own, keeping that other familiar outfit London Samurai company up near the top of the division.
They recovered from a heavy opening day loss to Hillingdon and posted a couple of draws in August.
As with CCFC, there was disappointment in their FA Vase debut, falling at the first step with a defeat to Harefield United.
Since then they have beaten Cricklewood Wanderers 5-0, Sporting Hackney 6-4 and Larkspur Rovers 3-2. Impressive form.
The man with the smoking hot scoring boots has been French striker Hassane Gassama, who got four against Hackney alone.
But the squad still has a strong South American core, with half a dozen Brazilians in the squad. This connection is also reflected in the club's support for Project Favela (@ProjectFavela on Twitter) a Rio-based NGO.
Manager Wasim Khan told us:
We have a lot of respect for Clapton, given the continuous success you have had on and off the field, however we feel as a club we're really progressing ourselves.

It's not a fan owned club like Clapton but it's run by people who have been involved in non-league for a long time and fully appreciate the value at this level.

Our season has been very good so far as you can see from the results. It's a continuation on the work we have been doing over the summer, to ensure the club progresses.

I felt we fully deserved to be in the Premier Division, as despite suffering from International Clearance for 3 months of last season, we finished very strong.

For us, it's about consistency & focussing on our quality. Since last season, we've worked hard to put a competitive squad in place that is working hard to continue to grow the club.

We have made a good start and we just want to win every game & give absolutely everything.
Match information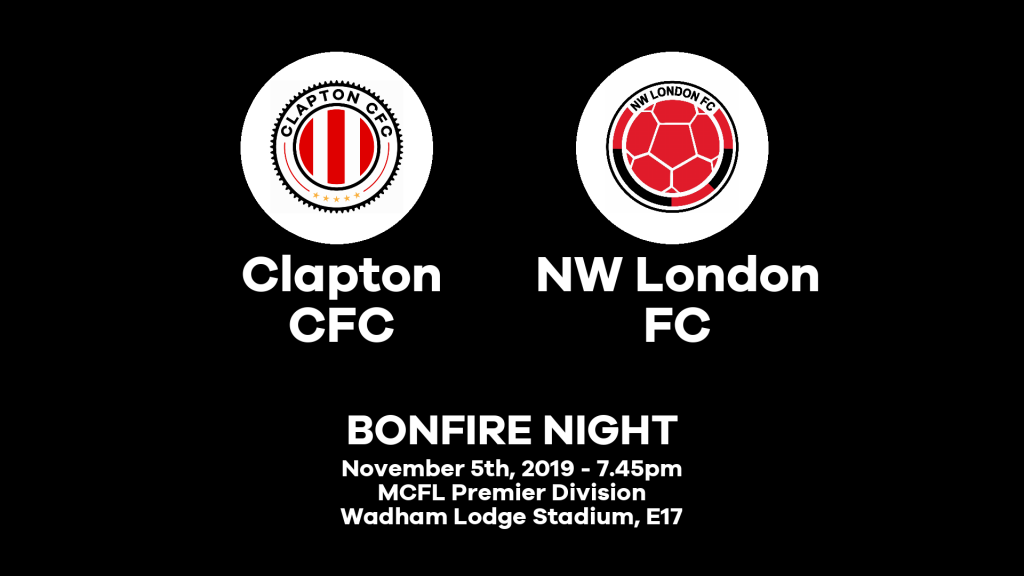 The game takes place on Tuesday, November 5th 2019 at 7.45pm at Wadham Lodge Stadium, Kitchener Road, Walthamstow, E17 4JP.
The match was rearranged from Saturday due to Walthamstow FC's involvement in the FA Vase.
There's covered seating and both covered and uncovered standing.
Entry as always is free, but we welcome donations, with a suggested £3 for waged adults.
We have a range of merch on sale at all home games, including our away shirts.
Our full-colour matchday programme will be on sale for £2. There's a different cover artist each time.
Fusion Foods will be selling hot food at the entrance. They will have meat, veggie and vegan options and accept cards or cash.
Our landlords Matchday Centres run an outside can bar and a full bar inside.
Important note
There's a MASSIVE Bonfire Night display nearby, so expect fireworks off the field at least. You may also want to set off earlier as Walthamstow will be busy.
However, strictly NO FIREWORKS OR SPARKLERS at the game please. Our landlords Matchday Centres have no insurance for entertaining explosives.
Magpie Project collection
At each home game we collect food and toiletries for our charity partner, the Magpie Project. They support mums and young children who live in temporary and emergency accommodation in East London.
If you have any of these to spare, please bring them to our collection point at the entrance:
● Toothpaste ● Toothbrushes ● Shower gel ● Shampoo ● Soap ● Deodorant ● Bags of rice ● Bags of pasta ● Breakfast cereals ● Washing powder
Directions
Wadham Lodge Stadium is about 20 minutes walk from Walthamstow Central station. Turn onto Hoe Street and follow the road all the way along (past the junction with The Bell pub) until Chingford Lane. Continue past Sir George Monoux 6th Form College and take the first right onto Brookscroft Road then left onto Kitchener Road.
You can catch a bus along that route too. The 357, 34, 97, 215 will all take you to the top of Brookscroft Road from Walthamstow Central. It will take about 12 minutes.
There's also plenty of car parking space available at the ground.
Any more questions? Email comms@claptoncfc.co.uk, Join the Facebook event here.