We're privileged to have two home league games on Non-League Day weekend – both for our men's and women's teams.
While the men's team take on Stonewall FC on Saturday (more here), the women's team take on Comets FC on Sunday.
If you're free either or both afternoons, we'd love you to join us and experience the unique atmosphere.
There's plenty happening off the pitch too with the Sunday events involving Hackney Laces, Kick It Out and the Magpie Project.
Comets are a team with plenty of parallels to CCFC. Last season, they were promoted from Division 2 South after finishing runners-up.
Meanwhile, we were promoted from Division 2 North after finishing runners-up (under the AFC Stoke Newington name, of course).
Last season they won the Capital Junior Cup, beating another of our league rivals, Walton Casuals, in the final and the likes of Woking and Enfield Town along the way.
They also reached the final of the GWFL Trophy, losing out to Headstone Manor in the final.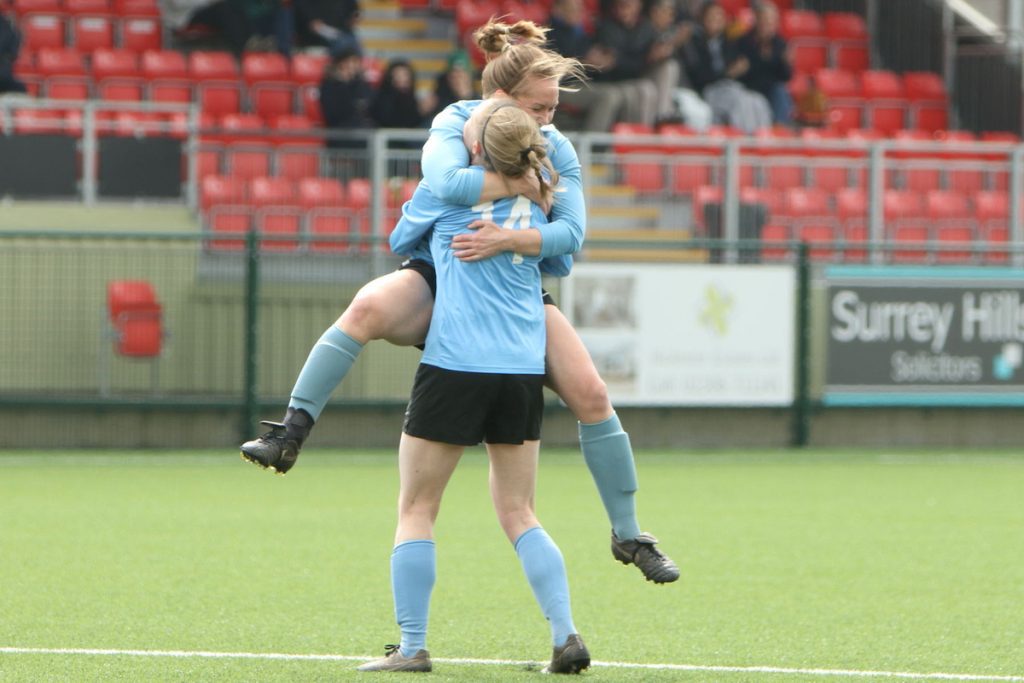 A promotion, a cup win and another cup final… remind you of the Clapton CFC men's team?
That was the first silverware the Comets have lifted since they formed in 1999 at law school and kept going after graduation.
They got serious in 2004 when they entered the GLWFL and hired longstanding manager Mark Howden.
This season both CCFC and Comets have started well after jumping up to Division 1, with just one defeat each.
They were knocked out of the Women's FA Cup in a 5-4 defeat at New London Lionesses, while we lost out in a thriller of our own against Oakwood Ladies.
Howden said: "We're thrilled with the start to Division 1. We strengthened over the summer and feel like we can compete well in this division.
"Ambitions are league title, FA cup, and an eventual stab at the Champions League."
There's also a strong social aspect to the club. Over the years, they've also enjoyed tours to Iceland, Sweden, Paris, Barcelona, Dublin, Cornwall and Brighton.
We're expecting goals in this one, with Comets averaging over 3 goals per game last season, with top scorer and player of the year, Michelle Keating, bagging 26 goals.
So we're looking forward to seeing them come to East London – something shared by Howden who says: "We are VERY excited about our visit to Clapton. Where is it again?
"We are particularly excited about the promise of a great playing surface and our appearance in a very professional match programme. "
Match information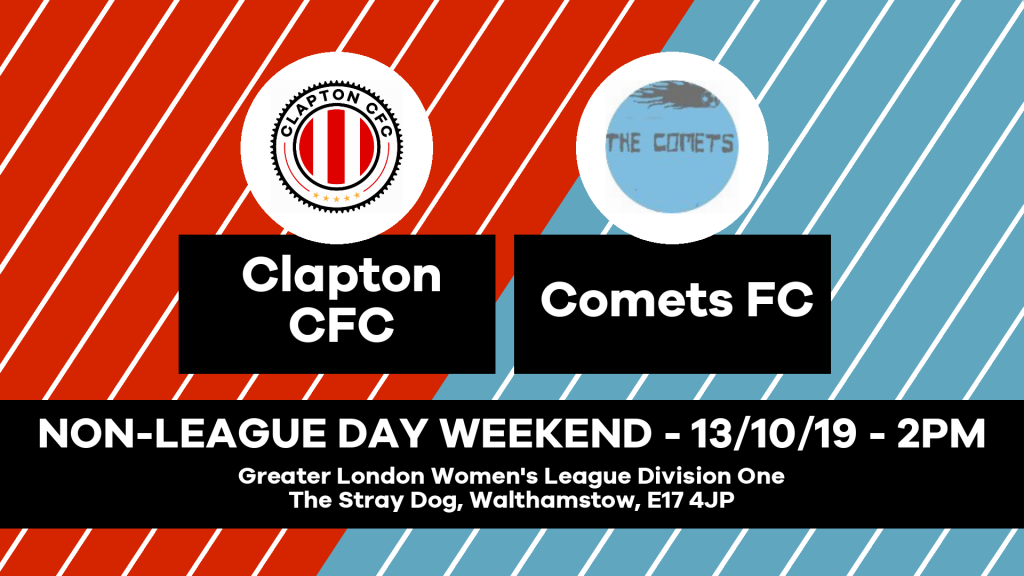 The game takes place on Sunday, October 13th 2019 at 2pm at the Stray Dog, Wadham Lodge, Kitchener Road, Walthamstow, E17 4JP.
The Stray Dog is the pitch to the left as you enter the Wadham Lodge car park. There is covered and uncovered standing.
Entry as always is free, but we welcome donations, with a suggested £3 for waged adults.
We have a range of merch on sale at all home games, including our away shirts.
Our full-colour matchday programme will be on sale for £2. There's a different cover artist each time, and this one was designed by women's team player and artist, Alice May Williams.
Fusion Foods will be selling hot food at the entrance. They will have meat, veggie and vegan options and accept cards or cash.
Our landlords Matchday Centres run an outside can bar and a full bar inside.
Hackney Laces
We're delighted to welcome some of the Hackney Laces to the game to lead the team on to the pitch and take some half-time penalties.
Hackney Laces are a community supported and run football club for girls who want to play football and learn new skills, on and off the pitch.
Young Tons
On both Saturday and Sunday we're inviting young visitors to design some Clapton CFC shirts.
All young people (and their parents) are invited along to join in. Meet our volunteers at the entrance from 1.30pm.
Clapton CFC will supply all the materials – T-shirts, stencils, paints and sprays – free of charge.
Our Young Tons will also be leading out both teams on to the pitch before the game.
Kick It Out
Kick It Out are highlighting grassroots football clubs for this year's Non-League Day.
Clapton CFC in turn want to recognise the contribution of football's leading equality organisation into making it a better sport for everyone.
Both our men's and women's teams will be wearing special Kick It Out T-shirts this weekend. But the campaign is more than just a T-shirt
The discrimination we continue to see at all levels of the game proves the sport needs an organisation like Kick It Out more than ever.
Magpie Project collection
At each game we collect food and toiletries for our charity partner, the Magpie Project. They support mums and young children who live in temporary and emergency accommodation.
If you have any of these to spare, please bring them to our collection point at the entrance:
● Toothpaste ● Toothbrushes ● Shower gel ● Shampoo ● Soap ● Deodorant ● Bags of rice ● Bags of pasta ● Breakfast cereals ● Washing powder
Directions
Wadham Lodge is about 20 minutes walk from Walthamstow Central station. Turn onto Hoe Street and follow the road all the way along (past the junction with The Bell pub) until Chingford Lane. Continue past Sir George Monoux 6th Form College and take the first right onto Brookscroft Road then left onto Kitchener Road.
You can catch a bus along that route too. The 357, 34, 97, 215 will all take you to the top of Brookscroft Road from Walthamstow Central. It will take about 12 minutes.
There's also plenty of car parking space available at the ground.
Any more questions? Email comms@claptoncfc.co.uk