The cover for the joint programme for our three games in the next week was created by Clapton CFC player Alice Williams.
She is currently showing her work at the Science Gallery as part of the On Edge – Living in an Age of Anxiety exhibition.
If you are interested in Alice's work you can check out her website and her Instagram.
Here she tells us about her inspiration and the joy of taking up football again…
Most of my projects are grounded in a strong interest of mine, and involve some level of research, often historical.
Since I graduated from my MFA at Goldsmiths in 2014 I have worked mostly using video to tell stories, as I love words, and writing pieces which weave my various interests together.
In 2015 I made a project called 'An Unreliable Witness' about my great great grandmother who lived all over Battersea.
It was sparked by an audio recording I was given of her talking in 1959, when she was in her 90s.
She was born in 1865, and it's amazing to hear her talk on tape, as London accents like hers just don't exist anymore.
Her family were riverboat people, and she tells a story about how her father used to run the ship aground in the Thames and wait there until people had spent enough money in the bar to make ends meet.
She was alive to see both Tower Bridge and Battersea Power Station being built!
In 2016, using a production award I won from Jerwood, I made a film called Dream City.
It was about the history of the site of Battersea Power Station, from being a marshland, a farm, the site of a proposed theme park, power station and eventually the site of various failed/failing development plans, including current one.
I was interested in how the rhythms of development in the city are cyclical, and the massive plans for the area currently may come to nothing, or be demolished.
Many of the houses my own Nan and her mother, and her mother lived in in Battersea now longer exist.
I have also been on residency in a Tudor house in Liverpool and last year made a film about the history of biological sex for the National Trust, called 'By The Accident of Your Birth'.
When I was approached to be a part of the On Edge show, I was very sure that I wanted to make something very positive.
I was not interested in making an anxious artwork that illustrated the problem, but something that represented a moment of release, or escape, a route through anxiety. 
For me, this escape came from football, which I took up in 2017 having not played since school.
I have been on medication for depression and anxiety for many years, which has been hugely beneficial, but it was not until a started playing regularly on a team that I felt I had a real purpose in life, a sense of being useful, and life being truly worthwhile.
I wanted to express this through painting, which I had put aside in favour of video. I wanted to see how, like when running around on a football pitch, I could say everything that needed to be said in as few words as possible.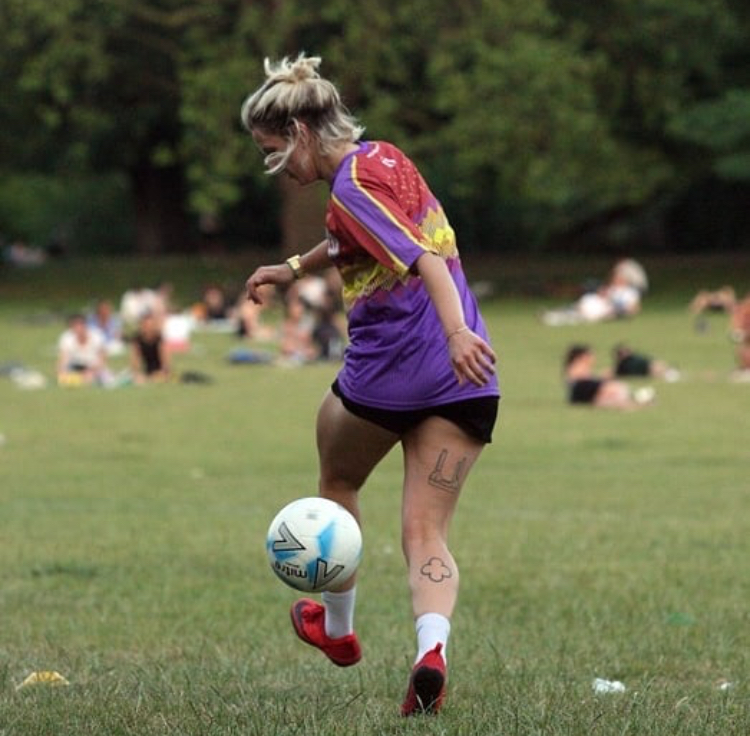 Starting with the colours and patterns of vintage kits, I began to build up layers of acrylic paint.
On top of these I painted the most popular phrases that teammates use on the pitch, or coaches shout to encourage players to communicate.
I thought not only were they beautiful, but they could be used as mantras in life too, a positive affirmation to carry off the pitch and into everyday life.
I like that fellow players will get the meaning behind the words, but hopefully all viewers will take away at least the feeling of joy and support of being part of a team.
I have been injured, keeping me away from the pitch, but painting these has been a huge pleasure for me, I am so proud of the show, my team, and cannot wait to get back on the pitch!
ON EDGE: Living in an Age of Anxiety is on at Science Gallery London until 19 January 2020.