Geoff Ocran's Clapton CFC men's team make their FA Vase debut with a trip to a buoyant Wivenhoe Town, on the outskirts of Colchester.
The Dragons play at one step higher than us in the Eastern Senior League South so will be big favourites, not least due to their form which sees them top of the table.
They finished 14th last season, but the turnaround under new manager Gary Monti was phenomenal, losing just once in the last nine games from his appointment in February.
Before he was brought in as boss, from Essex & Sussex Border League club Tiptree Jobserve, Wivenhoe had lost a whopping 15 games in a row.
The club were formed in 1925 and have been based at Broad Lane – now known as the Blackstone Stadium – since 1977 when it was a carrot field which they bought for £2,500.
After decades in local leagues, their heyday was the late Eighties and early Nineties when they reached the dizzy heights of the Isthmian League Premier Division.
They set their attendance record of 1,992 in the FA Trophy against Runcorn in 1990 while the next season they played neighbours Colchester in the same competition in front of 4,923 away at Layer Road.
Their best performance in the FA Vase was in 1995/6 when they reached the last 16 but lost to Mangotsfield United on a replay.
Several meetings took place between Clapton and Wivenhoe in that era, with the Tons grabbing just a solitary win, 3-2 in the Isthmian League Division 2 in front of 83 spectators September 1987. Four months later, 147 people saw Wivenhoe take revenge with a 7-0 win in the return match.
In the last few decades, financial problems have seen them drop down the leagues, but Monti appears to have got the Dragons breathing fire again and they look back on the up.
We spoke to Monti about their turnaround…
To be honest, we quickly decided that the quality of the players wasn't quite up to the standard required so we brought in some fresh faces. Confidence was also down after 15 games without a point. The players that came in galvanised the team and we had a great finish to the season.

We have kept the majority of the squad that finished the season. Only 2/3 players have left us because they didn't think they would get enough playing time. We have added 5/6 quality players over the summer so our squad is a lot stronger.

With 4 promotion spots we and everyone else will feel they have a chance of going up. There are some very good teams in this league who will all beat each other. I can't see anyone running away with it this season. Improvement on last season is the goal for us. We need to be realistic but believe me, we will be pushing.

Wivenhoe are a sleeping giant who should be playing in a higher league. To do that you have to have all the ingredients to make that happen. It's also got to be done properly, at the proper rate and with the right people.

We feel we have those people involved at the club now to take it forward so everyone is pulling in the right direction. It won't happen overnight and it won't happen to the detriment of the club. It's got to be done the right way.
Whoever wins our tie will play either Barkingside of the Eastern Senior League South or FC Broxbourne Borough of the Spartan South Midlands League Division One away in the second qualifying round. That tie will take place on Saturday, September 14th.
The FA Vase is the best chance grassroots football clubs have of playing at Wembley given that entry is restricted to clubs at Step Five and below. CCFC, who play at Step Seven, are one of the lowest placed clubs to qualify for the competition.
Our acceptance into the FA Vase means we will not be competing in the Anagram Records Trophy, which is for clubs in the South East who don't qualify for the Vase. Last season we reached the final before losing to Catholic United.
Unfortunately the men's team don't yet qualify for the FA Cup – but our women's team have. They play Margate Ladies on Sunday, September 1.
Match information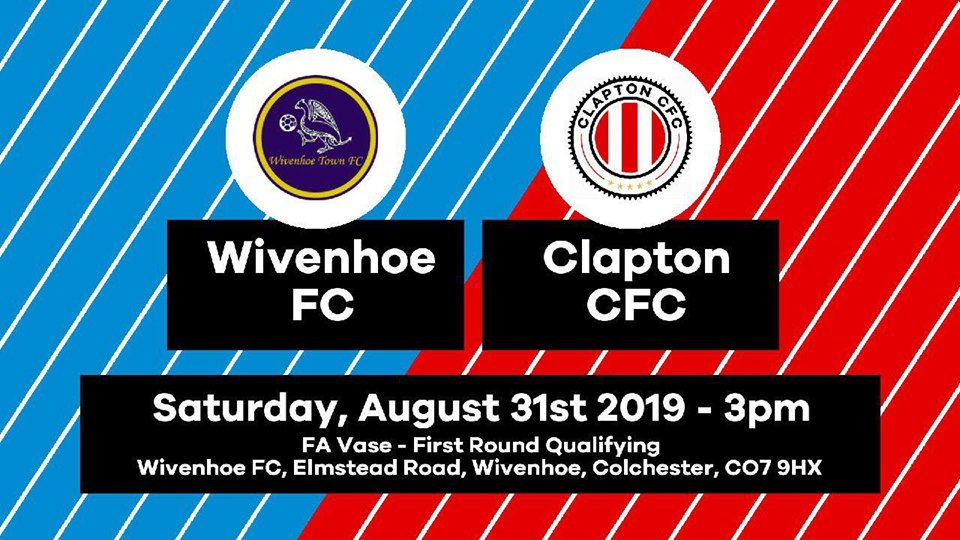 Clapton CFC are running a coach to the game. Members will have received details in an email last week. If you didn't receive it, or are not a member and want to book, please email comms@claptoncfc.co.uk
The train to Wivenhoe Station (1.4 miles from the ground) is direct and takes around 1 hour and 10 minutes. Colchester Station is around 4 miles from the ground.
Parking is plentiful and free at the ground.
Admission is £6 adults or £3 concessions (under 16s, pensioners and students with valid ID).
A limited run of programmes will be on sale for £1.
Wivenhoe's food kiosk and clubhouse bar will be open from around 2pm for food and drink.
However, please note that it's an FA competition so special alcohol rules apply, meaning no drinks can be taken out of the clubhouse.
Wivenhoe Town vs Clapton CFC takes place on Saturday, August 31st at the Blackstone Stadium, Wivenhoe at 3pm. Join the Facebook event here.