An invitation too good to turn down.
Clapton CFC are delighted to be sending our men's team to Germany to help our friends at Roter Stern Leipzig mark a special moment.
Their 20th anniversary match is a fixture that many Tons fans would have fancied going to – even before we were asked to provide the opposition.
While the logistics for this match have been months in the planning, this is a fixture that supporters of both clubs have hoped to make happen for years.
RSL have been taking a stand against racism, sexism and homophobia in football and society since their first game, in September 1999.
They are the type of fan-owned community club that CCFC aspires to be, with over 1500 members and nearly 30 football teams including men's, women's, youth and seniors.
They also have teams for basketball, roller derby, handball, volleyball, scooter derby, Thai boxing, tennis, gymnastics, chess, triathlon, croquet, table tennis, climbing, martial arts, badminton, darts, off-road, athletics, cycling and running.
The last Clapton side to visit Germany was in 1912. On that occasion the tourists faced teams from Duisburg, Koln and Essen and notched up a handsome aggregate score of 11 – 0 over the three matches.
It's very unlikely that the Tons will enjoy such good fortune on this visit, though. as the RSL men's first team play in the Landesklasse Nord, which is the seventh tier of German football, the equivalent to our Isthmian Premier.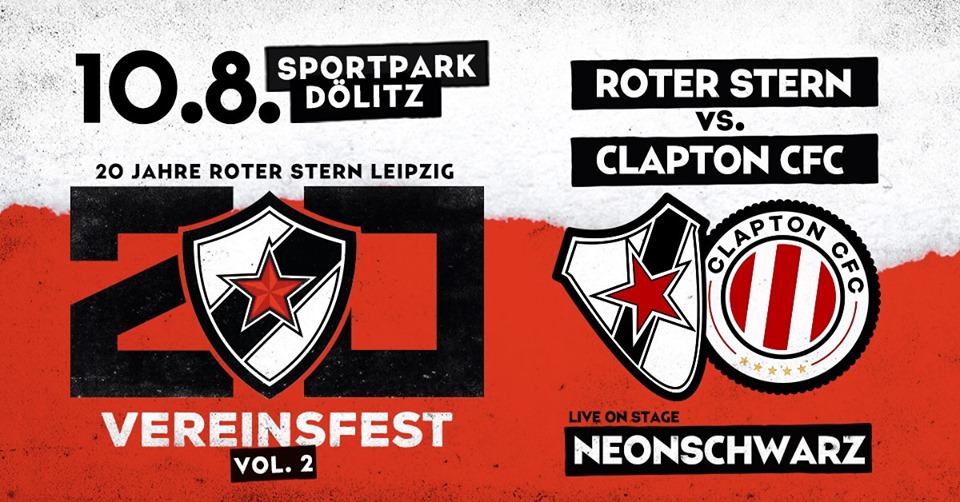 Die Stern (The Stars) won promotion to this level in 2015 and finished a very respectable 9th in the league last term.
The RSL men ended the previous campaign strongly, winning 14 points from their final 6 games which saw them to their highest ever league finish.
Florian, who is both a regular at RSL and CCFC, told us: "Roter Stern Leipzig are a DIY football club, founded by 20 football enthusiastic punks in 1999.
"Similar to the original Clapton Ultras, they were fed up with watching and playing the game ridden with everyday racism and masculinity.
"What started as a fun project fuelled by beer and pyro on the lowest possible level has since then become a staple of community support in the south of Leipzig, providing a home for more than a thousand members, playing not only football in all age groups from 5 to 50 in an environment free from discrimination.
"Over the years, a number of Clapton and RSL supporters/activists have become close friends, and people in Leipzig cannot wait to welcome the double winning CCFC team to celebrate their 20th anniversary in a ground that will remind many Claptonites of their spiritual home, the Old Spotted Dog."
Undoubtedly the club's biggest achievement has been to acquire their home
ground in Teichstraße, providing themselves with a sustainable base from which to develop even further.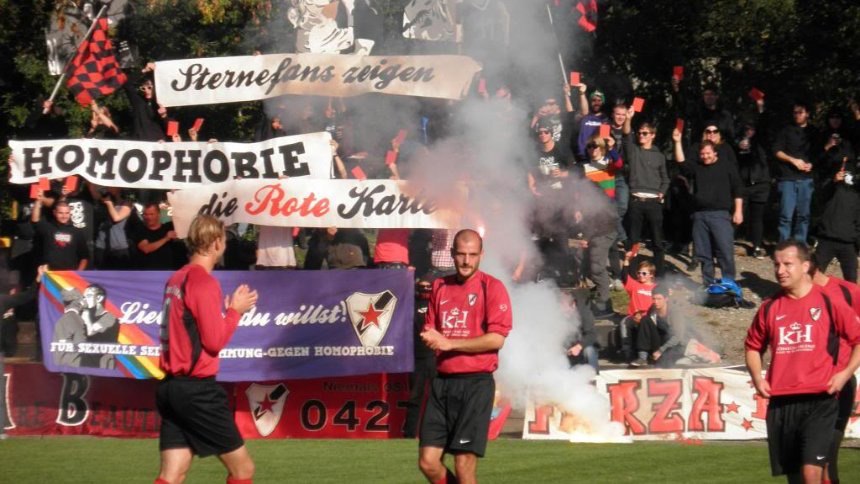 From photos, RSL's ground, the Sportpark Dolitz, surrounded by trees, overhanging modest terracing, is more than reminiscent of our spiritual
home, the Old Spotted Dog.
Who will start for RSL and what condition they'll be in will also likely be determined by a first round cup match, held at Sportspark Dolitz, the night before the historic anniversary match.
After training on the home turf, Geoff and the lads will have the rare opportunity to watch their opponents close up.
The Clapton side flying to Berlin on Friday will be made up largely of the last season's championship winning squad.
Due to flights being booked a few months ago, recent signings such as Billy Wise, Jack Francis and Noah Adejokun miss out.
Dan Anfossy can't make it either, which means that defender Ashley Headley will get his chance in goal.
Lewis Owiredu is set to return to the Tons midfield, while Liam Smyth and Stefan Nielsen travel having missed out on April's trip to Barcelona..
We hope as many members and supporters will be able to make it too.
There will be a concert and a party after the game. Join us for a celebration of fan-owned sport in Germany.
Rotern Stern Leipzig vs Clapton CFC is at Sportpark Dölitz at 4pm on August 10. Join the Facebook event here.