It's a momentous day at the Stray Dog on Saturday as the Clapton CFC women's team make their debut in club colours.
Of course the team itself isn't new. They formed in 2015 as AFC Stoke Newington and last season were promoted for the second time in four seasons.
But, after votes in favour by both parties, they're now part of CCFC and planning for life in the Greater London Women's Division One as well as making their FA Cup debut.
The team begin full pre-season programme this week, but have kept training throughout summer, and are also about to appoint a first ever dedicated manager/coach. Exciting times.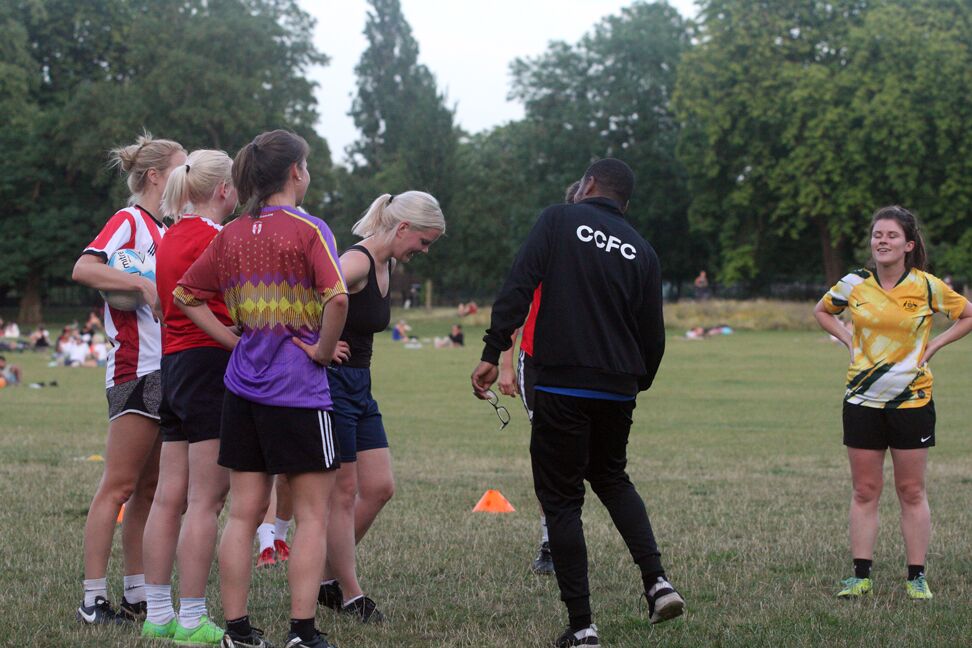 Clapton CFC striker Emily Link said:
It has been quite a journey and now we're here. We are incredibly excited about wearing the Clapton shirt for the first time and can't wait to see what this season has in store for us! I'm sure there are going to be more defining moments as we step up to the next league and we can't wait for you to be there with us!

Our opponents Santacruzense also have an exciting milestone on the way as they are about enter a league for the first time,
Formed by ex-pat Brazilians and named after a club on the Portuguese island of Madeira, they draw players from all over the world – Brazil, Italy, France, Czech Republic, South Africa and Ecuador.
Santacruzense started out small by meeting up on Sundays but have grown to the point where they are now entering the Clapham Women's League in September.
They are preparing hard by training two times a week with coach Abdul and technical directors Jack and Vinicius.
However, they tell us that the team is more than what happens on the field, They believe that football unites people, brings joy to life and shows that 'impossible' is only a matter of opinion.
The friendly is part of a special double header, with the women's team game taking straight after the men's team game vs NW London, both on the Stray Dog.
During the season, the CCFC men's team will play on Saturday afternoons on the Wadham Lodge Stadium pitch and the women's team on Sunday afternoons at the Stray Dog.
So don't miss this rare chance to see both play, one after the other.
Match information
The men's team take on NW London at 2pm with the women's team kicking off against Santacruzense at 4.30pm.
Entry – for both games – is free, but we recommend a single donation of £3 for waged adults.
You will want to come along just to get your hands on our special joint programme, available for two quid.
The stunning cover is by illustrator (and Clapton fan) Cressida Djambov. Check out her work here.
Fusion Foods will be back, serving delicious hot food at the entrance. They will have meat, veggie and vegan options and accept cards or cash.
A range of merch will be available.
We're on the pitch just left as you enter the Wadham Lodge car park. Look out for the Stray Dog sign.
The Stray Dog is about 20 minutes walk from Walthamstow Central station. Turn onto Hoe Street and follow the road all the way along (past the junction with The Bell pub) until Chingford Lane. Continue past Sir George Monoux 6th Form College and take the first right onto Brookscroft Road then left onto Kitchener Road.
You can catch a bus along that route too. The 357, 34, 97, 215 will all take you to the top of Brookscroft Road from Walthamstow Central. It will take about 12 minutes.
There's also plenty of car parking space available at the ground.
Clapton CFC vs Santacruzense is on Saturday, August 3rd 2019 at 4.30pm, at 'The Stray Dog', Wadham Lodge Sports Ground, Kitchener Road, Walthamstow, E17 4JP. Join the Facebook event here.