The debut of Clapton's new women's team will undoubtedly be the headline act at the Stray Dog this Saturday.
But before that, the men's XI have an intriguing-looking matchup with last season's title rivals NW London. It will be their last game before the trip to Germany to take on Roter Stern Leipzig. On August 20 the league season gets underway, as Sporting Hackney visit Walthamstow.
Round four
NW London have already played CCFC three times, with three different outcomes.
Last summer's pre-season clash was won by the Tons. In the league, the Gorillas won 2-1 at a blustery New River Stadium in Haringey. Finally, the teams played out a thrilling 4-4 draw under the lights at the Wadham Lodge Stadium.
That high-scoring stalemate finished off NW's title charge – and seemed to have put an end to Clapton's hopes too, until other rivals slipped up. But with four teams eventually earning promotion, NW will be joining the Tons in the MCFL Premier.
Their fortunes over the summer friendlies have been varied. They have lost to New Salamis Reserves, Lopes Tavares and league rivals Lampton Park. But they have also thrashed Brimsdown 5-2 and Chelsea Rovers Reserves 5-0.
If previous meetings are anything to go by we can expect NW to play attractive, attacking football that will be a real test for the Clapton backline.
Business end
Tons player-manager Geoff Ocran spoke to us about his satisfaction with the victory over Peckham Town and the importance of strength in depth for the coming campaign:
It was a good all-round performance last Saturday. I thought we were well worth the win on the balance of play and chances created. Being at the business end of pre-season, we are now looking to focus on what would potentially be the squad for the first game of the season. We're going to be in a bigger league. Including cup competitions we're looking at 40 plus games. So there's going to be chances for everyone to get minutes this season. But if you come in and do your job, you'll keep your shirt. Our previous games against NW London been competitive, high-pressing matches, so it should be another good test versus strong league opposition.

NW on the up
Gorillas manager Wasim Khan told us about his team's preparations for life in the MCFL Premier:
Our pre-season has been slightly different this year. We like to have a longer pre-season as we tend to train heavily before we head into games. But as the Premier Division starts August 10th, we've had less time to prepare. It meant we headed into friendlies after heavy sessions and the results have been mixed. We've got the majority of our squad from what we felt was a very strong performance. We hit 72 goals, the most in Division 1. A few have left to higher steps in the pyramid but we are happy to have played a part in their development and it's a credit to the work we have done with them.
Khan is confident that NW will be competing at the top end of the division again and looking forward to measuring their progress against Saturday's hosts:
Clapton should be a very good test as we know they have grown to be a strong club in a very short time. We really felt we should have won the previous encounter when it was 4-3 with a few minutes left, but that equaliser ended our title hopes. It should be a very competitive game as it's one week before the season. I'm sure both sides will want the win, even though it's a friendly. Our ambition is to win the League. We feel that is the quality we have and the quality of our set-up, which has evolved every year. We feel we can compete against any team in the non-league system. It's down to us to produce the performances. We've played teams in higher steps with no issues. Last season, if it wasn't for international clearance issues, I think we'd have been more settled throughout the season and definitely finished with more points.
Match information
The men's team take on NW London at 2pm with the women's team kicking off against Santacruzense at half four.
Entry – for both games – is free, but we recommend a single donation of £3 for waged adults.
You will want to come along just to get your hands on our special joint programme, available for two quid.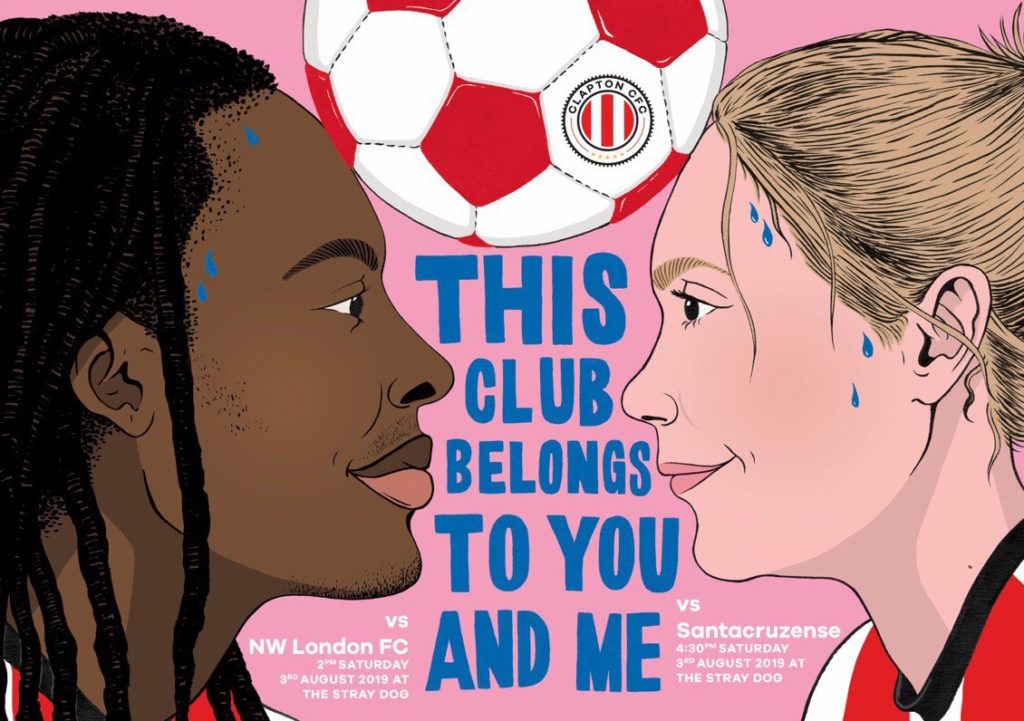 The stunning cover is by illustrator (and Clapton fan) Cressida Djambov. Check out her work here.
Fusion Foods will be back, serving delicious hot food at the entrance. They will have meat, veggie and vegan options and accept cards or cash.
A range of merch will be available.
There will also be a bucket shake to raise funds for the Football 4 Freedom campaign.
Football 4 Freedom aims to give the CADFA Palestinian Girls Football Team, based in Abu Dis, Palestine, the opportunity to come to Britain, meet teams from the UK, play football together and tell each other about their lives.
We're on the pitch just left as you enter the Wadham Lodge car park. Look out for the Stray Dog sign.
The Stray Dog is about 20 minutes walk from Walthamstow Central station. Turn onto Hoe Street and follow the road all the way along (past the junction with The Bell pub) until Chingford Lane. Continue past Sir George Monoux 6th Form College and take the first right onto Brookscroft Road then left onto Kitchener Road.
You can catch a bus along that route too. The 357, 34, 97, 215 will all take you to the top of Brookscroft Road from Walthamstow Central. It will take about 12 minutes.
There's also plenty of car parking space available at the ground.
Clapton CFC vs NW London FC is on Saturday, August 3rd 2019 at 2pm, at 'The Stray Dog', Wadham Lodge Sports Ground, Kitchener Road, Walthamstow, E17 4JP. Join the Facebook event here.