Ware are we going this weekend? To the Anagram Records Trophy semis in Hertfordshire, of course..
Clapton CFC look to continue their strong form by securing a spot in their second cup final. To achieve this they will have to get past higher league opposition again on their own ground.
Ware Sports FC will come into the game as favourites, since they play at a step higher than the Tons, in the Hertfordshire County Premier Division.
However, this has not fazed CCFC in the last two rounds, dispatching fellow HCPD teams, Letchworth Garden City Eagles away and then Chipperfield Corinthians at home.
For much of both those games it was our opponents who held the upper hand. However, strong defensive displays and some clinical finishing saw Clapton advance with 2-0 and 3-0 wins respectively.
Clapton CFC player-manager Geoff Ocran – fresh from his first goal of the season last weekend against FC Star London – gave us his verdict.
He said: "Fifth straight win and confidence is high in the squad. What impressed me most was how we continued to play against the wind in the first half which shows how much belief is in the team currently.
"Another professional performance and even when we did concede the penalty, the team showed maturity, rode out the storm and ended the game with the third goal.
"Next up is Ware Sports in the Anagram Trophy semi-final. Just like the previous two rounds, the pressure will be on the hosts being from a division above but we've embraced being underdogs all season.
"With another final on the line, we are confident of continuing our recent run and booking another final date."
Ware Sports – not to be confused with Isthmian League side Ware FC, who play next door – are on a good run of form themselves having only lost 2 games in 2019.
Clapton CFC caught up with Ware Sports' joint manager Leon Hewson…
Ware Sports are fifth in their league and in a cup semi-final. A good season so far?
We should be higher in the table, but things haven't always gone the way we wanted them to so far. We're where we deserve to be, but we have underachieved this season.
Have there been any particular highlights for this season?
Getting to the semi-final of the Anagram Records Trophy has been the major highlight of the season so far. Hopefully making the final will be the next big step.
What were your expectations coming into the semi? Have there been any particularly tough encounters on the way to the semis?
To be honest, I didn't realise how big this trophy was. Our joint manager, Paul Gurney, wanted to make sure we do well in this competition, Being here in the semi finals is a great achievement and we're looking forward to reaching the next stage.
In regard to tough encounters along the way, I think any games you play in a cup are going to be difficult as they're always one-offs.
What's the game plan for the match against Clapton CFC? 
We'll treat it like we do any other game, whatever's put in front of us we'll deal with. Our management style is that it's all about what we do on the day.
If Clapton can deal with what we've got, then it's going to be a great game.
It's rare that we get to travel out of Greater London in our league. What kind of welcome can the travelling fans expect?
Just like any other team that visits Ware, you'll be greeted with a smile by management and fans.
In terms of our players, they might not greet the fans with a smile, but it will definitely be a day where everybody is treated with respect. We're looking forward to it as much as you guys.
Match information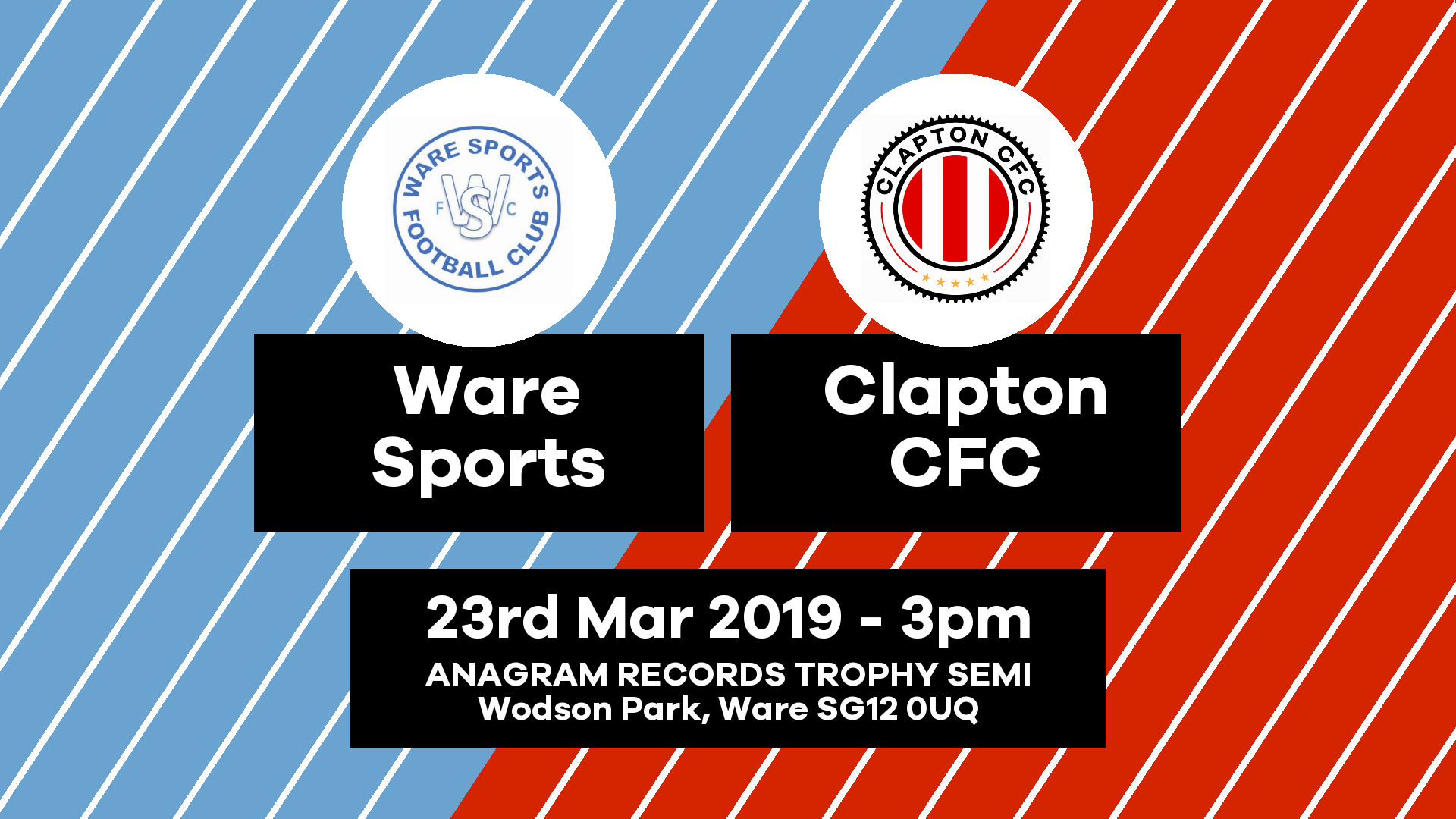 Ware Sports's home is a 3G pitch at Wodson Park Sports Centre in Ware, Hertfordshire. It's floodlit, so the kick off is 3pm. There's railing around the Ware Sports pitch with space for several hundred spectators.
The game will go to extra time and then penalties if it's level.
There are some engineering works on the railways this weekend. However, you can still get to Ware really easily with one change at Broxbourne. It's still only a 46 minute journey from Liverpool Street, 39 mins from Hackney Downs and 33 mins from Seven Sisters. The ground is about a 20 minute walk from the station.
There is no official CCFC coach booked. However, the 'Brigata Ultra Clapton' group are running a coach with all welcome. £15 will get you to the ground and back to London, with a couple of drop-off points available. For any questions or to grab your spot, email brigata.ultra.clapton@gmail.com. If you are booking, please indicate your name and method of payment (cash or bank transfer).
There is plenty of parking available at the ground if you're travelling by car.
Entry is £3 including a programme, with additional programmes costing £1. And yes, there's a bar.
Ware Sports vs Clapton CFC is on Saturday, March 23rd at 3pm, at Wodson Park, Wadesmill Rd, Ware SG12 0UQ.. Join the Facebook event here.