This Saturday, Clapton Community tussle with the formidable London Samurai Rovers in the last eight of the Jim Rogers President's Cup.
The East Londoners will be looking to bounce back from a run of three league losses. And what better motivation to get back to winning ways than the prospect of debut season silverware?
Tough opponents
It will be the third of four clashes between the sides this season. Clapton notched a narrow 1-0 win in pre-season, only for Samurai to exact revenge with a 5-1 league thumping at their place in November.
A Stefan Nielsen penalty was the only bright spot for the Tons on that occasion.
— Clapton CFC (@ClaptonCFC) November 24, 2018
Samurai will be back at The Stray Dog for the return league fixture on April 27.
The Southall-based side were formed last summer by a merger between Middlesex Counties League rivals London Samurai and JL Rovers.
The combined entity boasts an extensive youth system. They even offer a Study Abroad programme for Japanese children wanting to practice both their English and their football skills.
The youngsters can particularly draw inspiration from Maya Yoshida. The Southampton defender and Japan captain is a London Samurai Rovers club ambassador.
Congrats my boys for first 3 points at U-15 Harrrow Yourh league!! 僕が校長先生を務める@ldnsamuraiutdが初勝利!このリーグ所属プレーヤーは1万越えで、イギリス内でも最大規模です!子どもたちも競争が熾烈!#londonsamurai #ロンドン #校長先生 #なんか1人変な人いる pic.twitter.com/a65ji0EmDp

— MAYA YOSHIDA (@MayaYoshida3) September 26, 2018
Promotion push
Currently third in the league, Samurai's top team suffered a setback over the New Year, when three of their strikers relocated back to Japan.
Manager Hideyuki Miyahara told us how he believes their setup can help them overcome the challenges of personnel turnover:
With so many Japanese players, we regularly lose guys who have gone back to Japan. That's why our first team have to work in tandem with the development team for us to compete throughout the season. In addition, we can call on players brought through our academy to support both these teams. Our energies are fully focused on trying to win every game in 2019, whether that be in the league or the cup.
Samurai's results certainly haven't wavered. They have won their last five games by a mind-boggling aggregate score of 31-2.
Impressively, they have beaten both league title challengers Stonewall and NW London away from home. Indeed, if they win their three games in hand over Stonewall, they will return to top spot.
Samurai's medium-term ambition is to appear in the FA Cup. To achieve this, they will need to climb three steps of the league pyramid.
Up for the cup
But while promotion must be Samurai's main goal, they are certainly not going to fall on their katanas in the cup competitions.
In fact, Samurai kicked off 2019 with a 4-0 MCFA Junior Cup quarter final win over Deportivo Galicia London Reserves, the very team Clapton dispatched in the Jim Rogers to set up this tie.
Today's victors will earn a semi-final away against whoever comes through the quarter-final between Wilberforce Wanderers and FC Roast or Yeading Town (who haven't played their second round clash yet).
The final is scheduled for the 13th of April.
Lessons learned
To be in with a shot of progressing, Clapton will need to be more ruthless than in recent matches. Player-manager Geoff Ocran was understandably frustrated by the nature of last week's loss to Stonewall.
It was another harsh lesson for the players at Stonewall on Saturday, but that is football and our luck at the moment. Anyone who watched the game or viewed the highlights will still be wondering, as we are, how we didn't score or win the game. However, like football at any level, if you don't take your chances eventually you will get punished.

Performance-wise we went for a more compact shape to be more competitive and I think it worked for at least 60 mins. That's one of the positives to take into the next game. It was just a shame we couldn't get the result that the performance – and the support from the fans who travelled – deserved.
Ocran hopes a stronger squad to choose from will help CCFC give a better account of themselves than last time they took on Samurai. That day, the Tons were unable to call on first-choice strikers Sherwin Stanley and Eliot Crosbie.
The league game wasn't really a true reflection of us as a team as we went there with a very depleted squad. Their manager, who had also done his homework, was relieved when he saw the teamsheet pre-match and saw who was missing.

This is a great fixture to get our season back on track by booking a semi final spot and we plan to give the fans something to sing about come the final whistle.
Match information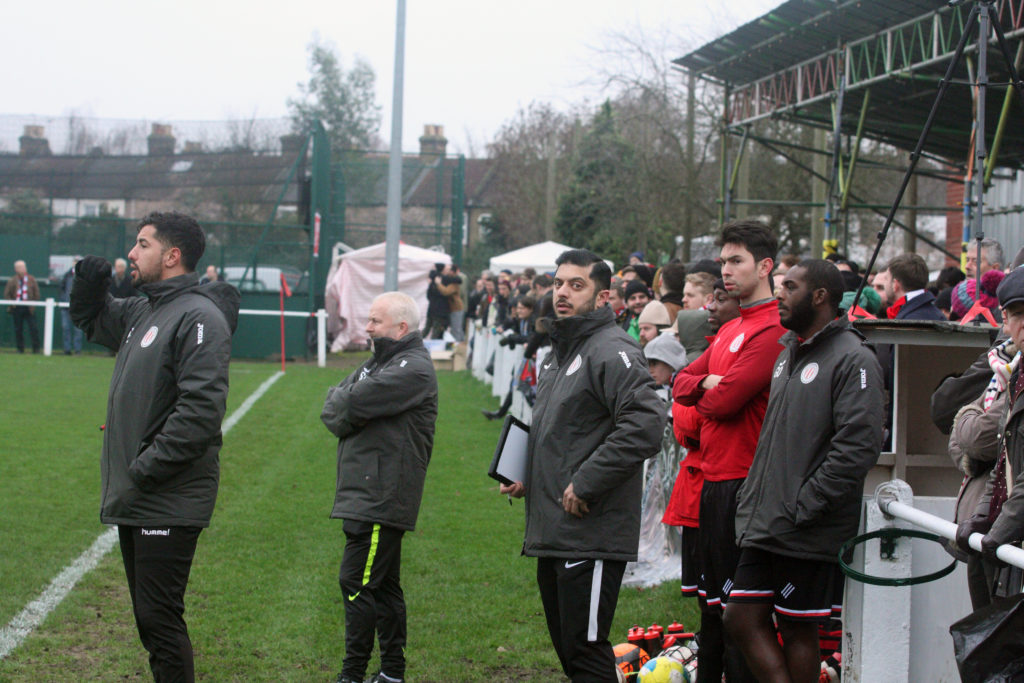 Our temporary home, The Stray Dog, is about 20 minutes walk from Walthamstow Central station.
Turn onto Hoe Street and follow the road all the way along (past the junction with The Bell pub) until Chingford Lane. Continue past Sir George Monoux 6th Form College and take the first right onto Brookscroft Road then left onto Kitchener Road.
You can catch a bus along that route too. The 357, 34, 97, 215 will all take you to the top of Brookscroft Road from Walthamstow Central (approx 12 minutes).
There's also plenty of car parking space available at the ground. Postcode for your satnav is E17 4LL.
Entry to the game is completely free (but we welcome donations, suggested £3 for waged adults).
We're on the pitch just to the left as you enter the Wadham Lodge car park. Look out for the Stray Dog sign!
Fusion Foods will be there, serving delicious hot food at the entrance. They will have meat, veggie and vegan options.
There's a pitchside bar selling cans of lager and cider. The toilets and clubhouse bar – selling a fuller range of draft beers and more – are in the main building.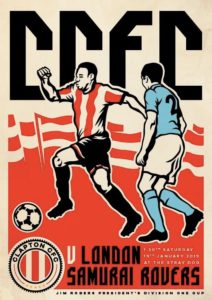 Programme cover designed by @weareAcidFC
We'll also have a bumper edition of the programme on sale for £2.
It features a spotlight on our board members as well as an article about some amazing reaction we've had to our away shirt from people who were directly involved with the International Brigades. Trust us: you won't want to miss out on this one.
There is a food bank collection for this game on behalf of Walthamstow-based charity Eat or Heat. Find out what they are especially looking for here.
Clapton CFC vs London Samurai Rovers FC is on Saturday, January 19th at 1.30pm, at 'The Stray Dog', Wadham Lodge Sports Ground, Kitchener Road, Walthamstow, E17 4JP. You can join the Facebook event here.