The Clapton Community FC men's first team are in county cup semi-final action on Saturday at the Wadham Lodge Stadium.
After a tough few weeks – including the bar collapse, the expensive tickets saga and a postponement – it will be fantastic to get back to normality.
The BBC Essex Premier Cup is for teams in the Essex Olympian Football League, the Essex Alliance League and the Essex & Suffolk Border League, with just CCFC flying the flag for the Middlesex County Football League.
We have so far beaten four EOFL sides in the competition, but next up is a semi-final tie against EAL side Woodford East.
Our visitors were formed by a group of friends who had previously played on Sundays together and wanted to start a Saturday team.
They debuted in the 2019/20 season in the Essex Alliance League, beginning in the fourth division and playing at Chigwell.
With six games to play the season ended prematurely due to Covid, while the Peacocks held a six point lead. While no doubt disappointed to not take the title, they were still promoted. In fact they were handed a triple promotion in a restructure of the EAL.
The club found themselves in a similar position, top of the division by six points, when Covid ended the next season too. Once again, however, they were rightly rewarded with a promotion to the EAL Senior Division, which is Step 7, the same level as ourselves.
Former Bush Hill Rangers manager Halil Hassan joined as chairman-manager and they moved to the Hackney Marshes Show Pitch.
They're currently nestled fourth in the table but will move second by winning games in hand, behind leaders DTFC.
They've been banging in goals with Lucio Uare, Billy Barr and Adam Tabbani top scorers with 10, 9 and 9 goals respectively.
Geoff Ocran's Tons have another semi-final to come while they are also among the five in the hunt for promotion. so it could be an exciting end to the season.
If the scores are level at full-time, we will go to extra-time then penalties, if needed.
Match information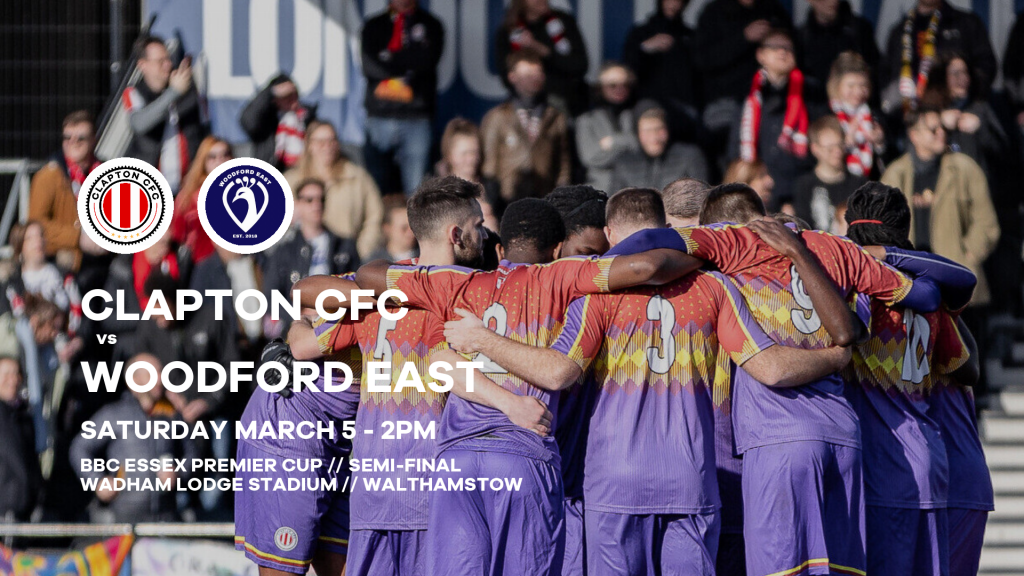 Clapton CFC vs Woodford East s is on Saturday, March 5 2022 at 2pm at the Wadham Lodge Stadium, Kitchener Road, Walthamstow.
Advanced tickets are not needed, you can just turn up. Entry as usual is free but with donations welcome, with a suggested £3 for waged adults.
We will have a mini programme available at the entrance, pick one up for free, donations welcome.
Don't forget the hygiene bank collection for our charity partners Magpie Project. You can donate toothbrushes, toothpaste, shower gel, sanitary towels and deodorant at the entrance.
Directions
Wadham Lodge is about 20 minutes walk from Walthamstow Central station. Turn onto Hoe Street and follow the road all the way along (past the junction with The Bell pub) until Chingford Lane. Continue past Sir George Monoux 6th Form College and take the first right onto Brookscroft Road then left onto Kitchener Road.
You can catch a bus along that route too. The 357, 34, 97, 215 will all take you to the top of Brookscroft Road from Walthamstow Central. It will take about 12 minutes.
There's also car parking space available at the ground but it may be better to park on a street nearby.
An important note
Matchday Centres have asked us to ensure that there is no more use of pyro, flares, smoke etc on their property.
This has caused damage to their facilities and complaints from staff, officials and neighbours.
They have also banned glass bottles after a serious incident during a game not involving Clapton.
We have a good working relationship with MDC, who have played an invaluable role in helping us establish the club.
They have said that a failure to observe these rules will lead to sanctions that would be damaging for the club, including but not limited to requiring us to play behind closed doors.
We ask all our fans to respect MDC's requests in solidarity with our teams and everyone who works hard to run the club.