After Saturday's draw at CSM London, the low-key start to pre-season continues – building up to that big, big trip to FC United of Manchester, of course.
The Tons men's first team will face Estudiantes London on the Wadham Lodge 3G on 10 July in a rematch after a close-run 3-1 friendly win away in December.
We're expecting player-manager Geoff Ocran to select another mix of trialists and regulars with fitness the main aim at this stage of pre-season.
Our visitors are affiliated to the Argentinian giants Estudiantes De La Plata, famed for ex-players Javier Mascherano and Juan Sebastian Veron and chillingly nicknamed the Rat Stabbers.
The London branch is a team of talented young players from Haringey in full-time education, coached by UEFA qualified coaches.
They usually play against college sides but have also faced two of our league rivals in friendlies, drawing 0-0 with NW London and losing 2-0 to Cricklewood Wanderers.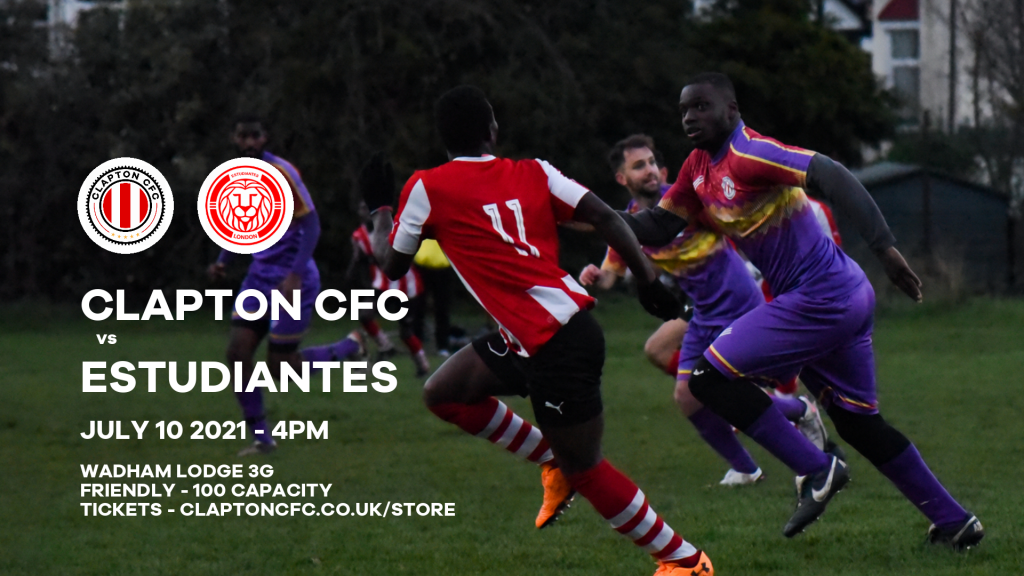 Clapton CFC vs Estudiantes is on Saturday, July 10 2021 at 4pm at Wadham Lodge 3G, Matchday Centres, Kitchener Road, Walthamstow.
Due to ongoing Covid-19 restrictions and our efforts to keep games as safe as possible for everyone present, the match will be ticketed with a strict maximum.
The 3G pitch at Wadham Lodge has no cover, and you may need to stand outside the cage.
We were unable to book the Stray Dog next door as the pitch is being relaid, while the Wadham Lodge stadium pitch is in use.
If you're coming, you need to follow our Covid-19 guidelines.
Before the day
Entry is only by advanced ticket from the Clapton CFC online store.
There will be a maximum of 100 tickets available for this one, with a maximum of four per person.
The details entered when booking tickets will only be used, if necessary, for NHS Track and Trace.
Entry as usual is free, but with donations welcome. If you wish to donate, you can do so when you book the ticket or in a bucket at the entrance (please bring exact money, no change).
We will have a list of ticket-holders, but please bring your ticket confirmation with you (particularly your order number) on your phone or printed out.
Please only book tickets if you are definitely attending the game. If circumstances change and you can't make it, contact us merch@claptoncfc.co.uk for a refund and so we can resell the ticket to someone else.
On the day
Do not attend if you have Covid-19 symptoms
Follow all guidance on travelling and social distancing in getting to Wadham Lodge
Please have your ticket order number ready (a print-out, on your phone or memorised) so we can tick you off the list quickly. It should be a five-digit number,
We will do a no-contact digital thermometer check when you arrive. Please sanitise your hands there too.
There are QR codes at Wadham Lodge for those with the NHS Covid-19 app to check in.
As it is a friendly there will be no Clapton CFC matchday programme.
Please make sure you space out 2 metres around the 3G pitch. Spectators can gather in groups of up to 30 only, so larger numbers can't all group together
The toilets can be accessed by the side door in the car park – look out for the signs. If you have access issues, you can go up the ramp into the reception instead. You'll need a mask when indoors.
Please follow the signs and instructions from Clapton CFC matchday volunteers on the day. It's a thankless task and your cooperation will be appreciated.
If circumstances change and you or one of your party can't make it, please contact us at merch@claptoncfc.co.uk for a refund and so we can release another ticket for sale.
Directions
Wadham Lodge is about 20 minutes walk from Walthamstow Central station. Turn onto Hoe Street and follow the road all the way along (past the junction with The Bell pub) until Chingford Lane. Continue past Sir George Monoux 6th Form College and take the first right onto Brookscroft Road then left onto Kitchener Road.
You can catch a bus along that route too. The 357, 34, 97, 215 will all take you to the top of Brookscroft Road from Walthamstow Central. It will take about 12 minutes.
There's also plenty of car parking space available at the ground.