We are running various question and answer sessions during lockdown from people within Clapton CFC and beyond.
Your comments are very much welcome for any and all of the sessions. Send in your questions via or email us or tweet them to us, or post as comments on our YouTube or Instagram pages.
Here's what's coming up…
Tuesday, December 1st, 7pm
Women's 5s and beginners coach Ellie Guedella will be interviewed by 5s player Annabel Staff.
Ellie runs the hugely popular open training sessions on Tuesdays, and the Flexi 5s team on Thursdays.
She has strong views on the development of women's football and an inspiring personal football story
Join us on Instagram Live.
Wednesday, December 2nd, 7pm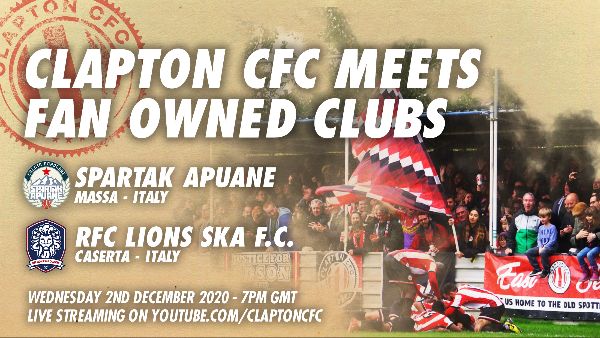 Our International Committee is organising a weekly YouTube live stream with friends from other fan-owned sports clubs.
Our first guests are from Italian clubs, Spartak Apuane and RFC Lions Ska F.C.
We'll have a chance to get to know them a bit better, find out more about their history, their projects, how they're dealing with the current pandemic situation and much more.
Join us on our YouTube channel.
Tuesday, December 8th, 7pm
It's a special event as striker Emily Link and goalkeeper Sophia Axelsson interview each other on Instagram Live.
Send in your questions and Sophia will put your questions to Emoly, and vice versa.
Join us on Instagram Live.
Catch up on recent live events
Geoff Ocran
Clapton CFC men's first team player manager and all-round Tons legend, Geoff Ocran, was interviewed on Instagram Live. You can watch it back on YouTube.
Jack Francis
Men's first team keeper and women's first team assistant coach, Jack Francis took a turn in the hotseat answering questions.