Today's game has been postponed for the fourth time, Dulwich Hamlet inspected the pitch at 10am and report that it's waterlogged. Sorry to all who intended to come.
Fingers crossed this away tie goes ahead at the fourth attempt after what has been the wettest winter in yonks.
The Clapton CFC team will be looking for revenge after Dulwich Hamlet Reserves won 5-1 on the 3G pitch at Wadham Lodge in front of 183 specators in January.
The game was lost as the Tons experienced a mad collapse, in which Dulwich scored four quick goals, including a penalty, in the first half of the game.
As we've seen before, we came out strong and determined in the second half, but the gap was just too big to overcome.
Afterwards, the Dulwich players enjoyed posing for photos next to our scoreboard and mildly trolling us on social media. so we'll be up for revenge.
Since that first fixture, CCFC have lost two league games and one cup tie by an agonising one goal each, before getting a much-needed confidence boost with a friendly win against Edgware Town Ladies.
The Dulwich Reserves, meanwhile, have lost to Hampton & Richmond and beaten Islington Borough in the league and Tooting Bec in the cup.
The Tons need to turn those narrow losses into points to pull out of the relegation zone. Regents Park Rangers lie two points ahead in the table, but we have two games in hand.
Happily the Dulwich first team have a game at the same time, so there is less chance of any star players dropping down to help out the reserves.
Match information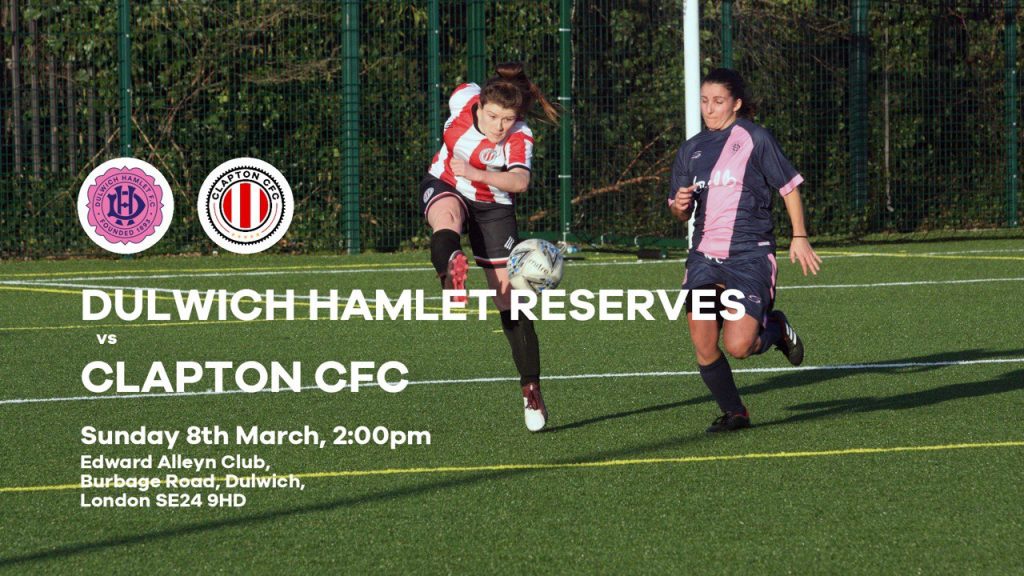 Dulwich Hamlet Reserves vs Clapton CFC is at 2pm on Sunday, March 8th at the Edward Alleyn Club, 85 Burbage Road, London SE24 9HD.
Entry is free and there is a bar selling alcohol and soft drinks and snacks.
We are organising a supporters meet-up at The Half Moon Pub in Herne Hill, a mere 10 minute walk from the pitch at the Edward Allyen Club.
From 12pm onwards, come and meet other CCFC supporters. .If this is your first women's team game, it's the perfect time to join us.
If you're going direct to the ground, it's about a 10 minute walk from North Dulwich station too.